GAME NIGHT Is Farce Done Right
FTC Statement: Reviewers are frequently provided by the publisher/production company with a copy of the material being reviewed.The opinions published are solely those of the respective reviewers and may not reflect the opinions of CriticalBlast.com or its management.
Submitted by

Jeff Ritter

on Fri, 02/23/2018 - 01:35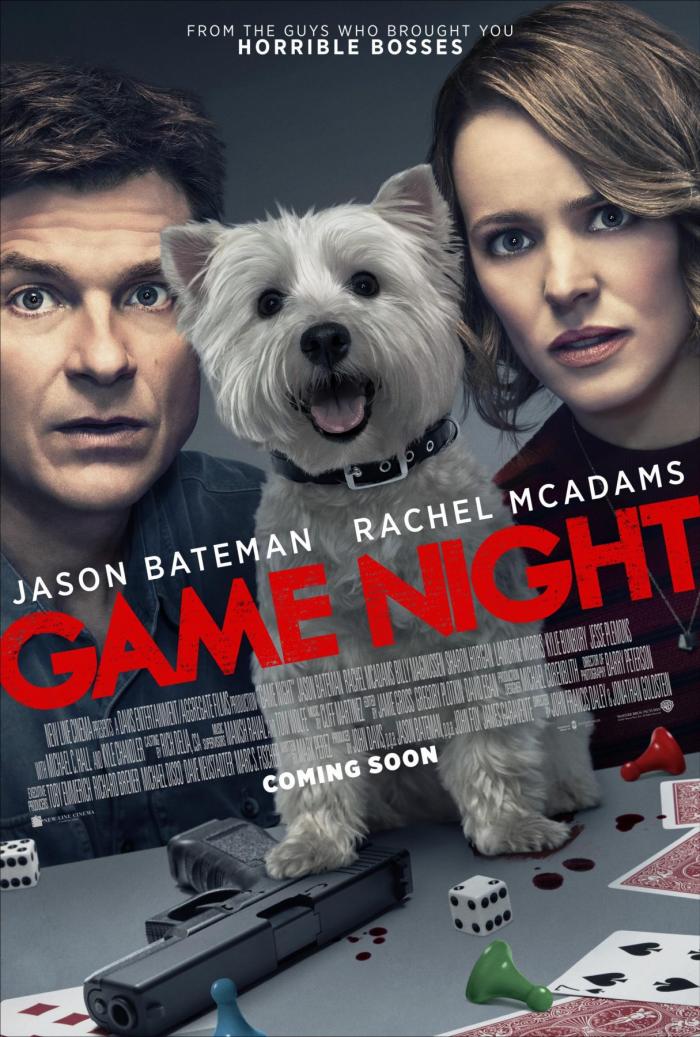 As an avid board game player and a fan of Jason Bateman, I was eager to see Game Night, the new comedy by directors John Francis Daley and Jonathan M. Goldstein, the fellows that brought you Horrible Bosses. As usual, I avoided previews so I wasn't really sure what I was going to see. The premise is actually pretty similar to the brilliant Michael Douglas thriller The Game, but this time done as a farce. As with most farcical films, they tend to be better if everyone goes all in on the conceit. Game Night does exactly that.
Ever since John Cusack's characters started winning more often, Jason Bateman's characters in various films have become the likable but incredibly unlucky fellow I can't help but enjoy. His quick wit and charm always seem to help him escape whatever misery the universe has foisted upon him. This time it's Bateman as Max whose extreme competitiveness and his inferiority complex regarding his overachieving big brother, Brooks (Kyle Chandler) which may be causing fertility issues with his equally competitive wife Annie (Rachel McAdams). The couple has regular game nights with some other friends: Kevin (Lamorne Morris) and Michelle (Kylie Bunbury), Ryan (Billy Magnussen) and Sarah (Sharon Horgan) and occasionally and begrudgingly, their creepy next door neighbor and recent divorcee Officer Gary (Jesse Plemons).
Brooks invites everyone over to his fancy rental pad for a murder mystery game unlike anything they've played before. The characters in this game are actors, and the murder mystery is "real." Unfortunately, there's more to Mr. Successful Big Brother than meets the eye and the game is, in fact way more real than any of the players know. Brooks supposedly made his fortune with the Panera Bread Company, inventing the Fuji Apple Salad—that is a good one! But it's also a lie, and that lie triggers a real abduction and a sometimes violent, sometimes madcap, but generally amusing romp across town where the gamers bluff and blunder their way through various bad dudes, right up to the boss fight at the conclusion. That boss would be The Bulgarian, played by Dexter's Michael C. Hall.
Bateman and McAdams have nice chemistry, but more importantly they completely sell the farce. Bullets and knives, Faberge eggs and airport luggage conveyors, weird creepy Gary and a million things going haywire, and yet Bateman and McAdams are consistently this cute, competitive and smart if not always bright couple that I couldn't help but enjoy rooting for. I also thought Lamorne Morris and Kylie Bunbury were a good pair, coming off as generally more capable and logical but working on some trust issues. Lamorne does a pretty nice Denzel impression too!  I feel like more could have been done with Billy Magnussen's character, the rather dumb (for a Harvard guy) Ryan, but then he probably wouldn't have a different self-absorbed date every week, rendering the more interesting Sharon Horgan unnecessary. My biggest gripe is that they didn't utilize Michael C. Hall more. In fact, I'd have been impressed if they'd have wrote him in as a "friend of a friend" who orchestrates it from within when it's not his turn to move armies in Risk or whatever they'd be playing at the time. Jesse Plemons iwas a show stealer, brining as much "creepy weirdo" to his police role as Hall did on Dexter, if not more. I also enjoyed the Wes Anderson-like transitional animations that gave the proceedings a "board game in progress" feel.
The audience at my screening laughed a lot throughout. I don't often find total farce to be all that funny, but Game Night was a pleasant exception. Just allow yourself to be immersed in the absurdity of the plot and accept it for the farce that it is rather than fight it and think this should be some serious thriller. Frankly, I think almost everybody could use a good laugh these days. Game Night should suit most viewers over 17 with its 90 minute runtime and relatable characters. After you see it, you'll want to call your friends up and organize a game night of your own. I'd suggest sticking with something like Settlers of Catan or good ol' Monopoly and leave the real life heists, double-crosses, kidnappings and attempted homicide to Hollywood.
Recent Tweets
Top Ten Most Popular Ever