Into the Woods: Be Careful What You Wish For
FTC Statement: Reviewers are frequently provided by the publisher/production company with a copy of the material being reviewed.The opinions published are solely those of the respective reviewers and may not reflect the opinions of CriticalBlast.com or its management.
As an Amazon Associate, we earn from qualifying purchases. (This is a legal requirement, as apparently some sites advertise for Amazon for free. Yes, that's sarcasm.)
Submitted by

Nicole Crites

on Sat, 12/27/2014 - 09:45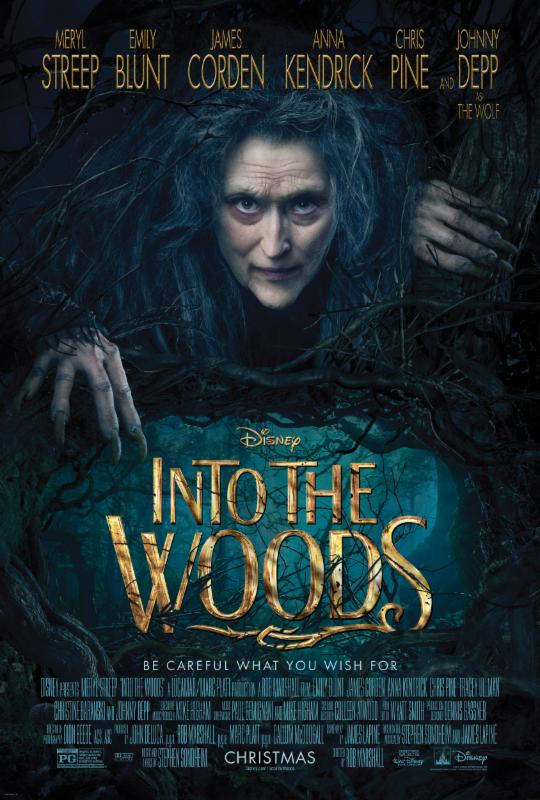 Stephen Sondheim's Into the Woods is a fantasy film for those who love a humorous musical with witty lyrics and powerful themes that will stick with you after the movie is over. Director Rob Marshall (who also directed the Academy Award winning Chicago)  does a good job bringing a fairytale landscape with larger than life characters to the big screen.  Despite the pacing and disjointed storylines during the second half of the film, the outstanding vocal performances make this a movie I'd like to see again.   This magical story intertwines multiple Grimm fairy tales with a story of The Baker (James Corden) and The Baker's Wife (Emily Blunt) who are trying to lift a spell cast by The Witch (Meryl Streep). The Baker and his wife subsequently involve Little Red Riding Hood (Lilla Crawford), Jack and the Beanstalk (Daniel Huttlestone), Cinderella (Anna Kendrick), and Rapunzel (MacKenzie Mauzy) during their quest to appease The Witch.  All of their paths cross in the woods where wishes come true, dreams are not what they seem, and lessons are learned.
Emily Blunt is the stand-out performer to me in this film—she brings depth and intrigue to The Baker's Wife through her acting and vocal performance. Since I have only see her act in other films, I didn't know how well she would sing, but boy can she sing (outshining Anna Kendrick in my opinion)!  Chris Pine as Cinderella's Prince brings the perfect amount of ham for the role with just enough charm.  He has a great over-the-top duet with Rapunzel's Prince (Billy Magnussen) in which they try to out-do each other at agonizing over their princesses—it's one of the best scenes in the movie and really adds a needed humorous element.  Surprisingly, Johnny Depp has a fairly short screen time as The Wolf, but he is definitely creepy and gives you an uncomfortable feeling as intended.   I am continually weary about top-billed actors in film adaptations of musicals after watching Les Misérables with Russell Crowe's cringe-worthy moments as Javert.  Luckily, the star-studded musical ensemble in Into the Woods can hit all of their notes with ease.
There are several themes that make this movie a must-see for the family with plenty of material for discussion afterwards.  First of all, there is "be careful what you wish for" and especially the path you take get to get what you want – often times Disney likes to slap a happy fairytale ending on their Grimm adaptations, but this time they don't  thanks to Stephen Sondheim and James Lapine's version.  Not everyone gets a fairytale ending, and instead you must take responsibility for your actions and learn from mistakes and experiences.  Little Red Riding Hood might learn this lesson first out of the fairytale lot:   "And I know things now/ Many valuable things/ That I hadn't known before…And though scary is exciting/ Nice is different than good."  And of course there is the journey of The Baker not making the same mistakes as he had previously witnessed before him (On a side note, Doctor Who fans might remember James Corden in another role with baby Stormaggedon during an episode with the 11th Doctor). The other theme of "no one is alone" is also a great one for kids and adults alike.  We don't always have someone to give us guidance, and we have to make decisions even when things aren't always clear.  Still, we are not alone and someone is on our side.  The movie does a great job showing that there is more than one side to a story.  Someone who may be thought of as bad can still be right.  Someone who may be nice is not always good.
Into the Woods is a cautionary tale that satiated my desire for a musical this year.  Though it's not my favorite musical film, it definitely exceeded my expectations due to the incredible lyrics, moving performances, and universal themes.  The "Prologue: Into the Woods" is a great start to the film, and it ends with a strong finale "Children Will Listen."  In between, I loved "Agony," "On the Steps of the Palace," and "No One Is Alone" among many others.  This movie should please a lot of musical-lovers this Christmas season especially those who aren't afraid of what may be lurking in the woods.