You are here
Home
›
Movies
› Internet Officially Blows-up! Spider-Man to debut in Marvel Cinematic Universe ›
Internet Officially Blows-up! Spider-Man to debut in Marvel Cinematic Universe
FTC Statement: Reviewers are frequently provided by the publisher/production company with a copy of the material being reviewed.The opinions published are solely those of the respective reviewers and may not reflect the opinions of CriticalBlast.com or its management.
As an Amazon Associate, we earn from qualifying purchases. (This is a legal requirement, as apparently some sites advertise for Amazon for free. Yes, that's sarcasm.)
Submitted by

Mike 'Ace' Maillaro

on Tue, 02/10/2015 - 18:43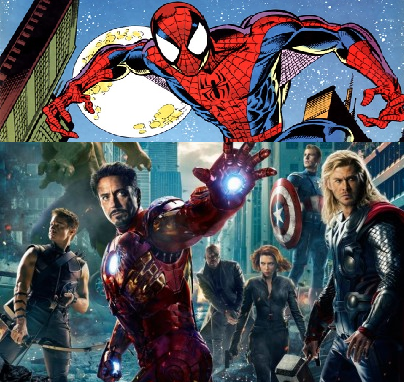 You know, being a comic journalist is always a pretty fun gig...but then there are days you get to announce things like this, and it becomes the best job in the world:
Sony Pictures Entertainment and Marvel Studios announced today that Sony is bringing Marvel into the amazing world of Spider-Man.

Under the deal, the new Spider-Man will first appear in a Marvel film from Marvel's Cinematic Universe (MCU). Sony Pictures will thereafter release the next installment of its $4 billion Spider-Man franchise, on July 28, 2017, in a film that will be co-produced by Kevin Feige and his expert team at Marvel and Amy Pascal, who oversaw the franchise launch for the studio 13 years ago. Together, they will collaborate on a new creative direction for the web slinger. Sony Pictures will continue to finance, distribute, own and have final creative control of the Spider-Man films.

Marvel and Sony Pictures are also exploring opportunities to integrate characters from the MCU into future Spider-Man films.

The new relationship follows a decade of speculation among fans about whether Spider-Man – who has always been an integral and important part of the larger Marvel Universe in the comic books – could become part of the Marvel Universe on the big screen. Spider-Man has more than 50 years of history in Marvel's world, and with this deal, fans will be able to experience Spider-Man taking his rightful place among other Super Heroes in the MCU.

Bob Iger, Chairman and CEO, The Walt Disney Company said: "Spider-Man is one of Marvel's great characters, beloved around the world. We're thrilled to work with Sony Pictures to bring the iconic web-slinger into the Marvel Cinematic Universe, which opens up fantastic new opportunities for storytelling and franchise building."

"We always want to collaborate with the best and most successful filmmakers to grow our franchises and develop our characters. Marvel, Kevin Feige and Amy, who helped orchestrate this deal, are the perfect team to help produce the next chapter of Spider-Man," said Michael Lynton, Chairman and CEO of Sony Pictures Entertainment. "This is the right decision for the franchise, for our business, for Marvel, and for the fans."

"Sony Pictures and Marvel Studios share a love for the characters in the Spider-Man universe and have a long, successful history of working together. This new level of collaboration is the perfect way to take Peter Parker's story into the future," added Doug Belgrad, president, Sony Pictures Entertainment Motion Picture Group.

"I am thrilled to team with my friends at Sony Pictures along with Amy Pascal to produce the next Spider-Man movie," said Marvel Studios President Kevin Feige. "Amy has been deeply involved in the realization on film of one of the world's most beloved characters. Marvel's involvement will hopefully deliver the creative continuity and authenticity that fans demand from the MCU. I am equally excited for the opportunity to have Spider-Man appear in the MCU, something which both we at Marvel, and fans alike, have been looking forward to for years."

Spider-Man, embraced all over the world, is the most successful franchise in the history of Sony Pictures, with the five films having taken in more than $4 billion worldwide.
Commentary:  I was literally jumping up and down this morning when our editor sent me this story.  I could not possibly be more excited.  This had been rumored for a very long time, but I honestly never thought it would happen.  
This story is awesome for two main reasons:
1) Spider-Man would be an awesome addition to the Marvel Cinematic Universe.  He's the right power level, the right personality, and just seems like he will be a ton of fun.  This is a no-brainer.
2) Marvel is putting their muscle behind the Spider-Man movies too.  Personally, I enjoyed Spider-Man 1, 2, and Amazing Spider-Man (never saw Spider-Man 3 or Amazing Spider-Man 2), but there was some room for improvement.  Kevin Feige helping put those movies on track is a great thing for the franchise.
As I am prone to do, after the immediately excitement, I started wondering "which Marvel movie will Spider-Man appear first in?"  Marvel made it very clear that Spidey will appear in a MCU movie before Marvel does their first Spider-Man movie in July 2017.  So that leaves us with:
Avengers: Age of Ultron    
Ant-Man    
Captain America: Civil War
Doctor Strange    
Guardians of the Galaxy 2
- Avengers: Age of Ultron - This one makes the MOST and the LEAST sense.  Obviously, unless this deal has been finalized for a long time, the only way Spider-Man could appear here is a quickly put together cameo.  Which would sort of be wasted in a movie that is already going to be huge.  BUT, this is the next Marvel movie and will likely be the biggest Marvel movie, so there is definitely a possibility they may go for it.  Marvel does love their Post-credit sequence.  And introducing Spider-Man would be a memorable one.  Verdict: Possible.
-Ant-Man - Ant-Man is another long shot in terms of timing, so if Spider-Man appears, it would be something quick.  BUT, Ant-Man can probably use the boost in box office, so maybe they will use this to incentivize people to come out to check out Ant-Man.   I put this one at long odds, but it might happen.  Verdict: Long shot
- Captain America: Civil War -   This one is my pick.  Civil War seems to feature a conflict between Captain America and Iron Man.  And in the comic, Spider-Man played a major part of that conflict.  But, I will admit, it could be hard to introduce Spider-Man in the context of this movie.  He won't have the history with the characters that he does in the comics, so it makes it a lot trickier to pull off.  But, I am still making this my pick.  Verdict: IT WILL BE THIS ONE!
- Doctor Strange - My wife made this her pick, so I'm letting her step in to give the reasons why: First, if the movie is true to the comic, it winds up in NYC, which is the only place we are going to find Spider-Man.  Second, Doc Strange is going to need a bigger push than Ant-Man, because most people know that Ant-Man has a connection to the Avengers, so they will venture out to see that movie just for curiosity sake.  Strange's ties are well, strange.  He is for the most part a loner, flitting in and out of the major teams and having a more permanant role in the obscure (Defenders Rule!!).  Strange's draw is going to need a push, and Spider-Man is the logical choice.  Verdict:...Okay, she won me over, I'll say Very Likely.
- Guardians of the Galaxy 2 - This one comes out right before the next Spider-Man movie, so in terms of marketing bang for your buck, they might end up putting him in this one.  GOTG2 is going to again do huge box office numbers.  But, I am not quite sure how you would introduce Spider-Man in the story here.  Verdict: From a marketing standpoint, makes the most sense.  Not so much from a story standpoint....
The article does say Spider-Man will first appear in a Marvel film...but I am kind of hoping he can show up in one of the Netflix TV series.  Daredevil and Spider-Man teamups are always awesome.  
Source: Marvel