Greg Rucka and Nicola Scott bring some Black Magick to Image
FTC Statement: Reviewers are frequently provided by the publisher/production company with a copy of the material being reviewed.The opinions published are solely those of the respective reviewers and may not reflect the opinions of CriticalBlast.com or its management.
As an Amazon Associate, we earn from qualifying purchases. (This is a legal requirement, as apparently some sites advertise for Amazon for free. Yes, that's sarcasm.)
Submitted by

Mike 'Ace' Maillaro

on Tue, 11/03/2015 - 13:38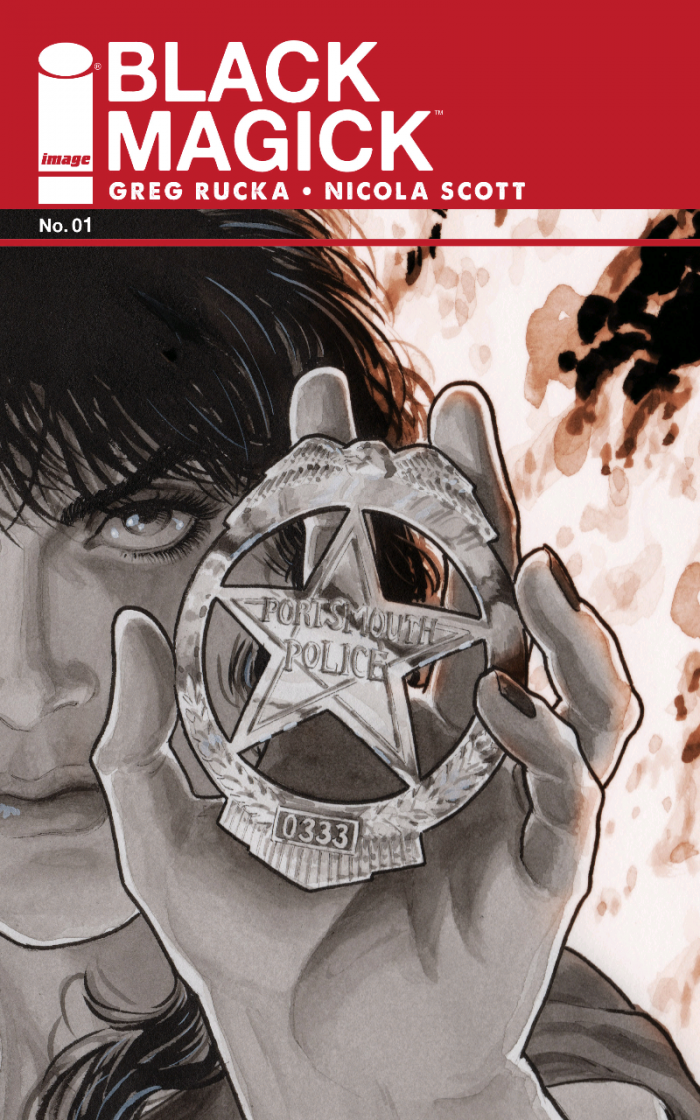 Here's a bit of a strange story… I have mentioned in the past that I am pretty anal-retentive when it comes to my comic buying. On Google Docs, I have three separate lists dedicated to my month comic buying.
A list of books on my pull list.

I sit down with Previews each month, and keep a list of all the specific issues I plan on buying.

A running Shopping List, I check off each week.
Why am I telling you all this? When I was going through my digital haul last week, I found that I had purchased BLACK MAGICK. A book that wasn't on any of my lists, and I honestly didn't remember putting it in my shopping cart. I actually don't even remember hearing about this book…which is insane because I love Greg Rucka and Nicola Scott. Somehow, this book ended up on my tablet, and I enjoyed it so much, I decided to write this review.
Rucka described this book by saying, "It's a police procedural, but it's not. It's supernatural investigation, but it's not. It's a story of legacy and destiny, and bad things that go bump in the night." I was also surprised to find out that Rucka had been working on this book for a real long time. Rucka pitched this book was back in 2009. I'm glad that we finally get to see it, because it seems like another great new Image series.
---
BLACK MAGICK #1
Written by: Greg Rucka
Art by: Nicola Scott
Cover by: Nicola Scott with Eric Trautmann
Color Assists by: Chiara Arena
Lettered by: VC's Jodi Wayne
Published by: Image
Cover Price: $3.99
Warning! This review contains quite a few spoilers!
BLACK MAGICK is the story of Detective Rowan Black of the Portsmouth Police Department. When we first meet Detective Black, she's in the woods performing a Wiccan ritual with several others Wiccan. She's interrupted because a hostage situation has broken out, and the hostage taker is requesting her by name. She arrives on the scene, and he claims to know about her magick and who she really is. He threatens to burn her. Before he can set the flame, he says "I don't have a choice. They're riding inside me." Rowan says that she can't help him, and casts a spell to burn him instead. Rowan is very concerned that "it's starting again."   After the main story, we get a family tree that traces the Black line all the way back to the Salem Witch Trials.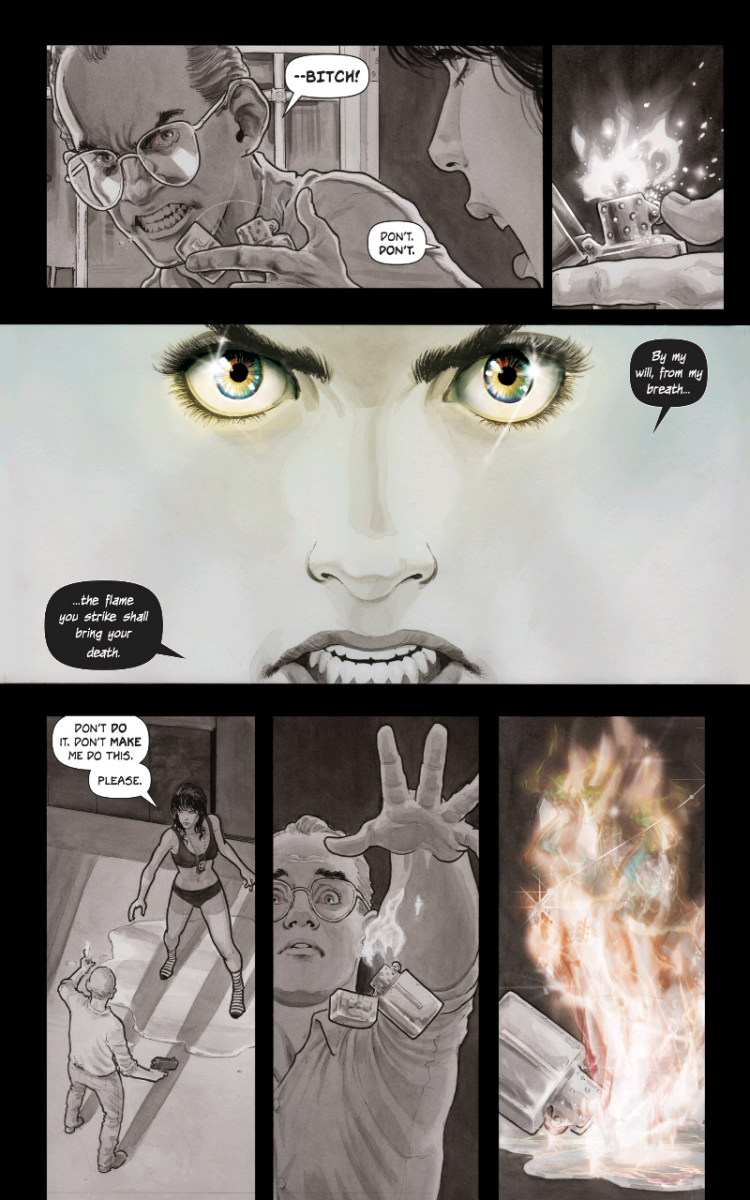 This was an incredibly gorgeous book. Most of the book is done in black and white, with just some color to highlight certain things, until you get to the end where a fire breaks out. The sudden change to blazing color is a real shock to the system. Nicola Scott has drawn some of my favorite comics (SECRET SIX!), but she really goes above and beyond throughout this entire book. Everything is drawn with such incredible detail.
As for the story itself, it's immediately engaging. I loved the interruption of the Wiccan spell by a ringing phone. It was just such a great moment, especially with the women suddenly "slipping out of character" to give Rowan crap for her phone going off. Then she arrives at the crime scene, and she gets more crap because she smells like incense. It's clear that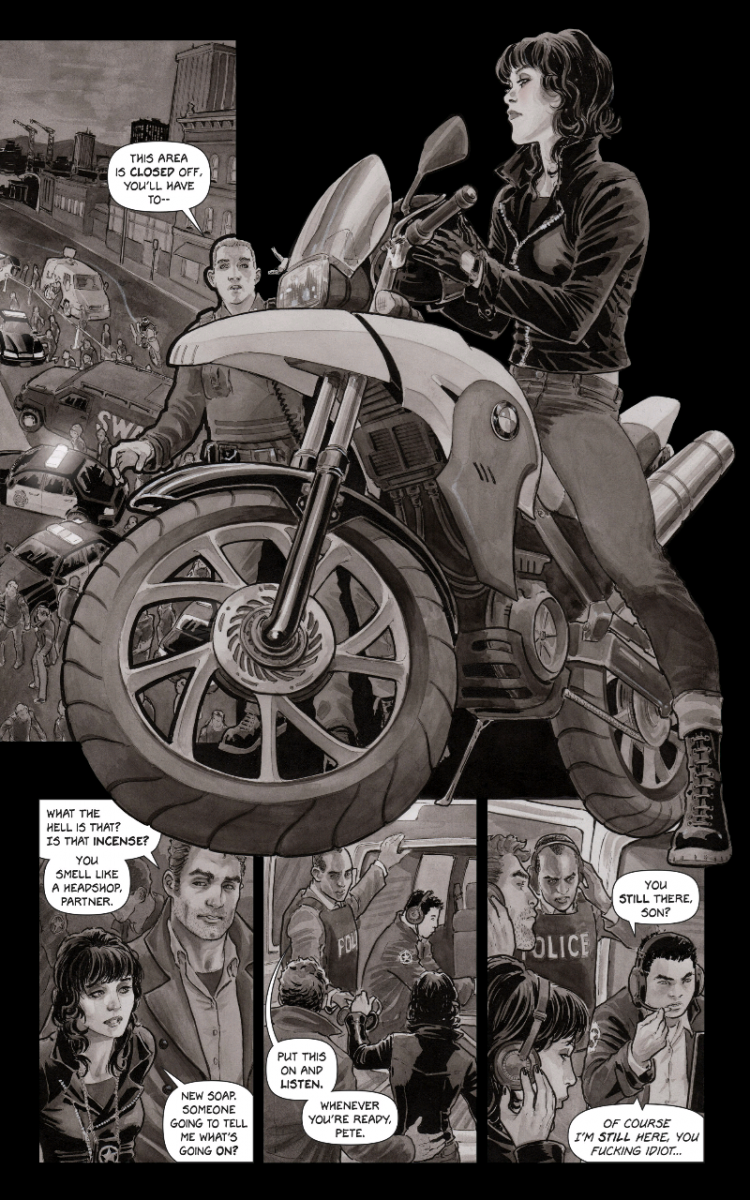 Rowan is living two very different lives and not quite the right fit for either.
I also love that this issue doesn't need to spell everything out for the reader. The exposition is real scarce, but you can still follow the story real well. Too often, writers seems to have a need to either over explain everything or not give you enough information so you feel you are constantly playing catch up. Rucka hits a perfect balance here, and it made for an excellent read. The mysteries all felt natural to the story and engaging.  
One thing I did wonder about this book was "Is the opening a little gratuitous?" There is a lot of nudity when we see the Wiccan ceremony. I get that is going for authenticity, but the cover of the book doesn't warn that this book is for mature readers" (at least the digital version didn't). Buried in the digital solicit, I see "Age Rating 17+ Only" but I am not sure most people would even notice that. I'm not a prude, but I do often read my comics on public transportation. Breasts and bush shots without any warning can be a little problematic. It's far from the end of the world, but I do think that publishers need to be careful about that kind of thing.
All that aside, BLACK MAGICK is a terrific new series, and I am definitely onboard as a customer. Rucka and Scott are a terrific team, and I can't wait to see where they can take BLACK MAGICK. I have added it to my pull list to ensure that buying issue 2 won't just be another happy accident. HIGHLY RECOMMENDED!
Title:

BLACK MAGICK #1

Written By:

Greg Rucka

Art By:

Nicola Scott

Company:

Image

Price:

$3.99

Pros:

Gorgeous art.

Story that immediately grabs your attention

Great main character

Cons:

I do worry that the explicit images in the early part of the image could have used a clearer "parental advisory warning."

 

Is it worth your $3.99?

Yes!  Image has put out a lot of great series over the last few years, and Black Magick grabbed me real quick.  Beautiful art and a story that will hook you from the first page.  HIGHLY RECOMMENDED!
Recent Tweets
Top Ten Most Popular Ever