You are here
Home
›
Television
› Pep Talk: Riverdale, Episode 106, "Faster, Pussycats! Kill! Kill!" ›
Pep Talk: Riverdale, Episode 106, "Faster, Pussycats! Kill! Kill!"
FTC Statement: Reviewers are frequently provided by the publisher/production company with a copy of the material being reviewed.The opinions published are solely those of the respective reviewers and may not reflect the opinions of CriticalBlast.com or its management.
Submitted by

RJ Carter

on Fri, 03/03/2017 - 08:01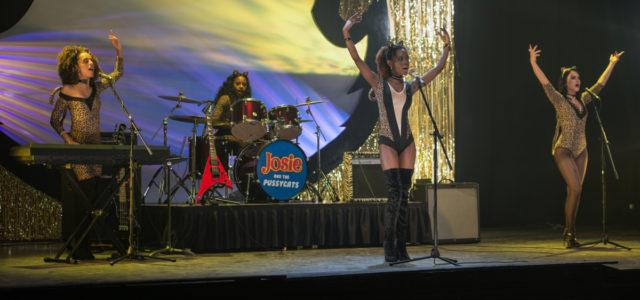 Despite my misgivings with the pilot of RIVERDALE, I've nonetheless continued to check in on the CW take on the Archie Comics gang. And with Roberto Aguirre-Sacasa at the helm, I at least understand why it can't be a lighthearted, kid-friendly rom-com. It's how he views the Archie world, through a lens darkly. It worked for AFTERLIFE WITH ARCHIE, and so long as I view RIVERDALE as another alternate look at Archie, I can make peace with it. I just can't let my nine year old boy watch it, much as he wants to, having seen the ads in his mountain of Archie digest comics he reads endlessly.
I've also come to another conclusion: Fred Andrews (LUKE PERRY) is the only sane adult in town. At the other end of that scale is Alice Cooper (MADCHEN AMICK), who gives Faye Dunaway's MOMMIE DEAREST Joan Crawford a run for her money in the psychotic mother department.
So what happens? Well, per previous episodes, everyone's demons rise up to haunt them, this time with a focus on Josie McCoy (ASHLEIGH MURRAY) and her daddy issues. Josie becomes upset when she learns that co-Pussycat Valerie (HAYLEY LAW) has been helping Archie (K.J. Apa) write his music, and that she plans on accompanying him at the upcoming 75th Anniversary Variety Show. (Trivia: This is the 75th year of Archie Comics publishing.) She's controlling of the band, more so lately than usual. The reason for this is that the audience for the show is going to include her father, Myles (REESE ALEXANDER), who is skipping a jazz festival to see his daughter sing. During the episode, we learn Myles is something of a racist, particularly when it comes to who Josie associates with and the branding of her music group. In short, he's not a nice guy, and his contrast makes Josie's mother (and Riverdale mayor) Sierra (ROBIN GIVENS) look very sympathetic.
The otehr kicker in this story is the investigative duo of Betty (LILI REINHART) and Jughead (COLE SPROUSE). Betty suspects that her father, Hal (LOCHLYN MUNRO), may have been the one to break into the sheriff's office and steal the case file on Jason Blossom's murder. She also thinks he's been lying to her about the fate of her sister, Polly. With Jughead's help, they learn that the Coopers have sent Polly away to the Sisters of Quiet Mercy, a home for troubled youth, claiming it's because Jason drove her to attempt suicide when he broke up with her. However, now that Betty knows the Coopers and the Blossoms have a generations-old blood feud, she doubts that story, so she sets off with Jughead to see her sister.
Polly (TIERA SKOVBYE) is in excellent health -- and Jason's baby is just about due! Polly's story is that on July 4th, she was to meet Jason at a hidden car and run away with him. However, when she was about to leave, she came downstairs to find a strange and severe older lady and two men in white coats in the Cooper kitchen. They hauled her away screaming. She asks Betty to get a message to Jason, and that's when Polly learns that Jason has been killed. They can't discuss much more because the nuns have called Alice to notify her that Polly has had a visitor, and Alice is there in full bitch mode to take Betty home -- but not without a hallway confrontation with Polly, who may or may not be as crazy as the adult Coopers have said, but certainly no less than her mother.
Betty accuses her father of stealing the sheriff's case file (and we know that he did), and asks if he murdered Jason. This sets Alice into a frightening fit of laughter, giving her the opportunity once again to emasculate her husband. Left alone in her room later, Betty lets Jughead in through her window. And then he kisses her.
Yes, confirmed bachelor Forsythe P. "Jughead" Jones plants one on Betty Cooper. And it jogs her memory! She remembers the car that Polly spoke of, and assumes they can find it and prove Polly's story. They do, while the rest of the town is at the variety show, watching the Pussycats and Archie perform their numbers. The car is a total crime scene. Jason's jacket is in the back seat, but so are several bags of drugs. They get the sheriff, and when he gets back, he finds the car in a fireball.
The episode closes with Betty and Juggy running down the hallway of the Sisters of Quiet Mercy to Polly's room, only to find the window broken and blood on the glass. Polly has escaped into the rainy night.
Other things to note: Veronica (CAMILA MENDES) finds out about her mother and Fred Andrews, and she doesn't like it one little bit. Also, Ronnie can sing. And Archie has a BATMAN REBIRTH poster in his room. How's that for an Archie crossover?
Okay, it's not the Archie we grew up with, and I still miss him. But RIVERDALE certainly knows how to pack in the TWIN PEAKS / BATES MOTEL drama into an episode. Addictively creepy.
Recent Tweets
Top Ten Most Popular Ever