The Longbox Short-List - Week of March 8, 2017
FTC Statement: Reviewers are frequently provided by the publisher/production company with a copy of the material being reviewed.The opinions published are solely those of the respective reviewers and may not reflect the opinions of CriticalBlast.com or its management.
Submitted by

Mike 'Ace' Maillaro

on Tue, 03/07/2017 - 08:40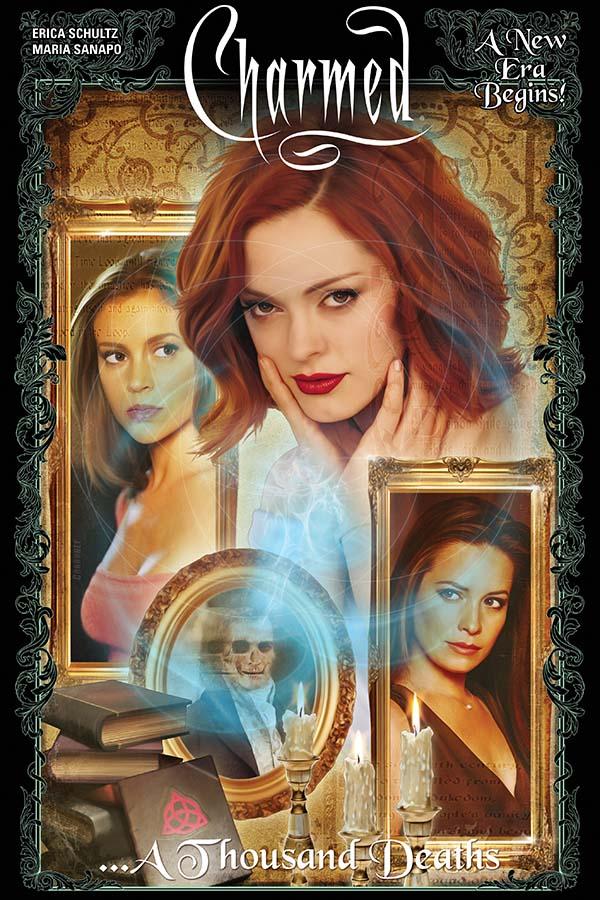 Welcome back to Critical Blast's weekly look at what new comics you should check out each week.   Just a warning, I make these picks pretty much a week BEFORE I actually get to read any of these comics, so if something is a stinker, I take no blame on that.  Let's get to it!
---
CHARMED #1 – CHARMED is my biggest guilty pleasure. I really enjoyed what Zenescope did with their follow up seasons. As far as I know, Dynamite is wiping those seasons from continuity and starting "fresh" with stories set during the TV series. Either way, I am glad to get more adventures of the Halliwell family.
NANCY DREW AND THE HARDY BOYS: THE BIG LIE #1 – I was a huge fan of The Hardy Boys Casefiles boys when I was growing up. As a result, whenever I see something new with the Hardy Boys or Nancy Drew, I pick them up hoping to recapture some of that magic to share with my kids. So far, that hasn't quite worked out, but maybe Dynamite can change that. They always seem to do a real good job with their licenses.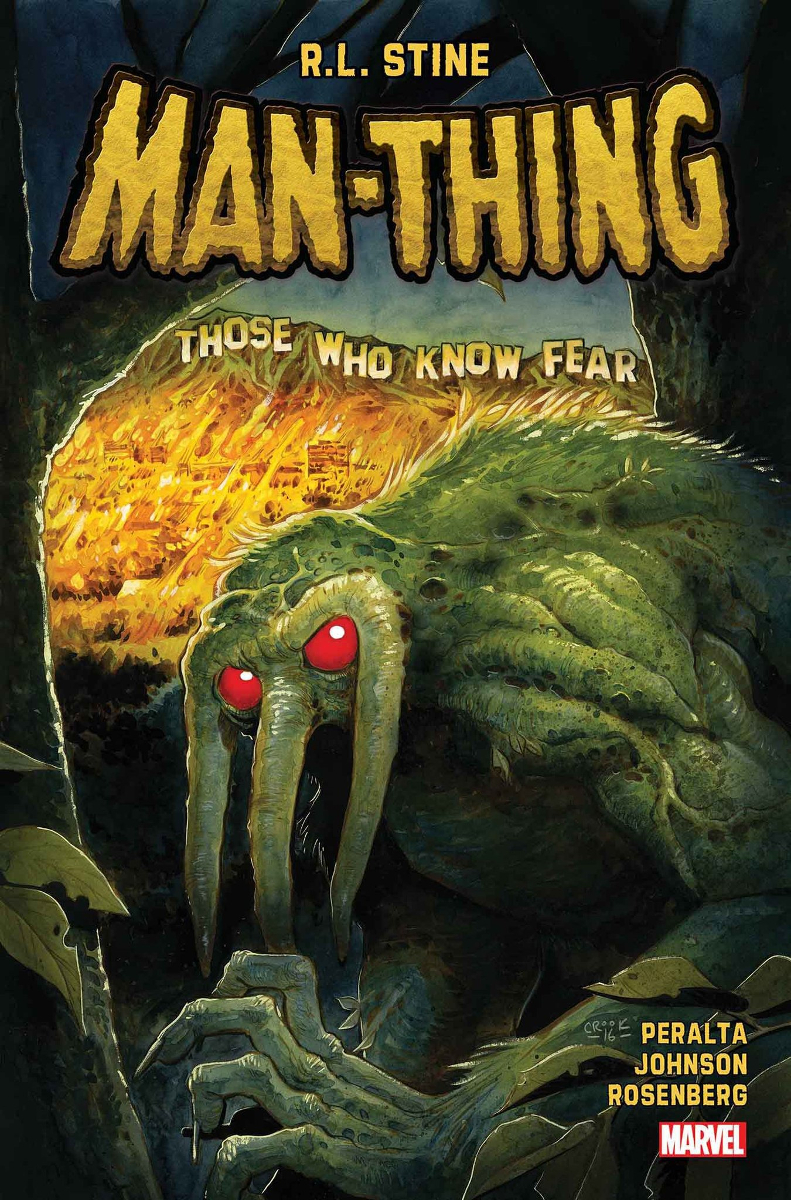 MAN-THING #1 – Speaking of reliving my childhood, how can I possibly pass up RL Stine writing Man-Thing? This is must read for me!
INHUMANS VS X-MEN #6 – I have to say that this has been one of the better Marvel events, especially when it comes to the X-Men. The characters and their actions, for the most part, have made sense and been nuanced. I also like that we've gotten a lot of people on both sides switching sides. I am looking forward to the X-Men relaunch coming from Inhumans Vs X-Men. And if they can just kill off Emma for good, it would be perfect.
ASTRO CITY #42 – Nice to get two issues of ASTRO CITY this week. Pretty much my all-time favorite comic series just behind STARMAN. Looks like we finally get to see The Gentleman in focus this year. About time!
SUICIDE SQUAD #13 – Continuing the "Who Killer Amanda Waller?" arc. Suicide Squad has been really good for the last year or so. That said, I hate that they are spending way too much time to convince the reader that she's actually dead. I don't believe that it will stick all that long, and it takes away from everything else going on.
SCOOBY APOCALYPSE #11 – Last issue was basically one long dream sequence where we see what would happen if Velma conquered the world. Pretty disturbing issue of a series that is full of disturbing moments. DC's Hanna-Barbera relaunch continues to produce amazing comics. Can't wait for more!
ACTION COMICS #975 – The ending of last week's SUPERMAN would have been a lot more impactful if they didn't just launch SUPER SONS. Has Jon Kent been erased from reality? Probably not…though now I have this great idea that Super Sons #2 just stars Damian with no mention there was any one else in the first issue... Ignoring that, the SUPERMAN line is as good as it's ever been, so definitely check this one out.
BACK TO THE FUTURE: BIFF TO THE FUTURE #2 – Wasn't really sure what to expect from the first issue of this one, but I liked it far more than I expected too. Nice to see more of a focus on Biff and seeing him as more than just a total jerk.
REGGIE AND ME #3 – To be honest, I've enjoyed the focus on Reggie in JUGHEAD's last few issues more than this mini-series. REGGIE AND ME drifts a little too far away from being fun to read. The character doesn't want sympathy, but the book seems to force the reader to feel that way. This issue is supposed to give us some insight into Moose, so I am curious about that at least.
Josie And The Pussycats #5
Batgirl And The Birds Of Prey #8
Detective Comics #952
Flash #18
Hal Jordan And The Green Lantern Corps #16
Justice League Of America #2
Justice League Power Rangers #3 (Of 6)
New Super-Man #9
Red Hood And The Outlaws #8
Supergirl #7
Titans #9
Wonder Woman #18
D4VEocracy #2
Micronauts #10
Rom #7
Star Trek Waypoint #4 (Of 6)
Disney Darkwing Duck #8
All-New Wolverine #18
Captain America Steve Rogers #13
Doctor Strange And The Sorcerers Supreme #6
Guardians Of The Galaxy #1.MU
Jessica Jones #6
Old Man Logan #19
Power Man And Iron Fist #14
Silver Surfer #9
Star Wars Doctor Aphra #5
Unbelievable Gwenpool #13
---
In Case You Missed Them
Here are some noteworthy books from last week…
WARNING!  CONTAINS SPOILERS!!
---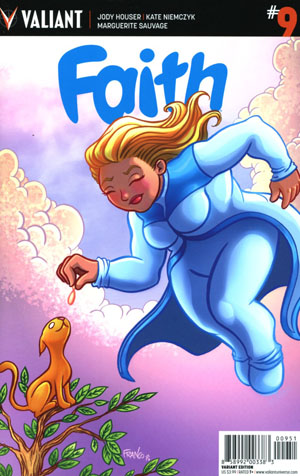 Book of the Week: FAITH #9 by Joy Houser, Kate Niemczyk, and Marguerite Sauvage
Summary: This is a day in the life issue for Faith's coworkers at ZipLine. A new intern has been hired, and everyone is dedicated to keeping Faith's secret from her.  But since Faith keeps having to rush out during meetings, it is pretty clear to the intern who she really is.  It is revealed that she works for a competitor looking to dig up dirt on Faith.  She pulls a gun on Faith.
Paige zaps the intern with a taser, and they are able to convince her that she's not really a superhero.  The intern is arrested, and the staff goes out for drinks afterwards.  
Review: I love these type of day in the life issues.  Faith has a great supporting cast, and it was awesome to see them get the focus here.  I especially enjoyed seeing their individual fantasies.  I am not sure it makes sense that virtually every character is a sci-fi geek, but I think it all worked out to a very fun comic.
Score (out of 5): 4.5
---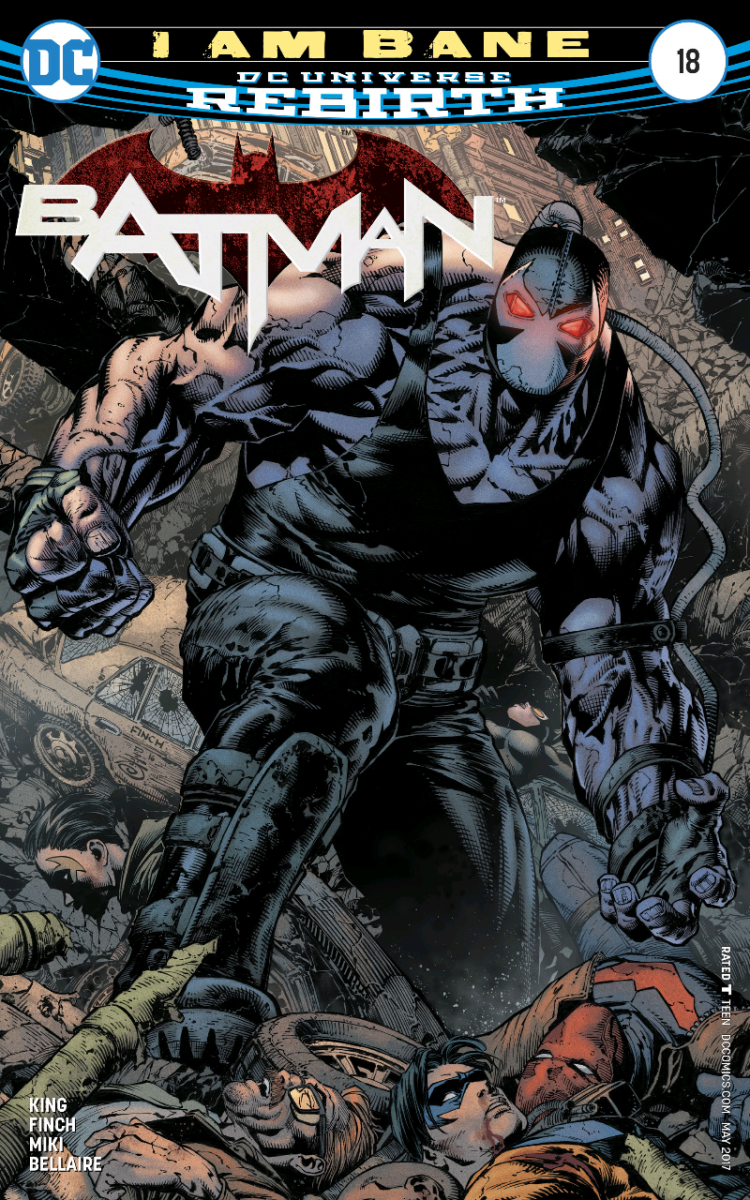 BATMAN #18 by Tom King and David Finch
Summary: Bane and Batman have a vicious fight.  Bane is demanding that Batman turn over Psycho Pirate, giving Batman a serious beatdown. Batman refuses to turn Pirate over, so Bane radios his lieutenants ordering him to kill his prisoners.  But, we find out Catwoman allowed herself to get captured so she could free the others.  Batman slips into Arkham, and Bane follows.
Review: The highlight of this book for me was the parallels showing Batman and Bane's lives.  I know this has been done before, but it was done really well here.  Bane has sort of been in limbo for a while now.  He should be Batman's most dangerous villain, but for the most part since Knightfall, he's just been badly used (other than Secret Six, and he wasn't really a villain there).  
I think King tells some great stories, though they do often feel padded.  But, seeing Bane restored to a position of prominence makes me pretty happy.  And that "fight" between Bane and Batman was brutal. Not sure it makes sense for Batman to take this kind of beating from Bane, but it was definitely memorable.
Score (out of 5): 4
---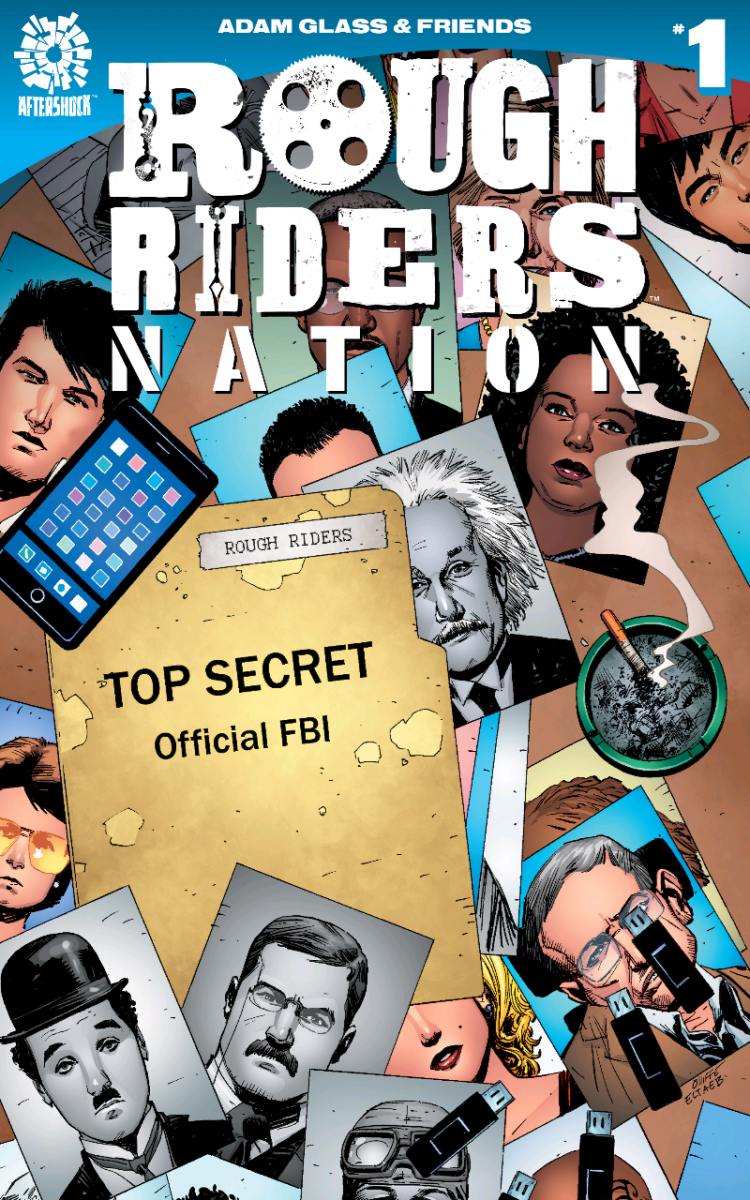 ROUGH RIDERS NATION #1 by Adam Glass and Various Artists
Summary: We find out that after Teddy Roosevelt's death, his daughter Alice continued bringing people together to form covert hero groups over the rest of the 21st Century.  This entire comic is just team pictures.
Review: $4 for basically ten splash page images.  I loved the idea of this book, but you don't get much value here.  What really ruins it is that most of the already limited text in this comic is "redacted."  It would have been better if they gave a brief summary, even just in text, of an adventure for each team. Instead this feels like a massive tease that they expected the reader to pay for.  Just a really bad decision here that made me feel cheated as a customer.
Score (out of 5): 1
---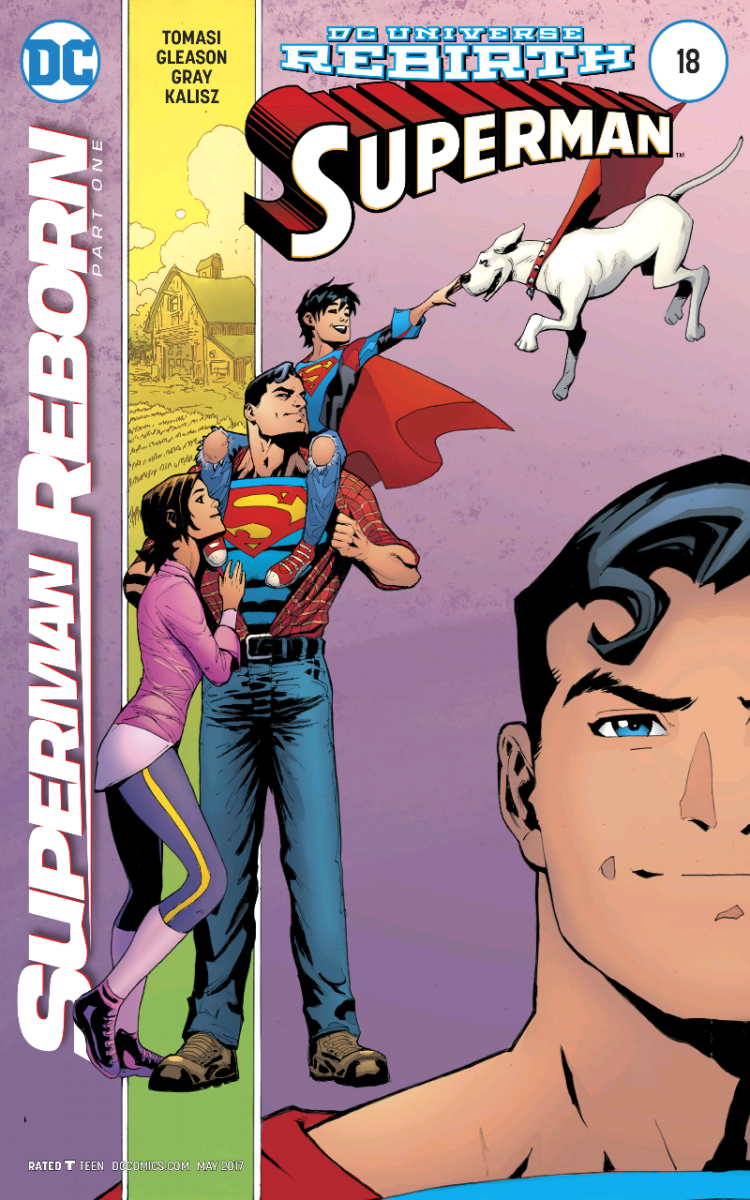 SUPERMAN #18 by Peter J. Tomasi and Patrick Gleason
Summary:  In Ozy's secret base, Tim Drake is laughing because someone finally managed to escape.  The escaped prisoner's cell is covered with messages saying "Superman will save me!"
Back in Hamilton County, Clark and Lois are celebrating their anniversary with their son, Jon.  There is a knock at the door.  Jon finds someone left behind a book.  It's the "other" Clark Kent who takes off.  The book is a history about The Kent family with pictures going back to Nathaniel Kent in the Civil War. As the Kents are looking at the book, a strange blue fire passes through the house and seems to be erasing things from reality.  Jon catches fire.  Superman tries to grab him, but Jon keeps vanishing and reappearing in other places.  Finally, he vanishes for good.  
The picture album is now completely blank except for one picture of Metropolis.  Superman is certain Clark took Jon and vows to get him back.
Review: I know this is going to sound overly snarky, but the impact of the end of Superman #18 would probably be a lot more intense if not for the fact the character in question stars in another series that literally just launched. WAS SUPERBOY WIPED FROM REALITY? Uhm...no clearly not...or else Super Sons would have to come to an abrupt ending. Now I have this great idea that Super Sons #2 just stars Damian with no mention there was anyone else in the first issue…
But other than that, I did think this was a solid issue, though it felt like it ended just as things were starting to pick up.  Great character moments, and the mystery of the other Clark Kent came to a head here.  The way things were vanishing throughout this issue, I am thinking that the other Clark Kent is actually Pre-Flashpoint Eradicator.  
I say this all the time, but the Superman books are really in a good place right now.  DC Rebirth has done so many things right, but revitalizing the Superman line is by far the best part for me.
Score (out of 5): 3.5
Recent Tweets
Top Ten Most Popular Ever