Nerds Unite! Wizard World Comes to Saint Louis
FTC Statement: Reviewers are frequently provided by the publisher/production company with a copy of the material being reviewed.The opinions published are solely those of the respective reviewers and may not reflect the opinions of CriticalBlast.com or its management.
As an Amazon Associate, we earn from qualifying purchases. (This is a legal requirement, as apparently some sites advertise for Amazon for free. Yes, that's sarcasm.)
Submitted by

Dennis Russo

on Mon, 04/10/2017 - 08:23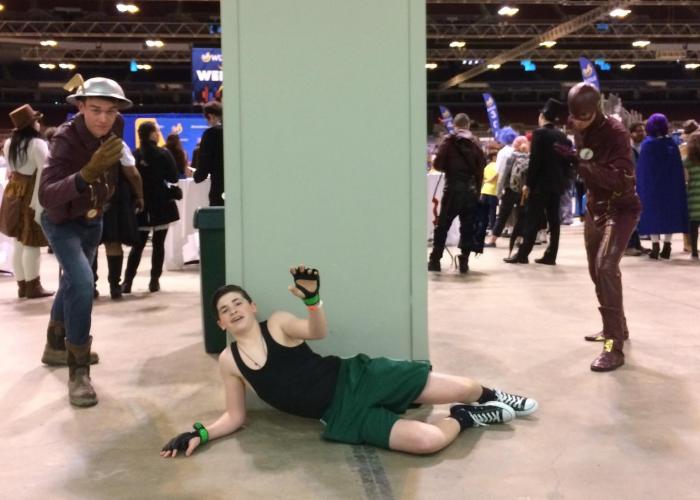 Spring is here, which means it's that time of year again--the time when newness and life spring forth. For those so inclined it means baseball, but for those of us more eclectic types in the Saint Louis area it means one thing above all: It is time for the now apparently annual Wizard World Convention at the America's Center.
And in true support of the annual pilgrimage, we came out in droves once again!
Greeted by the always friendly, always helpful and always plentiful Wizard World staff, we were led in an orderly manner into the main area once the gates opened, and were instantly transported into one of those "Have I died and gone to heaven?" moments. I'm not talking about all the food vendors and such, I'm talking about being in amongst all those of like mindedness, where no one fights or squabbles, and a huge crowd all get along--where everyone has a great time! I know of no other gathering in the world where this happens except at a Comicon.
There was something for everyone, whether you were into Sci-Fi, Horror, Super Heroes, Gaming, Celebrities, Novels, Artwork, Cosplay--even Falconry!
It seems as though the layout of the floor is different every year. I imagine the WW team is always looking to make the best possible set up based on the floor, exhibitors, celebrities, etcetera, but this year it looked a little less navigable. There were busy avenues but not so busy side streets, to put it in perspective. I found myself feeling for the artists and vendors that were not on one of the main thoroughfares as they did not get nearly the foot traffic as did others, and there were some obvious gaping open areas that I think might have been better utilized. But still I, like many, enjoy traveling all the roads and left nary a booth unviewed.
It is awesome to see such a varied array of artisans--some returning and some new, and some that really have nothing to do with any of the genres you would expect at a Comicon.
While not inexpensive to get into the show, I do believe that there is certainly enough for everyone to get their money's worth if they wanted it. I mean, aside from the vendors and celebrities (who, by the way, need to look in the mirror and realize they are charging way too much money for autographs these days--they need to remember who made the celebrities and that we are not made of gold). I remember going to Comicons and Sci-Fi shows back in the 70's in New York, and all the actors and directors there were happy to sign your picture for free because you came out to see them. Maybe you had to pay $5 for a picture they had there for you to sign, but that was it. (And it kind of showed as the lines for signatures were nowhere near as long as they were in past years.)
There were workshops and panel discussions going on every day, all day, and you had your choice of two or three going on at the same time. I'd say if you felt cheated it was your own fault.
And of course there are the cosplayers who were out en masse. This year saw much fewer Doctor Who dresser uppers--perhaps because it has been close to a year since the last new show, not counting the Christmas special, but with the new season beginning next Sunday I thought I would have seen more.
What I did see most of were Harley Quinns. My daughter and her friends counted 31 different cosplayers dressed up as the Suicide Character in the span of just 5 hours.
There were several walking dead characters, mostly zombies and Neegans. I counted about a dozen Neegans, which is odd. I did see a couple that stood out to me because they were different. I saw a great looking Neegan and Abraham walking together (go figure) and perhaps my favorite for best costume of the show, because of his originality and his age, was a young fellow dressed as Carl (the only one I saw at the show, and a big thank you out to his dad for letting me snap his picture and place it in this article).
Even R2-D2 got into the act, putting on his best Batman skin!
If you were into classic cars, you were not disappointed either, as there was a DeLorean from BACK TO THE FUTURE (taking donations for the Michael J. Fox Foundation), a Tardis (the ultimate classic car). But I'm also talking about real classic cars, from the likes of The Munster mobile, Dragula and The Mach 5!
Eddie Munster himself, Butch Patrick, was there with the Munster mobile (and other memorabilia from the show) and was a pleasure to speak with too! (Check out our VIDEO interview with Butch Patrick on our Facebook page!)
It's an awesome time to be a cosplayer these days, as there are so many vendors selling ready-made items that look so real. From shields to tunics and--for the first time if my memory serves me well--swords, daggers and guns! No kidding, there were at least 4 vendors selling fantasy weapons from video games, comic books, you name it. I myself even picked up a replica of Beatrice "The Bride" Kiddo's Hattori Hanso sword from KILL BILL, something I have been wanting ever since I fell in love with those movies.
What was a little surprising were that there was not an overabundance of comic book sellers--odd at a venue such as this, but enough still that I was able to secure my second coup of the day.
After drooling and yearning obsessively over the signed Alex Ross prints that one vendor was selling, I was stumbling around dejectedly under the realization that I couldn't afford one because my daughter does have to go to college one day. I decided to rummage through a discount box at one of the comic vendors and lo and behold, what to my wandering eye did I see lay before me? An old special issue of MAD MAGAZINE, completely dedicated to Super Heroes. And who do you think did the cover art for this issue of MAD? Yep, Alex Ross! Now granted, this is no signed limited edition piece of artwork, but c'mon! How many of these are still in existence? I mean, who really collect MAD magazines and who would think to look for an Alex Ross cover on one, unless they just happened to spy it on the shelf at the comic book store--and chances are then unless you were into MAD magazine you would probably not even pay it much attention. So there it was in front of me--Batman, Superman and Alfred E. Newman! And at 20% off! It was a good day!
Surprisingly I did not see that much in the way of zombie culture--a splattering here and there, but overall not much, given the popularity of the culture. I did happen upon an author, Susanne Lambdin, who pens a series of books that center on the living dead. Her storylines and storytelling style really intrigued me, and on top of that she was an absolute pleasure to talk to. So stay tuned to our website, as there will be a review of one of her novels in the near future. (Sorry, I'm just not a fast reader.)
One of the funnest part of the show that was a nice break from all the Sci-Fi/Fantasy stuff was a live music show that lasted about an hour by a band called The Retronerds, an 80's cover band. And while geeky and fun to look at, these guys (not the youngest ducks in the puddle, mind you) could really play and sing! Some of the songs they played (while the original music videos were shown on monitors next to them) were "Sweet Child of Mine," "Jesse's Girl," "Let's Dance," "C'mon Eileen," "Rebel Yell," "Wang Chung" and "Things can Only Get Better" just to name a few.
Greedy celebrities and a wonky layout aside, all in all I think you can tell that I had a great time at Wizard World STL 2017, and look forward to next year. And again, while not cheap, when you consider all there is to do even in the course of just one day, it is well worth the money, if nothing else just to be amongst your own and not have to worry about what people think. Nerds Unite! And let's keep Wizard World coming back year after year!