And Now For Something Completely Different: The Monty Python FAQ
FTC Statement: Reviewers are frequently provided by the publisher/production company with a copy of the material being reviewed.The opinions published are solely those of the respective reviewers and may not reflect the opinions of CriticalBlast.com or its management.
As an Amazon Associate, we earn from qualifying purchases. (This is a legal requirement, as apparently some sites advertise for Amazon for free. Yes, that's sarcasm.)
Submitted by

Dennis Russo

on Wed, 08/09/2017 - 07:22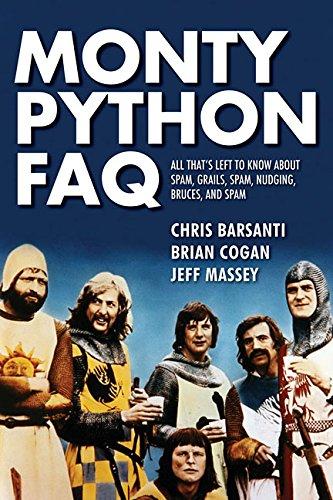 The MONTY PYTHON FAQ: ALL THAT'S LEFT TO KNOW ABOUT SPAM, GRAILS, SPAM, NUDGING, BRUCES AND SPAM, written by Chris Barsanti, Brian Cogan, and Jeff Massey, is one of a series FAQ books from Applause Theater and Cinema Books.
When I first heard about the book, I thought, "Wow! A book that answers the most frequently asked questions about Monty Python!" After all, that is what the acronym "FAQ" stands for. But upon opening it to read, it is actually something completely different…in a good way!
Instead of a book that answers questions, what we have here is a book that seeks out and delivers in telling everything you ever wanted to know, what you already knew, and what you didn't know you wanted to know about the Pythons before, during, and after the show known around the world as "Monty Python's Flying Circus." In fact, this book is so exhaustive a work it should more aptly be called something like the Biblioteca Pythonia, or something.
Truly everything you ever wanted to know about Graham Chapman, John Cleese, Eric Idle, Terry Jones, and Terry Gilliam is here in this 353 page book. Their lives, both personal and professional are all chronicled here.
It's laid out very well--think along the lines of pre-Python details of each, MPFC in-depth, in-depth after MPFC for each of the team, and the MPFC up to now.
Now, this deep of a dive could be a boring, dry read if it weren't for the fact that all three of the authors here seem to be bona fide pythonites, often citing lines and catch phrases throughout the book, whether it be in the middle of describing what went on in an episode, one of their movies, or other shows they were in or during the biographies of the stars themselves. This made it a lot of fun, almost a mental treasure hunt when I read it. I instantly started thinking, "Okay, what is that from?"
I also like how they went so in-depth as to not only call out what I consider the funniest comedy ever written, FAWLTY TOWERS, the authors take the time to go into each episode as well. What I didn't like was that they didn't like what I consider one of my favorite funniest movies of all time, YELLOW BEARD--despite being a critical and financial flop, it's still Graham Chapman Python-infused, and therefore hilarious.
"I'm talking about the fruit of your loins."
"Fruit of my loins, woman? Are you daft? I haven't got any fruit in my loins. Lice, yes, and damn proud of them!"
Classic.
That aside, this book is a must for any Pythonite. It's so all-inclusive, I can't think of anything they might have left out.
I found that it dispelled some things. I was always told that Graham Chapman, despite being a member of the Adventurers Club, was afraid of heights, and that is why he would not cross the bridge in MONTY PYTHON AND THE HOLY GRAIL. The book here dispels that by saying he was going through the DTs, which would make more sense so I will defer to them unless Graham pops out of the ground to give the definite proof--which could be messy, especially if he was "an eater."
I grew up watching MONTY PYTHON'S FLYING CIRCUS rather sneakily in our guest bedroom, which had a small black and white TV but the only one with a loop antenna that enabled it to get UHF signals which allowed me to see it on the only channel on Long Island that broadcast it at the time, WLIW. Then it wasn't until Cablevision came along and WLIW was able to be seen by many, and MPFC gained more popularity and became part of "Britcom" night on the channel. I can remember trying to find out who played the opening march, thinking it was some English composer, not learning until years later that it was a Sousa march. Duh!
Now, many years later, MPFC is the stuff of lore; shows and movies readily available on DVD for those who want to see them. And now, a single companion book that can go along with them and answer any question you may have upon watching--and with that, maybe it is a FAQ after all.
And now for something completely the same: Monty Python inspired shirts at TeePublic!