Paul McCandless' Morning Sun an Ear-Opening Experience
FTC Statement: Reviewers are frequently provided by the publisher/production company with a copy of the material being reviewed.The opinions published are solely those of the respective reviewers and may not reflect the opinions of CriticalBlast.com or its management.
As an Amazon Associate, we earn from qualifying purchases. (This is a legal requirement, as apparently some sites advertise for Amazon for free. Yes, that's sarcasm.)
Submitted by

Dennis Russo

on Wed, 08/23/2017 - 15:55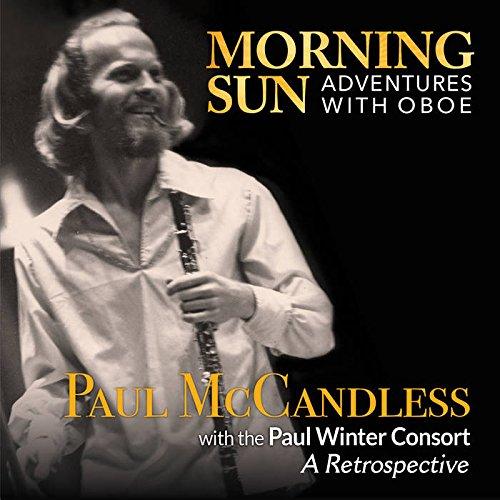 If you're like me--and I would suspect there are as many that are as aren't--your take on the oboe is that it is an instrument that is part of the orchestra, an instrument that contributes to the total sound but not one that ever takes the lead, or is as famous as, say, the cello, the French horn, the violin or the flute; sort of the second rhythm guitar or third back-up singer in a rock band. You know it's there, but you can't really make out what it sounds like. Couple that with an old saying attributed to the instrument: "The Oboe is an ill wind woodwind that nobody plays well." You're left wondering, "Why would anyone want to have an ensemble that features such a blasé instrument?"
One of the most enjoyable experiences in reviewing music is that, occasionally, you get to listen to something you might otherwise have never come across, thought about listening to, or were aware even existed.
With MORNING SUN, I have had such an experience!
What a beautiful sounding instrument the oboe is! At least it is in the hands of someone as talented as Paul McCandless. And what's more, the music contained on this CD dates back to 1971. I have been around all these years and only now am I hearing this music--and I'm loving it, which makes this CD all the more enjoyable, and important in that what I never knew before, I now know and enjoy.
Paul McCandless has a musical pedigree a mile long, so I will not go into all of his accomplishments here. I do, however, encourage you to look him up on the net and see for yourself what he has done and who he has played for and with. This man knows his instrument.
The music on this CD is a sort of sultry, new-age / cutting-edge jazz, that draws you in. Not like, say, the flugelhorn which sort of lulls you into complacency, McCandless' oboe draws you into the music itself so that you are experiencing it. Whether it be as the lead instrument in the song or an accompaniment to one, the oboe has a distinct sound to it that I find refreshing to hear.
Each song is different in its own right, but they all fit together here in a cohesive compilation that spans the career of McCandless and the Paul Winter Consort.
Some of my favorites from this CD are Elves Chasm which has this wonderful, earthy sound to it, and the first I have heard use the sound of a running brook since I heard Andreas Vollenweider use it in his seminal 1984 album White Winds--done apparently the year prior to the release of Canyon from which this song is taken. Sonically, this song emanates from a pitch black background with the oboe center stage, with the water, birds and music just filling a sound stage as wide as it is deep.
On the Steps of Central Asia transports you there; another soft-ish piece that puts you at ease. It's not Oriental flute-like by any nature that you would often correlate to a song with such a title, but again the sound of the oboe is just right for the song and the feeling of it, and McCandless is impeccable in his playing (as is the rest of the Consort).
Witchi Tai To is this wonder song based on a Native American Church healing song that has this wonderful drum beat and feeling that is almost island-ish in nature. The vocals on it for some reason remind me very much of Jimmy Buffet's One Particular Harbor, although the only thing the song lyrics have in common is that they are about feeling good. McCandless' oboe comes from behind the vocals seamlessly.
Anabela is this wonderful Brazilian song, sung by Renato Braz who has this liquid voice that the oboe accompanies sublimely.
Another great song, Eagle, starts off with the sound of a real eagle (or what I perceive to be an eagle based on the song title) and then something very cool happens: McCandless impersonates the sound of the eagle's cry with his oboe so uncannily, it sounds like he is singing to it and leads into the song which showcases his virtuosity on the instrument.
What is also so awesome about the music on this CD is that several songs were recorded live in the Cathedral Of Saint John The Divine in New York City, several years apart, such as the previously mentioned Anabela and also The Last Train. Although recorded years apart, the sound and mixing is so spot-on that you would think they were recorded together. The sonic impression the Cathedral gives to these songs and the others is just beautiful to hear, but no song on the album more so than Bach's Fantasia in G. Paul's improvisation with the majestic organ of this cathedral has got to be heard. To say it is brilliant and moving is an understatement.
These are just some of the songs that I liked from this CD. They are all wonderful.
There is also an accompanying booklet that provides details about Paul and the Paul Winter Consort, as well as the songs, that will add to your enjoyment of this CD.
Overall, sonically this CD is a gem. The songs have all been mixed and arranged well. The music just emanates from the speakers. The instruments are balanced and the tones and textures of the instruments are rendered with lifelike feeling. Yes, there are some rare times on the live songs where a strain can be heard, but such is live music. Lead vocals or instruments are almost dead center, with the right balance that gives the impression of an ensemble playing together rather than a backup group playing to a lead.
This was an ear-opening experience for me. I had never really heard an oboe before, nor had I heard of the Paul Winter Consort or of Paul McCandless. But I have now, and I am so glad! My musical listening experience has been exponentially enlarged, and I encourage anyone looking for something new that is actually something old to check this out. Paul McCandless has something for you to hear.
Songs on this Album:
All The Mornings Bring

Elves' Chasm

Bright Angel

Whooper Dance

On The Steppes Of Central Asia

Witchi Tai To

Sunset On The Great Sand Dunes

Um Abraco (A Big Hug)

Anabela

Sunderland

Eagle

Common Ground

Twilight

The Last Train

Fantasia In G

Morning Sun