The Longbox Short-List - Week of September 6, 2017
FTC Statement: Reviewers are frequently provided by the publisher/production company with a copy of the material being reviewed.The opinions published are solely those of the respective reviewers and may not reflect the opinions of CriticalBlast.com or its management.
Submitted by

Mike 'Ace' Maillaro

on Tue, 09/05/2017 - 08:12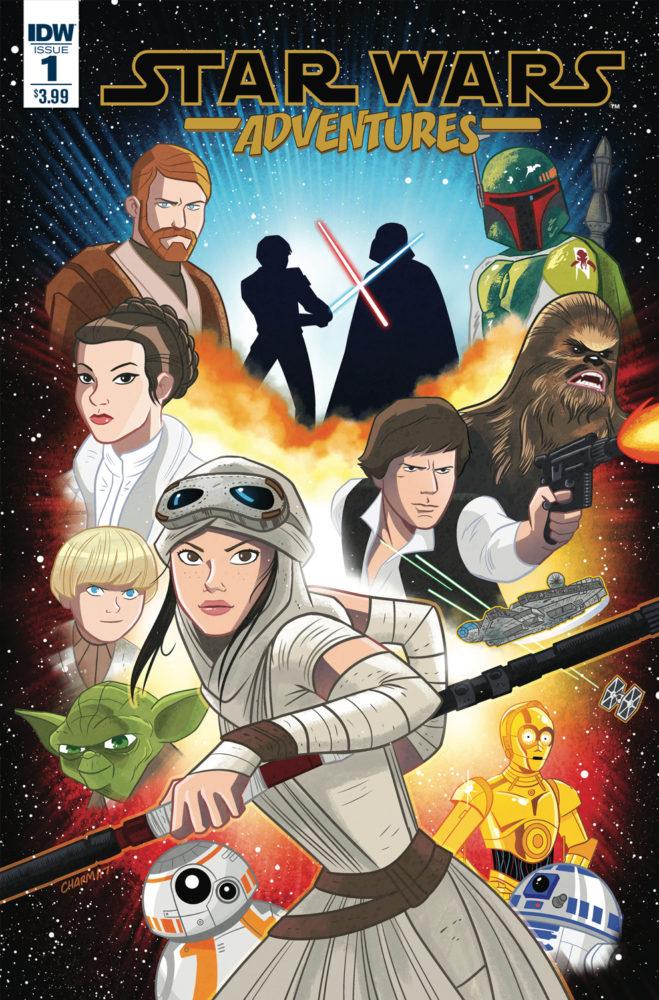 Welcome back to Critical Blast's weekly look at what new comics you should check out each week.   Just a warning, I make these picks pretty much a week BEFORE I actually get to read any of these comics, so if something is a stinker, I take no blame on that.  Let's get to it!
---
STAR WARS ADVENTURES #1 – Odd to see a Star Wars series not by Marvel. This one is geared towards younger readers and being put out by IDW. I suspect it will be similar in tone to Forces of Destiny. Personally, I think the Star Wars comics are already pretty all-ages friendly, but I am not against more Star Wars comics as long as they are good.
VENOMVERSE #1 and VENOMVERSE WAR STORIES #1 – My friend Matt is a terrible influence on me. Too often he suggests books that I would not normally read, and really end up enjoying them, adding to my already absurdly long pull list. Worst friend ever! EDGE OF VENOMVERSE was a lot of fun, and I find myself looking forward to these books. Damn you, Matt.
JOURNEY TO STAR WARS THE LAST JEDI CAPTAIN PHASMA #1 – Man, I've been doing this column a lot time, I remember talking about JOURNEY TO STAR WARS THE FORCE AWAKENS. Here we are two years later heading towards THE LAST JEDI. Phasma is also getting a tie-in novel this weekend (actually by the time you are reading this, it was last weekend). Hopefully she will actually do something in THE LAST JEDI because she basically just looked cool in THE FORCE AWAKENS and didn't do anything.
 DASTARDLY AND MUTTLEY #1 – Glad they are continuing to grow the Hanna-Barbera line, though I still would have preferred them keeping FLINTSTONES, which was often the best comic on the shelves. I have no real love for either of these characters, but DC has done an amazing job with this line, so I will certainly give it a look.
ASTRO CITY #47 – G-Dog! Half man, half dog! This sounds like a particularly odd issue of ASTRO CITY, but Busiek and company always put out a great book.
GREEN LANTERNS #30 – This time travel story telling about the first ever Green Lanterns has been great. Baz and Jessica have quickly become favorite characters, and this book continues to be one of my favorite DC titles every month.
DAREDEVIL #26 – The Supreme Court story and Tombstone betraying Kingpin last issue was pretty cool. Soule has done some great work with DAREDEVIL. The next arc seems to focus on Blindspot, which is not a bad thing at all.
Animosity The Rise #3
World Reader #6
Bane Conquest #5
Batman #30
Green Arrow #30
Nightwing #28
Superman #30
Nancy Drew And The Hardy Boys The Big Lie #6
Postal #22
All-New Guardians Of The Galaxy #9
Astonishing X-Men #3
Champions #12
Generation X #6
Generations Iron Man And Ironheart #1
Hawkeye #10
Jessica Jones #12
Spider-Man #20
Star Wars Darth Vader #5
X-Men Gold #11
Harbinger Renegade #7
Recent Tweets
Top Ten Most Popular Ever