You are here
Home
›
Music
› Absolutely Free a 50th Anniversary Remaster Actually Worth Listening To ›
Absolutely Free a 50th Anniversary Remaster Actually Worth Listening To
FTC Statement: Reviewers are frequently provided by the publisher/production company with a copy of the material being reviewed.The opinions published are solely those of the respective reviewers and may not reflect the opinions of CriticalBlast.com or its management.
As an Amazon Associate, we earn from qualifying purchases. (This is a legal requirement, as apparently some sites advertise for Amazon for free. Yes, that's sarcasm.)
Submitted by

Dennis Russo

on Wed, 10/25/2017 - 14:23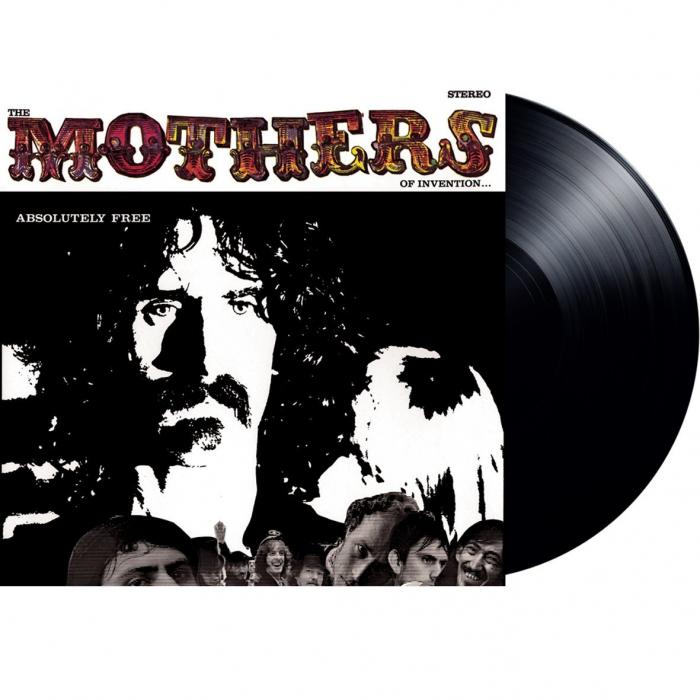 2017 marks the 50th Anniversary of the release of Frank Zappa and the Mothers of Invention's iconic, off-the-beaten-path album ABSOLUTELY FREE. Unlike another, more famous album that got a 50th anniversary remastered and rereleased, this year, this one is actually worth owning and listening to!
Whereas the "other one" was played with far too much so that it hardly resembled the original at all, the marvelous mastering here seems to have sought out and achieved making the original sound better, but not different, on that magical 180-gram vinyl.
The first LP of this two-album set is the album itself. The second LP has outtakes and rarities associated with the album on one side, and this radically cool laser etched image of Zappa's face on the other. The gatefold album cover is rendered in glossy black and white, with a touch of color that exudes quality. It's a heavy stock, so it doesn't feel flimsy.
Also included is the complete Libretto, which has all the words of the album printed in it as if it were a script in a play.
One of the marvelous things about this album is that it has endured through the ages (and the originals are highly collectible) without ever getting any radio play—so if you've never heard the album before, it is understandable.
The albums themselves were nicely made; they both laid flat on the turntable without any noticeable warping. Both LPs were also very clean; putting them on my record cleaner revealed very little processing dust remnants.
Cueing the albums up, I was instantly taken by the jet-black background from which the music started emanating. With pinpoint imaging of the musicians, I was easily able to place them within the sound stage.
When one sits to listen to Zappa and the Mothers, one must do so with an open mind to let them do their thing. Don't try to categorize them as you can with the radio airplay bands--you'll just frustrate yourself and miss enjoying the music and what he's trying to convey. The only categorizing I would do for the Mothers here would be to say they are a mix of Spike Jones and Cirque Du Soleil, with a touch of Allen Ginsburg thrown in for good measure.
Throughout the album I was impressed with the texture and tonal purity of the real instruments that were being played. The drums had a definite "skin" feel, while the cymbals had that struck brass sound to them. Strings had that resin resonating, while the electric guitars that "in the studio" texture. Voices, too, were rendered with a lifelike palpability.
To say I have a favorite song on the album is not really possible, as they are all weirdly tied together; to like one, you must say you like all. And I like them all, so that's my favorite.
It was a lot of fun to sit back and ponder whilst I tried to figure out where Zappa was going to go with the songs, and what connotations, if any, were there in the lyrics. Listening to Zappa is an experience.
Side two of record two has some really neat tidbits on it. While some of the tracks are slightly later re-mixes of songs on the album, others are singles (my favorite of which on the album is "Big Leg Emma") and radio ads done for the album. All have been as well-mastered as possible, given their various sources, but are good enough so you'd think they were always part of the album.
This release is a wonderful example of what a good mastering should sound like. While it did not hurt that it was mastered from the original analog master tapes, it was the handiwork of Bernie Grundman that makes it sound as it does.
Once again I tip my hat to UMe, Ahmet Zappa, and Zappa Records for giving new life to Frank's work for a new generation—and a chance for the old one to hear it as they never have before. Whether you think his music is one in a million, or won in a raffle, there is no denying the importance of the legacy to rock and roll that is Frank Zappa and the Mothers Of Invention's music, and ABSOLUTELY FREE is a great example of that work.
Record 1 Side 1:
1.  Plastic People
2a. The Duke Of Prunes
2b. Amnesia Vivace
2c. The Duke Regains His Chops
3a. Call Any Vegetable
3b. Invocation And Ritual Dance Of The Young Pumpkin
3c. Soft-Cell Conclusion And Ending Of Side #1
Record 1 Side 2:
America Drinks

Status Back Baby

Uncle Bernie's Farm

Son Of Suzy Creamcheese

Brown Shoes Don't Make It

America Drinks & Goes Home
Record 2 Side 1
Absolutely Free Radio Ad #1

Why Don'tcha Do Me Right (1967 single-mono)

Big Leg Emma (1967 single-mono)

Absolutely Free Radio Ad #2

"Glutton For Punishment…"

America Drinks (1969 re-mix)

Brown Shoes Don't Make It (1969 re-mix)
America Drinks And Goes Home (1969 re-mix)
Record 2 Side 2
A Laser etched picture of Frank