WrestlePro - December 9 Preview and Predictions
FTC Statement: Reviewers are frequently provided by the publisher/production company with a copy of the material being reviewed.The opinions published are solely those of the respective reviewers and may not reflect the opinions of CriticalBlast.com or its management.
As an Amazon Associate, we earn from qualifying purchases. (This is a legal requirement, as apparently some sites advertise for Amazon for free. Yes, that's sarcasm.)
Submitted by

Mike 'Ace' Maillaro

on Wed, 12/06/2017 - 11:22
Huge weekend for WrestlePro coming up.  They have shows on Friday and Saturday, and both shows are going to feature a huge dose of Impact Wrestling on top of the amazing WrestlePro regulars.
Saturday night will be the last WrestlePro show of the year, and it's at their home base of Rahway, New Jersey.  It is a pretty stacked card, so let's just get right to it.
---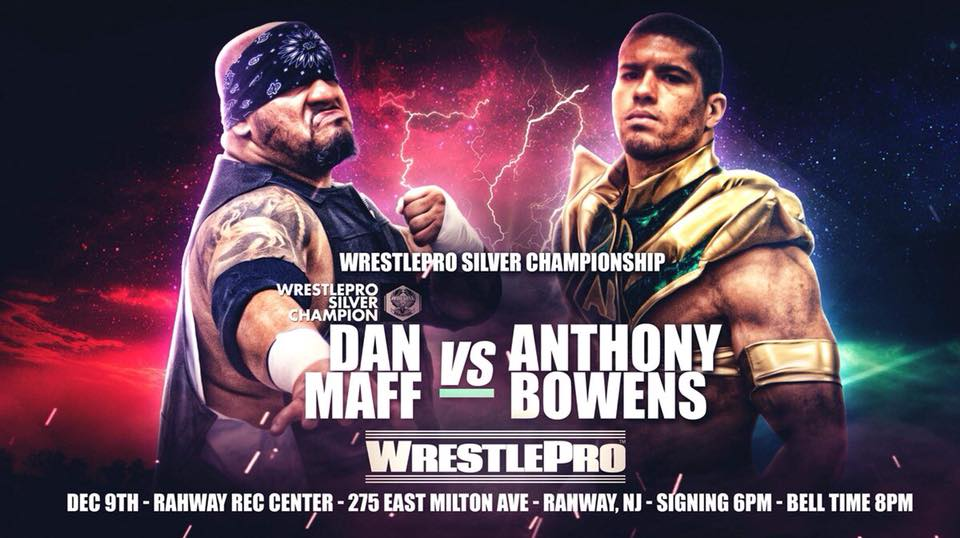 WrestlePro Silver Championship match: Dan Maff Vs Anthony Bowens
At the very first WrestlePro show, Maff and Bowens had a brilliant match, and later on they ended up being the last two guys in the ring in a Battle Royal for a title shot.  Bowens lost the first match, but won the battle royal.  In both matches, they brought out the best in each other.  And that is saying a lot since I have never seen a Danny Maff or Anthony Bowens match that didn't impress me.  But together they just create magic.  There is no doubt in my mind that this will be the match of the night.
Danny Maff fought long and hard to get a title around his waist over the last year.  There is no way he is giving up that title easily.  Bowens will give him a fight and push him to the limits again, but the Silver Championship will be staying with Maff for a long time.
Prediction: Danny Maff
---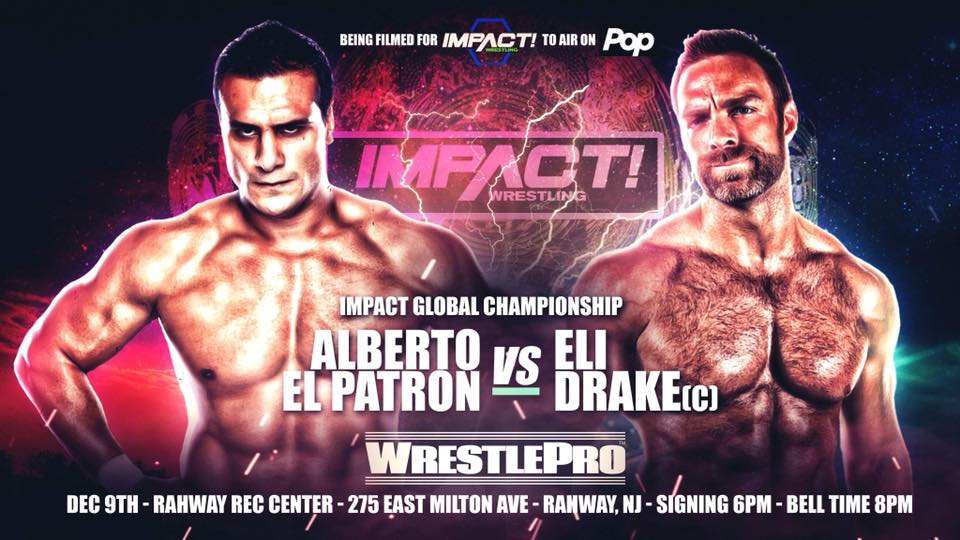 Impact Global Championship - Alberto El Patron Vs Eli Drake
This is a huge match, especially since it is being filmed for IMPACT TV.  I've liked Alberto's work for a real long time in WWE and Lucha Underground.  Eli Drake was a little newer for me, but he's made a great Impact Champion when I catch Impact.  This should be an excellent match-up.  


Eli is not going down without a fight, but I think we're very likely to see a title change here.  Impact took the title off El Patron back in August, and he never really got a chance to carry the banner for the company.  He's taking that title back, and I expect the crowd is going to blow the roof off the Rahway Rec Center when that happens.
Prediction: Alberto El Patron
---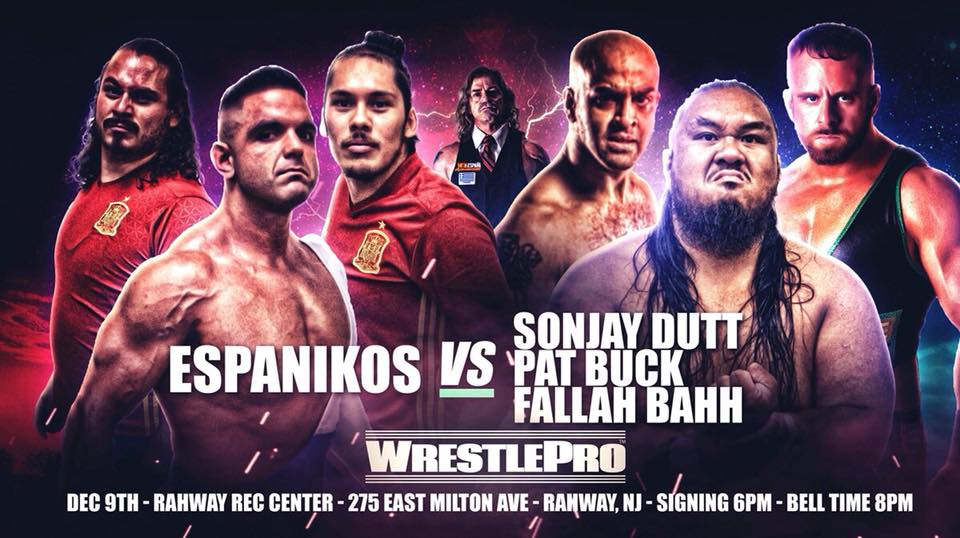 Team Espanikos Vs Sonjay Dutt, Pat Buck, and Fallah Bahh
Team Espanikos face off against the very unusual combination of The Playa from the Himalaya, The Jedi Master, and The Mad Panda.  With The Last Jedi coming out next week, I am really hoping Pat has some new Star Wars gear for this one.  His Luke Skywalker gear back in the day was always awesome.  
I like all six of these guys.  And against pretty much anyone else, I think I would have to go with Team Buck...BUT, Espanikos has Coach D in their corner!  TEAM ESPANIKOS WITH A DEVASTATING VICTORY (It's a good thing I don't put money on these matches).  
Prediction: Team Espanikos
---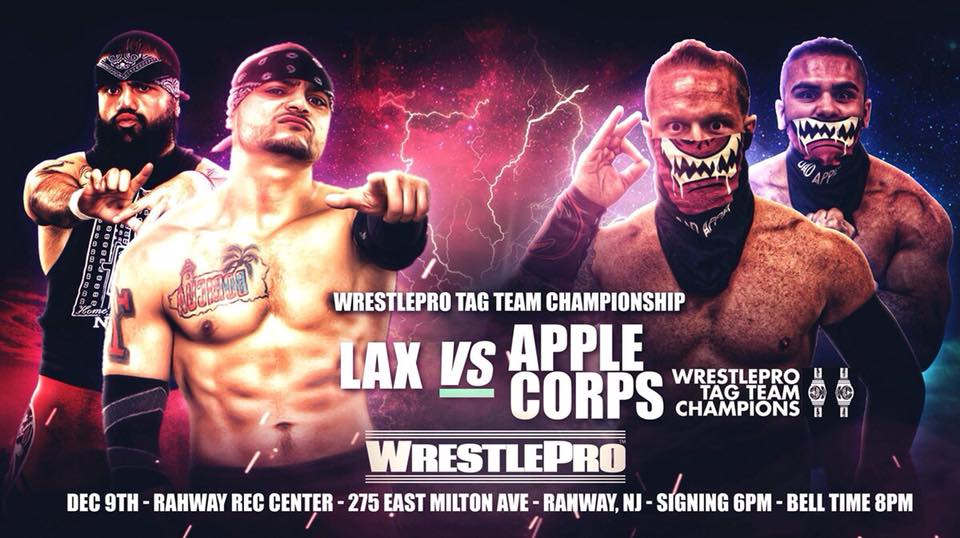 WrestlePro Tag Team Title Match: LAX Vs Apple Corps
The Impact Tag Champions vs The WrestlePro Tag Champions!  This is another match that can definitely steal the show if it's given enough time.  
LAX are some dirty players, but this is Macintosh and Valerio's house.  Those WrestlePro Titles will be staying here where they belong.  Apple Corps for life!!
Prediction: Apple Corps
---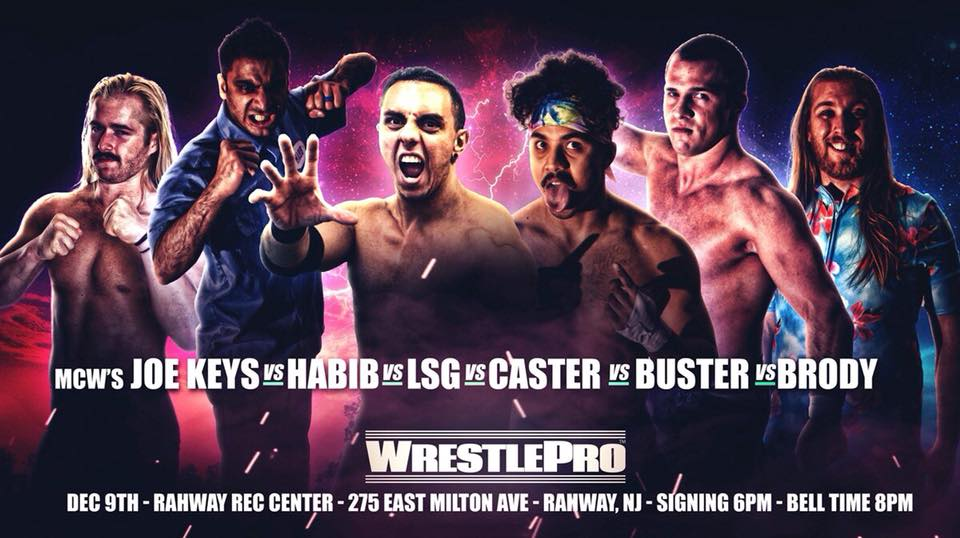 Joe Keys Vs Habib Vs LSG Vs Max Caster Vs Buster Vs Brody
I always love these crazy six-man matches they put on at WrestlePro.  This is the first time I've gotten to see LSG in action.  I've heard a lot of good things about him.  Joe Keys and Max Caster have both done WrestlePro shows in the past, and both of them put on a good show too.  Add in Buster, Brody, and Habib, and this will probably be one fast-paced crazy match.  I genuinely have no idea who takes this one.  So, I rolled a dice, and Google picked Max Caster.  Go Tweener!
Prediction: Max Caster
---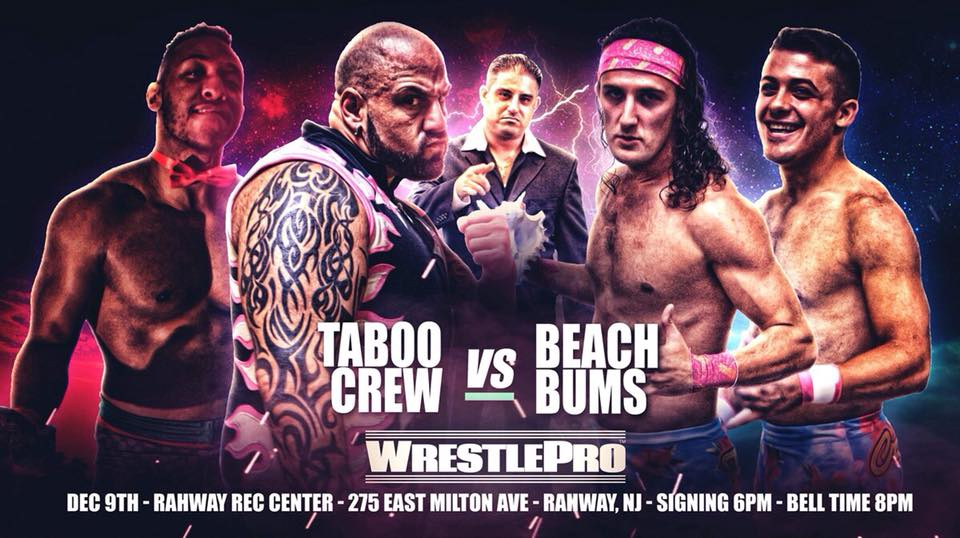 Taboo Crew Vs Beach Bums
Congrats to The Big Deal Craig Steele and his wife on the birth of their son last weekend!  The kid is already rocking Saints gear.  Pretty soon, he will be coming out with his own Gino Gotz and firing a money cannon into the crowd.
The Beach Bums are talented guys, and they are great with the fans.  But at the end of the day, it's going to be the BIg Deal and Micah Jenkins with the win here.  Taboo Crew were the first WrestlePro Tag Champs, and they are going to be back in that title hunt real soon.
Special shout out to Taboo Crew's head of security, my boy, Gino Gotz.  His podcast A Drink With Gino is awesome...and I am not just saying that because somehow he ends up mentioning my name in every episode…
Prediction: Taboo Crew
---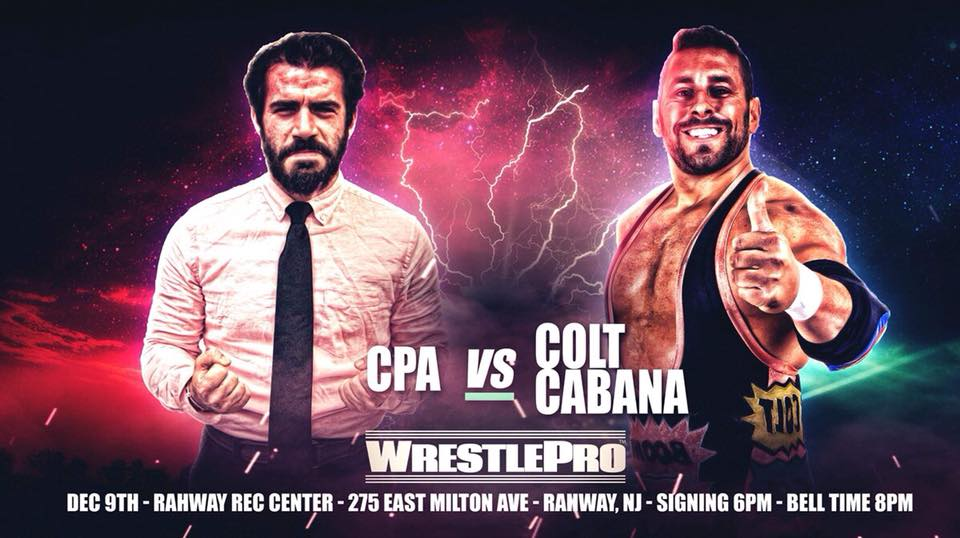 CPA Vs Colt Cabana
This afternoon, I got a package in the mail.  It was my new Create a Pro Wrestling Academy (CAP) shirt.  When my daughter saw it, she said "OH, it's like CPA's name, just spelled differently." I can't believe in the close to three years I've known about Create a Pro Wrestling, I have never made that connection before.  Clearly, I am slow.
CPA and Colt Cabana in the ring is going to be one ridiculous clusterf**** of a match.  Both know how to entertain the crowd, and this match could end up stealing the show.  It's always possible that CPA will eek out another win, but I am leaning towards Boom Boom on this one.  Last time I saw Colt Cabana at a WrestlePro show, he beat Bobby Lashley (sort of)!   He's unstoppable (kind of)!
Prediction: Colt Cabana
---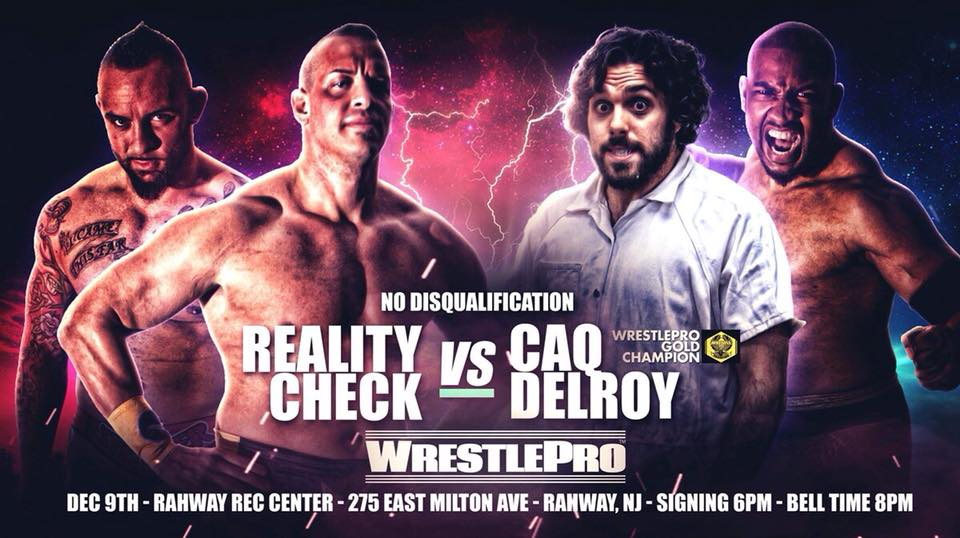 Reality Check VS CAQ and Delroy
This is just four beasts in the ring.  Kevin Matthews turned his back on the fans a few months ago, and he introduced Chris Steeler as the first member of the reformed Reality Check last month.  I expect CAQ and Delroy will give these guys a hell of a match.. It's NO DQ...so I think we may see some new Reality Check members make their debut and giving their boys the win.   
Prediction: Reality Check
---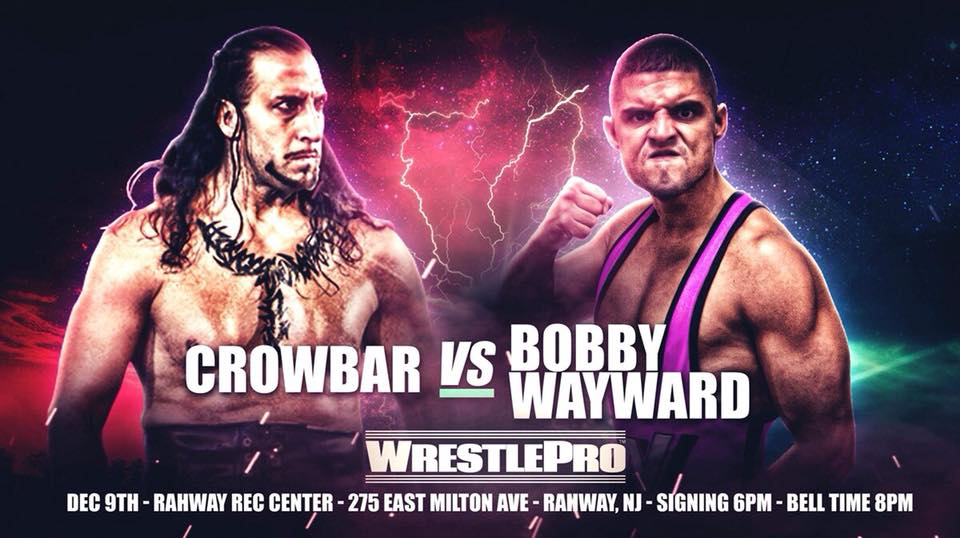 Crowbar Vs Bobby Wayward
I want to start by saying Crowbar is one of the most underrated wrestlers out there.  I have seen him at  two indy shows, and he really had the crowd in the palm of his hand the whole time.  My daughter absolutely hated him by the end of his first match.  To this day, I still call Crowbar "her arch nemesis."  
Bobby Wayward is another guy who knows how to piss off the crowd.  It is very possible by the end of the match, the crowd is going to run them both out of town…
Bobby Wayward will do anything to win, including using his lackeys in JOB Security.  So, he will likely end up winning this one...cheating the whole time.
Prediction: Bobby Wayward
---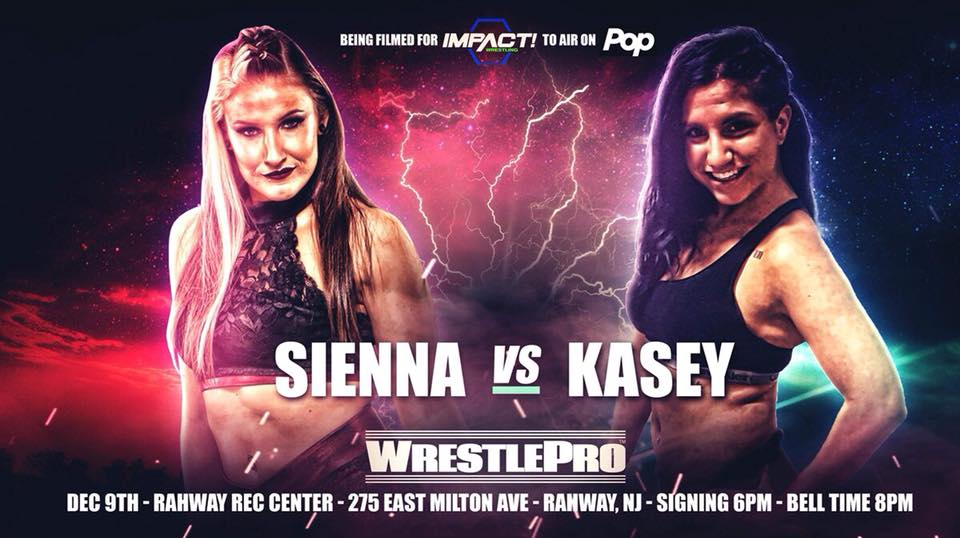 Sienna Vs Kasey
In a real short time, Kasey Catal is making a huge name for herself.  She's already been on WWE TV, and now she will be on IMPACT too.  I do think Sienna will get the win here, but Kasey definitely deserves the exposure she's been getting.  Her stock is going to continue to go up real quick in the wrestling business!
Prediction: Sienna
---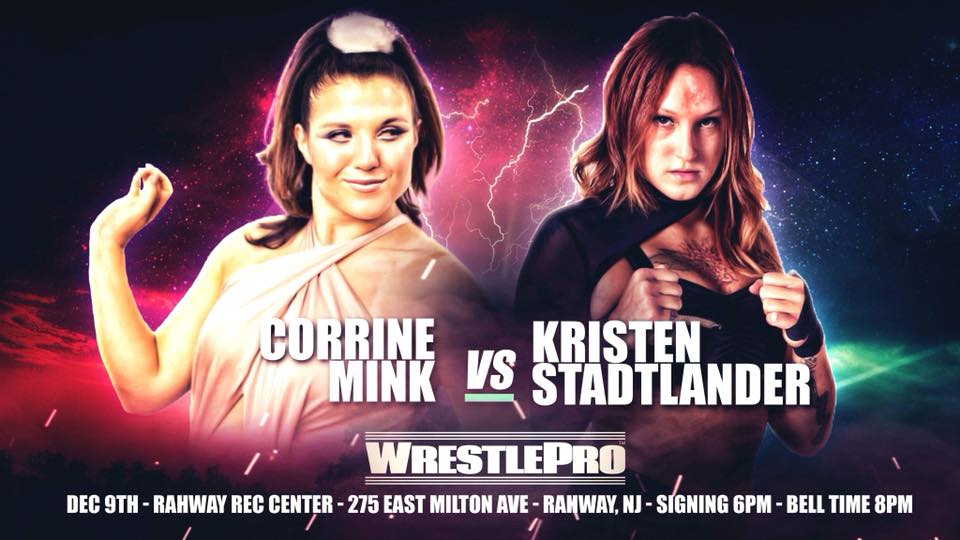 Corrine Mink vs Kristen Stadtlander
Nice to see two women's matches featured on this card.  Both students at Create a Pro wrestling, and there is a strong buzz on both of them.  Corrine already has a few real good matches under her belt, and  Pat Buck has said Kristen Stadtlander may just be one of his best students, including the males.   I am a lot more familiar with Corrine's work, so I am giving her the win here, but I also wouldn't be surprised to see Kristen come out on top.
Prediction: Corrine Mink
---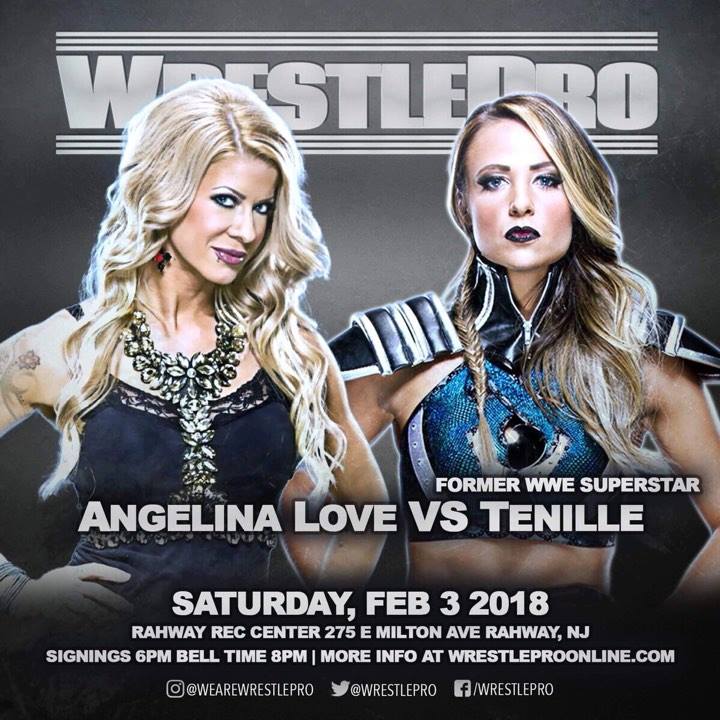 Tickets for this and all other WrestlePro shows are available on WrestlePro Online.
We already have some huge WrestlePro news for next year...WWE's Emma will be her independent wrestling debut at WrestlePro's February 3, 2018 show. This will be the first time WrestlePro will be having a women's match as the main event!