The Longbox Short-List - Week of December 20, 2017
FTC Statement: Reviewers are frequently provided by the publisher/production company with a copy of the material being reviewed.The opinions published are solely those of the respective reviewers and may not reflect the opinions of CriticalBlast.com or its management.
As an Amazon Associate, we earn from qualifying purchases. (This is a legal requirement, as apparently some sites advertise for Amazon for free. Yes, that's sarcasm.)
Submitted by

Mike 'Ace' Maillaro

on Tue, 12/19/2017 - 08:53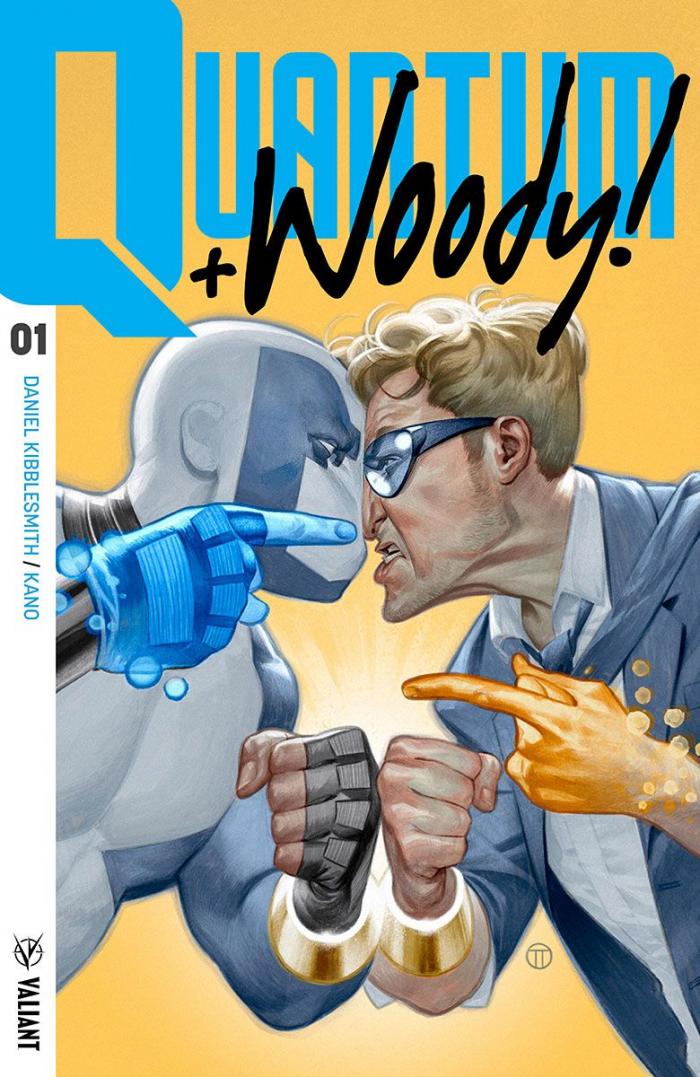 Welcome back to Critical Blast's long-running weekly look at what new comics you should check out each week.   Just a warning, I make these picks pretty much a week BEFORE I actually get to read any of these comics, so if something is a stinker, I take no blame on that.  Let's get to it!
---
QUANTUM AND WOODY #1 – QUANTUM AND WOODY has always been one of Valiant's best titles, but it seems to constantly end up getting cancelled and relaunched. I really hope it can get some legs this time.
BACKWAYS #1 – Aftershock's new series BACKWAYS sort of sounds a bit like a Narnia story, which definitely appeals to me. ""There is a hidden nation. A nation of magic and madness, one that exists in all the forgotten spaces. Your basement, your attic, the haunted house down the street, anyone of those might be a part of the Backways. Anna Merrick lost someone in the Backways, and she'll stop at NOTHING to get them back. Even if it means unleashing something unimaginable"
MARVEL TWO IN ONE #1 – I love these kinds of Team-Up books, and I like The Thing so much I named my son after him. That said, I do have a little hesitation on this book because it's written by Chip Zdarsky…he just hasn't done much as a writer that I have enjoyed. It always feels like he has real fun ideas for comics, but the execution often leaves me flat.
DOCTOR STRANGE #383 – Sentry is back! I am not totally sure that is a good thing, but it was definitely an unexpected twist in a series that has already had a lot of them in its short run. Real curious what is going on with Loki, Sentry, and Stephen Strange.
GUARDIANS OF THE GALAXY #149 – I have seen several non-comic newsites talking about how shocking it is that GUARDIANS OF THE GALAXY is coming to an end with issue 150. They seem to talk about it like it's one of Marvel's longest running, most popular series ever…which goes to show how much the movies skew the perception of non-comic fans. It's even odder since this book hasn't been cancelled, it just seems to be taking a break for the INFINITY COUNTDOWN event. I just want to know if it will relaunch with Legacy numbering or is Marvel going back to a new #1.
CHAMPIONS #15 – Viv Vision has had a rough few days: Turned to human by the High Evolutionary. Sacrifices herself to save the world. Wakes up to find herself floating in a white limbo. CHAMPIONS hasn't been as good as I hoped, but I do want to know what happens next with Viv, so this is one of the comics I am most curious about this week.
CURSE WORDS HOLIDAY SPECIAL #1 – This has been a terrific series by Charles Soule. I think the Holiday Special takes us back to before the first issue, giving us more of a look at what life was like for Wizord before he came to Earth.
DARK NIGHTS METAL #4 – With DOOMSDAY CLOCK starting and so many books already taking place after DARK NIGHTS METAL, I've had a hard time really staying interested in what happens here. Hopefully DC can get these issues out a little faster and with more impact, because right now, it feels a bit like SECRET WARS a big event that just had no long term impact…so little impact that you can release comics set after the event and it is not an issue at all.
Dark Ark #4
Unholy Grail #5
Your Pal Archie #5
Mighty Morphin Power Rangers #22
Batman Teenage Mutant Ninja Turtles II #2 (Of 6)
Future Quest Presents #5
Green Lanterns #37
Justice League #35
Nightwing #35
Super Sons #11
Superman #37
Wonder Woman Conan #4 (Of 6)
Donald And Mickey Quarterly Treasure Archipelago #1
Powerpuff Girls The Bureau Of Bad #2 (Of 3)
Invincible #143
America #10
Defenders #8
Generation X #85
Incredible Hulk #711
Luke Cage #168
Mighty Thor #702
Monsters Unleashed #9
Ms. Marvel #25
Old Man Logan #32
Star Wars Doctor Aphra #15
Star Wars Poe Dameron #22
Uncanny Avengers #30
Venom #159
X-Men Gold #18
Ninja-K #2
Recent Tweets
Top Ten Most Popular Ever