The Longbox Short-List - Week of January 31, 2018
FTC Statement: Reviewers are frequently provided by the publisher/production company with a copy of the material being reviewed.The opinions published are solely those of the respective reviewers and may not reflect the opinions of CriticalBlast.com or its management.
Submitted by

Mike 'Ace' Maillaro

on Tue, 01/30/2018 - 09:46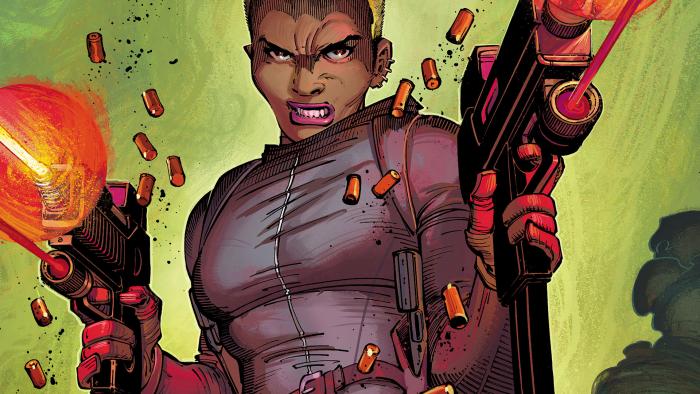 Welcome back to Critical Blast's long-running weekly look at what new comics you should check out each week.   Just a warning, I make these picks pretty much a week BEFORE I actually get to read any of these comics, so if something is a stinker, I take no blame on that.  Let's get to it!
---
SILENCER #1 - Another of DC's new line of heroes. To be honest, DAMAGE didn't really grab me all that much, and I feel like these characters should have been featured in METAL before they got their own books. I am hoping DC proves me long, but right now I am not sure any of these books can have any legs.
STAR WARS: THE LAST JEDI : DJ #1 - I am not sure he was even named in the movie, but DJ is Benicio del Toro's character who betrayed Finn and Rose. I am real curious to know more about him. Definitely seemed like there was a lot more to this character than we got to see on screen.
PHOENIX RESURRECTION: THE RETURN OF JEAN GREY #5 and JEAN GREY #11 - Even though it's only been five issues, PHOENIX RESURRECTION has felt like it was dragging at times. I am real curious how this all works continuity wise, since young Jean Grey is still featured in POISON X, but that is not all that unusual.
STAR TREK BOLDLY GO #16 - This has been a real fun "all universes collide" arc. Last issue, we found out that Q was involved in all the trouble the various Enterprises have been going through. This actually reminds me of an overly caffeinated version of my favorite Star Trek book "Q-SQUARED."
DARK NIGHTS METAL #5 - With the gaps between issues (planned and unplanned), it's been real hard to maintain the same level of interest in DARK NIGHTS METAL I had when the series started. It has been very good, but I am just not sure it can have any real lasting impact since it just feels like DC has already moved passed METAL for DOOMSDAY CLOCK and the upcoming NO JUSTICE. That is the problem with stacking so many events around each other.
SPAWN #282 - The hype on this issue is that it will be debuting a new hero who will be getting its own Image book moving forward. I keep thinking that it will end up being Cyan Fitzgerald, though she isn't a new character. They have been teasing her superpowers a lot the last few months. I think that could be a great change up to SPAWN.
Dark Ark #5
Detective Comics Annual #1
Flash Annual #1
Mystik U #2 (Of 3)
Powerpuff Girls The Bureau Of Bad #3 (Of 3)
Star Trek Boldly Go #16
Walt Disney's Comics And Stories #741
All-New Wolverine #30
Amazing Spider-Man Renew Your Vows #15
Ben Reilly The Scarlet Spider #13
Captain Marvel #128
Defenders #9
Despicable Deadpool #293
Falcon #4
Incredible Hulk #712
Invincible Iron Man #596
Jessica Jones #16
Moon Girl And Devil Dinosaur #27
Moon Knight #191
Old Man Logan #34
Punisher The Platoon #5 (Of 6)
Star Wars Doctor Aphra #16
Tales Of Suspense #101
Eternity #4 (Of 4)
Quantum And Woody #2
Recent Tweets
Top Ten Most Popular Ever