The Longbox Short-List - Week of February 21, 2018
FTC Statement: Reviewers are frequently provided by the publisher/production company with a copy of the material being reviewed.The opinions published are solely those of the respective reviewers and may not reflect the opinions of CriticalBlast.com or its management.
As an Amazon Associate, we earn from qualifying purchases. (This is a legal requirement, as apparently some sites advertise for Amazon for free. Yes, that's sarcasm.)
Submitted by

Mike 'Ace' Maillaro

on Tue, 02/20/2018 - 07:07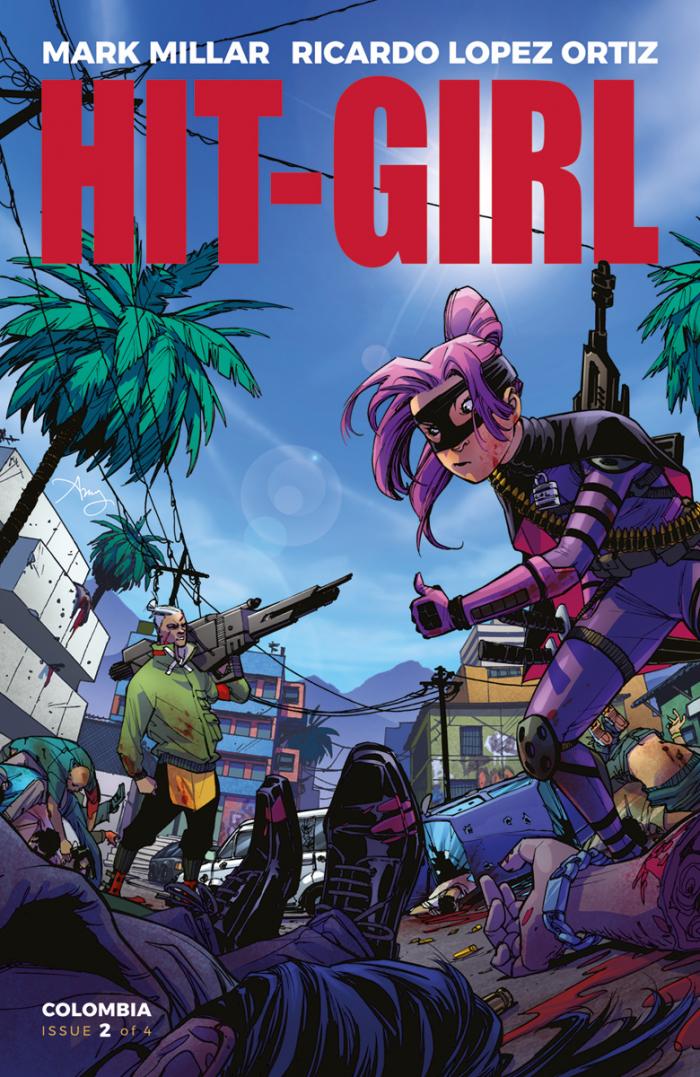 Welcome back to Critical Blast's long-running weekly look at what new comics you should check out each week.   Just a warning, I make these picks pretty much a week BEFORE I actually get to read any of these comics, so if something is a stinker, I take no blame on that.  Let's get to it!
---
ICE CREAM MAN #2 - This was a nice surprise last month. I hadn't been paying much attention to ICE CREAM MAN, but a few Image books had a sneak peek, and I was immediately sold on it. The first issue was basically a horror story, but it seems like the series is supposed to tackle a bunch of different themes and genres.
HIT-GIRL #1 - I actually still have not read any of the earlier KICK-ASS books, even though I like Mark Millar quite a bit. Unlike the new KICK-ASS series, this seems to be a return of the original HIT-GIRL. I am picking this book up, though I probably won't read it until I am all caught up on the older series. I am like that.
POSTAL - MARK #1 - POSTAL was one of my favorite Image series. It's the story about a town of criminals hiding out in plain sight. POSTAL ended last month on a bit of a cliffhanger. We are getting a few one-shots, but I don't know if they are stories set earlier in the series or intended as epilogues. I kind of hope for the former, as I kind of like that the ending was ambiguous.
WONDER WOMAN CONAN #6 - I always love a good crossover, and that is exactly what we got here. I am kind of bummed out that it's coming to an end. I hope we get more crossovers between WONDER WOMAN and CONAN in the future, though with CONAN returning to the Marvel umbrella next year, that just might not happen.
BRAVE AND THE BOLD: BATMAN AND WONDER WOMAN #1 - I am not quite sure what this is. I always liked BRAVE AND THE BOLD as an anthology team-up series. But Batman and Wonder Woman just teamed up in BATMAN and they are together with Superman every month in TRINITY (a book which I ended up dropping a few months back) and JUSTICE LEAGUE. If you are going to do a mini-series, use it to give exposure to characters that need it, not just more Batman and more Wonder Woman.
DOCTOR STRANGE: DAMNATION #1, INFINITY COUNTDOWN PRIME #1, and VENOM #162 - Marvel has three crossover events going on at the same time here with DAMNATION, INFINITY COUNTDOWN, and VENOM (not to mention AVENGERS: NO SURRENDER which continues weekly with AVENGERS #681). I actually enjoy a lot of what Marvel puts out, but it often feels really hard to keep up with everything they are putting out as "must-read events." Why can't they spread these series out better?
STAR WARS: DOCTOR APHRA #17 - I am sort of posting this early since the issue I am most excited about is issue 18 where Hera from STAR WARS: REBELS shows up. DOCTOR APHRA is set after A NEW HOPE, so now we know Hera survives at least that long. After last night's REBELS, it's nice to know at least someone survives past the end of the series...
Alters #10
Brilliant Trash #4
Archies #5
Mighty Morphin Power Rangers #24
WWE #14
Batman #41
Batman And The Signal #2 (Of 3)
Batman Teenage Mutant Ninja Turtles II #4 (Of 6)
Damage #2
Future Quest Presents #7
Green Lanterns #41
Justice League #39
Nightwing #39
Super Sons #13
Superman #41
Amazing Spider-Man #796
Astonishing X-Men #8
Daredevil #599
Defenders #10
Generation X #87
Incredible Hulk #713
Luke Cage #170
Mighty Thor #704
Monsters Unleashed #11
Punisher The Platoon #6 (Of 6)
Tales Of Suspense #102 (Of 5)
X-Men Gold #22
Ninjak Vs The Valiant Universe #2 (Of 4)
Quantum And Woody #3