You are here
Home
›
Home Video
› LEGO DC Comics Super Heroes: The Flash a Solid Story for Fans ›
LEGO DC Comics Super Heroes: The Flash a Solid Story for Fans
FTC Statement: Reviewers are frequently provided by the publisher/production company with a copy of the material being reviewed.The opinions published are solely those of the respective reviewers and may not reflect the opinions of CriticalBlast.com or its management.
As an Amazon Associate, we earn from qualifying purchases. (This is a legal requirement, as apparently some sites advertise for Amazon for free. Yes, that's sarcasm.)
Submitted by

RJ Carter

on Tue, 03/06/2018 - 14:08
At this stage of the game, I've seen enough LEGO movies to get the joke. Expect a level of silliness, everything unmade can be remade, bricks are the building block of the universe, and there's a somber lesson to be learned in there somewhere that will still end with a punchline.
And then there's THE FLASH -- which does all of that and more.
The story opens with the Justice League going up against The Joker (JASON SPISAK) who has targeted Metropolis since Batman (TROY BAKER) has been spending his time with all his super friends at the Hall of Justice. He's setting off laughing gas bombs that must be stopped, so the entire League -- including Superman (NOLAN NORTH), Wonder Woman (GREY DELISLE), Cyborg (KHARY PAYTON), Plastic Man (TOM KENNY), Firestorm (PHIL LAMARR) and newly-recruited member The Atom (ERIC BAUZA) set out to stop him. But none of them are fast enough, and all eventually succumb to Joker's attacks as Batman persistently grumbles, "Where is Flash!?"
It's always been the hallmark of The Flash (JAMES ARNOLD TAYLOR) to be the super-speedster who's perennially late. In this case, he's fixing tires, getting donuts, stopping Captain Cold, getting a milkshake in Star City, stopping Captain Boomerang, and finding out he set his Justice League beeper on vibrate. He does, eventually, show up to help save the day, only to encounter a mysterious speedster dressed all in yellow. Yes, the Reverse-Flash is making his LEGO debut, and it's the first time Flash is meeting him. Despite admonitions from Batman to slow down and have a plan, Flash races off after Reverse-Flash, moving so fast that he creates a time loop and ends up reliving the same day.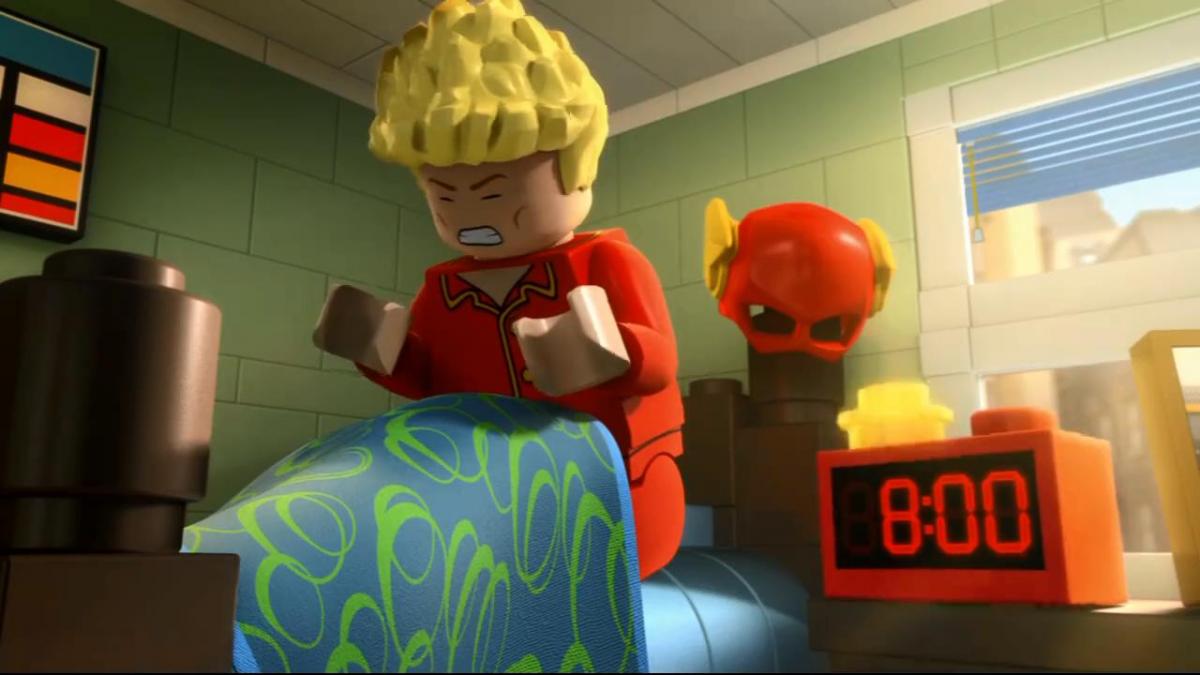 As Flash solves the current Justice League problem faster and faster in order to have time to ask for advice, he ultimately ends up breaking out of the loop and landing five days in the future, where he finds he's persona non grata. Even the Justice League is giving him the boot for the pranks he's been pulling on them. And more than that, he's broken his connection with the Speed Force, causing him to lose his powers.
Fortunately, The Atom has tagged along with the dejected Flash, who finds himself trapped by the Reverse-Flash, who's obviously been impersonating him the past week. Unfortunately for Atom, the electrified handcuffs Reverse-Flash throws onto Flash also shorts out his size-changing belt, so he can't go to full size and let Flash know he's there. So he does the next best thing: he dances around on Flash's phone to dial the number for help -- in this case, magical help from Doctor Fate (KEVIN MICHAEL RICHARDSON) and Zatanna (KATE MICUCCI). This paves the way for a marvelous musical number as Richardson gets his Barry White on and leads Flash in a blues number (with Zatanna as backup) explaining the problem. Then it's off to the Speed Force, where Barry must learn the lessons it has to teach him through a series of challenges before he can be worthy enough to get his powers back.
A wide and varied cast of superheroes, as well as appearances by the super pets (Krypto and Ace) and even B'dg ("I'm not a pet!) also voiced by Bauza, makes this LEGO DC Superheroes adventure a must-purchase! Fans of CW's THE FLASH will appreciate the effects, such as the ever-vibrating "man in the yellow suit" and the speed tunnels. It's all the LEGO fun paired up with a great action story that engages the audience -- it's probably the best LEGO DC Super Heroes project to date!