You are here
Home
›
Television
› Pep Talk: Riverdale Episode 404, "Halloween" ›
Pep Talk: Riverdale Episode 404, "Halloween"
FTC Statement: Reviewers are frequently provided by the publisher/production company with a copy of the material being reviewed.The opinions published are solely those of the respective reviewers and may not reflect the opinions of CriticalBlast.com or its management.
As an Amazon Associate, we earn from qualifying purchases. (This is a legal requirement, as apparently some sites advertise for Amazon for free. Yes, that's sarcasm.)
Submitted by

RJ Carter

on Thu, 10/31/2019 - 12:22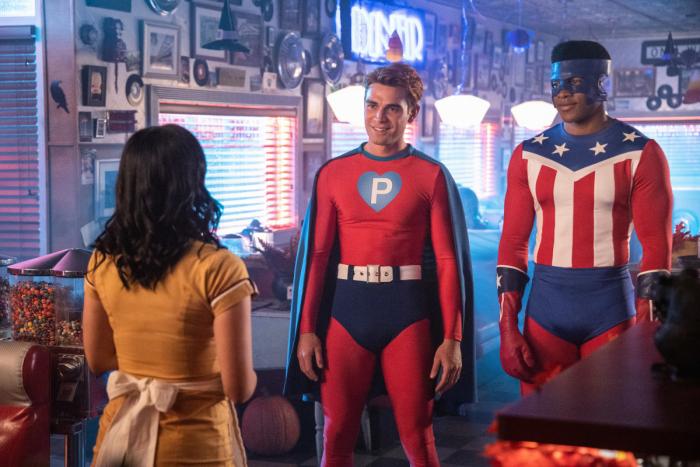 "Halloween" is perhaps the spookiest episode of RIVERDALE to come down the pike, hitting on just about every urban legend trope and pulling off a number of shot recreations. But before we get into all that, can I just say that it was worth the past three years to finally get a live-action Pureheart the Powerful and The Shield? Who wants to see these characters make a split-second cameo appearance in CW's upcoming CRISIS ON INFINITE EARTHS? Show of hands?
So let's start with those costumes. Archie (KJ APA) and Munroe (ELI GOREE) are put on alert when they learn Dodger is still running street kids to do his illegal business. To keep the kids off the street for one night, Archie opens up the community center for a Halloween party, and Veronica gets her friend from a design school, Katy Keene, to create the guys some costumes. (Katy Keene does not appear in this episode, but she will be spinning off into her own CW series in the near future.) Dodger shows up at the community center to cause problems, unaware that Archie is the one who beat him down before. But this time Dodger is packing heat, and before the night is over one of the kids in Archie's protection is going to be taking a trip to the hospital.
Veronica (CAMILA MENDES) is manning Pop's Diner alone, and is closing up when a stranger pops in to get a meal. He claims he's been driving all night to get to his family, even shows her a picture. She stays open late to accommodate him. But when the television breaks in with, perhaps, the most helpful newsfeed ever contrived, events spiral into a slasher movie gone wrong.
At Thistle House, Toni (VANESSA MORGAN) convinces Cheryl (MADELAINE PETSCH) that it's really time to bury her "three-years-dead but fresh-as-a-daisy" twin brother, Jason. Cheryl agrees, but after the burial a weird doll begins showing up in the house. Nana Rose (BARBARA WALLACE) claims it's the spirit of Cheryl's other brother, Julian, who was "absorbed" by Cheryl in utero. Cheryl's mother, distraught at losing one of the triplets, added the doll to the care of the infants until she was over her grief. Dressed for Halloween as Harley Quinn and Poison Ivy (yet another reason to appear in Crisis), Cheryl convinces Toni that digging Jason back up will quiet the spirits, but things only get weirder after that (as if having the corpse sitting there wasn't weird enough).
Jughead (COLE SPROUSE) is still at odds with the other students at his new private high school, and finds himself in a horrific situation: he's drugged, and awakens later sealed up in a coffin, with nobody responding to his calls for help.
Finally, Betty (LILI REINHART) finds herself alone in the Cooper house with Jughead's sister, waiting for Jughead (who won't be coming, see above), when she starts getting phone calls from none other than the Black Hood -- or at least someone pretending to be him. Fortunately, her FBI brother, Charles (WYATT NASH) pops by, and just happens to have his phone-tracing equipment in the car. (Because the Cooper house has a landline, that does not have caller ID. How very 1990s.) He identifies the source of the calls, with results that create yet another wedge between Betty and her family...although we're not quite sure Charles is telling the truth. In fact, we're pretty sure by the end of this episode that Charles is anything but a good guy.
Perhaps the most subtle villain of the piece is the new high school principal, Mr. Honey (KERR SMITH). When he catches Reggie (CHARLES MELTON) and Kevin (CASEY COTT) vandalizing his office, he has every right to inflict punishment. But he does not seethe with anger, nor does he assign them detention. Rather, it's the psychological punishment he inflicts on both of them, casually and without emotion, that really makes Honey a horrifying character! 
Definitely one of the better episodes of RIVERDALE thus far, and a great one to replay on the CW app for a Halloween scare (assuming you can get the app to actually work).