Reitman's Young Stars Make Ghostbusters: Afterlife A Winner
FTC Statement: Reviewers are frequently provided by the publisher/production company with a copy of the material being reviewed.The opinions published are solely those of the respective reviewers and may not reflect the opinions of CriticalBlast.com or its management.
As an Amazon Associate, we earn from qualifying purchases. (This is a legal requirement, as apparently some sites advertise for Amazon for free. Yes, that's sarcasm.)
Submitted by

Jeff Ritter

on Thu, 11/18/2021 - 14:01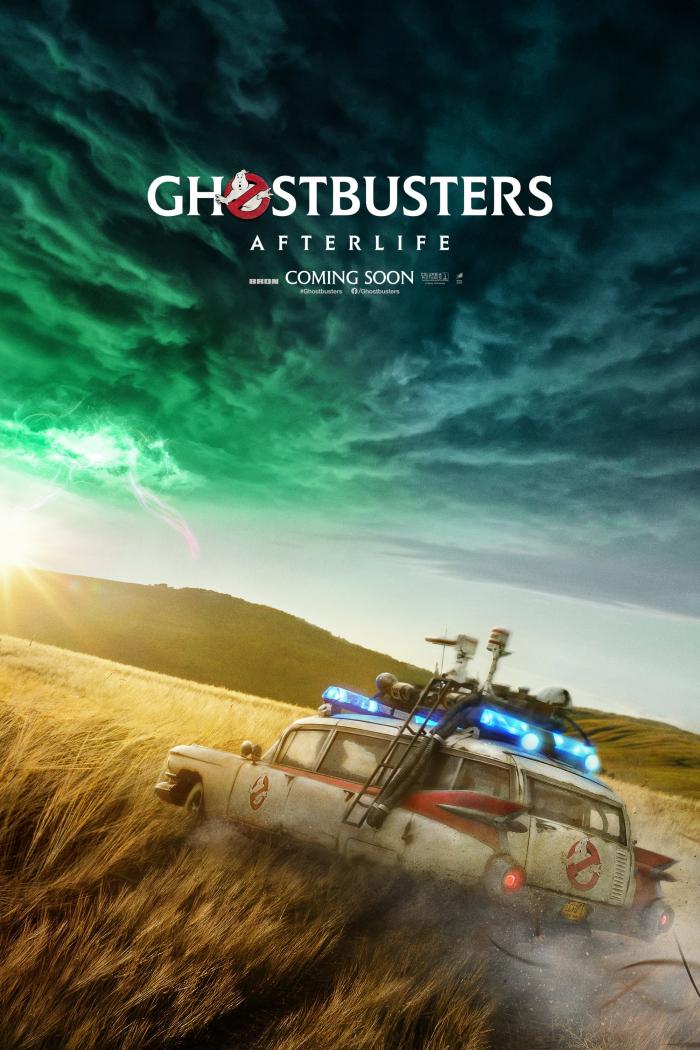 I remember it like it was yesterday, though in truth it's been 13,674 days -- or 37 years, 5 months, 7 days, for you anti-mathers out there -- since 11-year-old me first thrilled to that rip-roaring, nuclear-accelerated, instant classic of pseudoscientific cinema that was the original Ghostbusters film in the summer of 1984. The movie chronicles the formation the most unlikely team of heroic supernatural exterminators -- Dr. Ray Stantz (Dan Ackroyd), Dr. Peter Venkman (BiIl Murray), Dr. Egon Spengler (the late, great Harold Ramis), and everyman Winston Zeddemore (Ernie Hudson), and their miraculous rescue of Dr. Venkman's lady love Dana Barrett (Sigourney Weaver), her nerdy neighbor Louis Tully (Rick Moranis), New York City and indeed the whole world from the sinister interdimensional threat of Gozer the Destructor. In a span of just 30 days, top comedy director Ivan Reitman's Ghostbusters "came, saw and kicked the collective ass" (to paraphrase Dr. Venkman) a formidable line-up of theatrical releases the likes of which has probably never been duplicated: Indiana Jones and the Temple of Doom, Star Trek III: The Search for Spock, Streets of Fire, Once Upon a Time in America, Gremlins, Beat Street, Under the Volcano, Grand Canyon: The Hidden Secrets (a documentary), The Karate Kid, Rhinestone, Top Secret!, and The Pope of Greenwich Village, fine movies all, were surpassed by the pop culture phenomon that becamem the top grossing film of that year. 
No one in their right mind would want to face the daunting challenge of making a quickly thrown together sequel to a megahit so soon, and much of the cast and crew had  already moved on to other projects. Nonetheless, Reitman acquiesced to studio pressure and tremendous consumer appetite and got the gang back together for Ghostbusters 2, in 1989. I rewatched the sequel a few days ago and while it wasn't nearly as bad as 16-year-old me remembered, it clearly lacked that ephemeral spark of passion for the material that elevated its predecessor.  In 2016, director Paul Feig's Ghostbusters took a crack at reimagining the concept with an all-female team of Ghostbusters (Melissa McCarthy, Kristen Wiig, Kate McKinnon and Leslie Jones), and it too generally failed to capture the true spirit of the beloved franchise in the eyes of fans and critics alike.  
Enter the kid...or more precisely Ivan Reitman's kid. Jason Reitman, who ran around his father's sets as a 7-year-old in 1984, and followed in his father's footsteps as an auteur of independent feature films, such as Thank You for Smoking, Juno, and Up in the Air. With Ghostbusters: Afterlife, this Reitman has returned the franchise to its former glory with an abundance of humor and heart. 
Serving as both a direct sequel to his father's films and a quasi-relaunch of the franchise, Ghostbusters: Afterlife tells the story of Egon Spengler's family, who were estranged from their quirky patriarch for much of their lives. His daughter Callie (Carrie Coon) has struggled both emotionally and financially since her father went "off the grid" sometime after the events of Ghostbusters 2. Upon inheriting her father's derelict ranch of rust and rubble, Callie moves her family – typical teenager Trevor (Finn Wolfhard) and chip off the old scientist Phoebe – to the dead-end town of Summersville, Oklahoma.  The kids summer school teacher, Mr. Grooberson (People Magazine's "2021 Sexiest Man Alive" Paul Rudd), quickly takes a romantic interest in Callie, which gives the kids room to explore. Joined by classmates Lucky Domingo (Celeste O'Connor) and the mononymously-named Podcast (Logan Kim), the kids discover their legacy as Spenglers and the strange connections this backwater town has with the events of their grandfather's greatest triumph.  
That's all of the plot I'm going to offer, because saying anything more would be a great disservice to anyone interested in seeing the movie, I can't tell you what you should do with regards to returning to movie theaters while the pandemic is still very much in effect. But if you are curious enough to be considering it, I give Ghostbusters: Afterlife my highest recommendation. The film is absolutely fantastic, and the most  enjoyable non-Marvel Cinematic Universe movie I've seen in years! The younger Reitman has carefully crafted a love letter to the generation of wide-eyed youth who loved all-things Ghostbusters from the start, from Hi-C Ecto Cooler drink (returning soon to your local grocery stores after far too long) to comic books, Saturday morning cartoons, breakfast cereal and toys galore. Reitman dug up every gizmo and whatchamacallit that ever beeped or blinked in the original film: Proton Accelerator backpacks, Muon Traps, and Egon's own invention, the P.K.E. Meter, to pump up the flavor. The Ecto-1, the world's most famous hearse, is still roadworthy (mostly) and used in previously unseen ways. The special effects are a delightful blend of modern CGI and old-school models and puppetry, which lend a certain authenticity to the entire production.  
Most importantly, Reitman's cast is absolutely brilliant, particularly the kids. I already knew how good Finn Wolfhard is from his role on Netflix's Stranger Things, but I was unfamiliar with Mckenna Grace despite the 15-year-old's sixty acting credits (according to our friends at IMDb, who are usually pretty accurate), including The Big Bang Theory spin-off show Young Sheldon. She also played the young Carol Danvers in Captain Marvel, but she's grown up since then and I failed to recognize her, as I also did with Carrie Coon, who played Proxima Midnight, one of Thanos' lieutenants in the Avengers: Infinity War and Endgame films. Of course, I expected Paul "Ant Man" Rudd to turn in a good performance and he did not disappoint. There's even a fourth Marvel actor in the film, but they have only a short cameo and I don't want to spoil the fun.   
The original Ghostbusters are all back thanks to Reitman and scripting partner Gil Kenan's careful handling of the plot revolving around Egon's family and utilizes the 1984 team in a way that doesn't undermine the 2021 team's heroics. Annie Potts and Sigourney Weaver also reprised their roles in short cameos, while Rick Moranis declined to return. Despite the veteran star power, the film keeps the focus on Wolfhard, O'Connor, Grace and Kim, with the latter two stealing the show. Grace managed to exude the same uncomfortably nerdy stiffness and gawkish mannerisms that Harold Ramis employed as "Grandpa" Egon, which completely sold me on her character. Logan Kim is a dynamo of charisma, comic timing and poise well beyond his 13 years and his two (TWO?!?) acting credits on IMDb, one of which is Home Movie: The Princess Bride, directed by Jason Reitman and featuring a number of actors shooting scenes from the 1987 classic film on their cell phones during the height of COVID-19 isolation protocols in 2020.  The talented young man played the Grandson, made famous by Fred Savage, who also reprised his own role at the age of 45. I couldn't take my eyes off either of these young actors whenever they were in a scene.  
There will, of course, be critics who will let their cynicism get the better of them. They will complain loudly about the "fan service" of the plot and the cameos of the original Ghostbusters, just as they whined and moaned about the return of Han Solo and Chewbacca in third Star Wars trilogy. To that I say, who cares? The original movie is going to be 40 years old soon. If there wasn't any fan service for the "Ghostbusters Generation" what would be the point of doing it at all? Why does every film have to reinvent the wheel to make some people happy? Clearly no one is reinventing the critical review to match your unattainable expectations for the film. Try recognizing an homage for what it is and leave the inconceivable geek-angst out of it, eh?  
Where some find reason to be negative, most will appreciate Reitman's tight story, his nods to the Indiana Jones and Gremlins movies that his father's picture conquered at the box office, and his adherence to a fundamental aspect of cinematic storytelling that so many movies -- including Marvel – often miss: show, don't tell.  Reitman has his characters learning their place in their world right along with their audience, rather than resort to the tedious use of talking head shots boring audiences to sleep with endless exposition. It's insulting to the intelligence of the audience, so kudos to Reitman for taking the more creative path. 
It is no exaggeration on my part when I say that Ghostbusters: Afterlife is the most fun I've had at a non-Marvel movie in a number of years and I can't wait to see where Reitman and his talented young actors take this rejuvenated franchise in the inevitable sequels to come.  
Ghostbusters: Afterlife is rated PG-13 with a runtime of 125 minutes, give or take two end credit scenes— yes, Marvel's influence extends well beyond its own films. The film opens in U.S. theaters on November 19, 2021. Check your local theater's websites for their current COVID-19 safety protocols.