You are here
Home
›
Home Video
› Celebs Line Up for Second Season of Scooby-Doo and Guess Who? ›
Celebs Line Up for Second Season of Scooby-Doo and Guess Who?
FTC Statement: Reviewers are frequently provided by the publisher/production company with a copy of the material being reviewed.The opinions published are solely those of the respective reviewers and may not reflect the opinions of CriticalBlast.com or its management.
As an Amazon Associate, we earn from qualifying purchases. (This is a legal requirement, as apparently some sites advertise for Amazon for free. Yes, that's sarcasm.)
Submitted by

RJ Carter

on Mon, 07/04/2022 - 11:53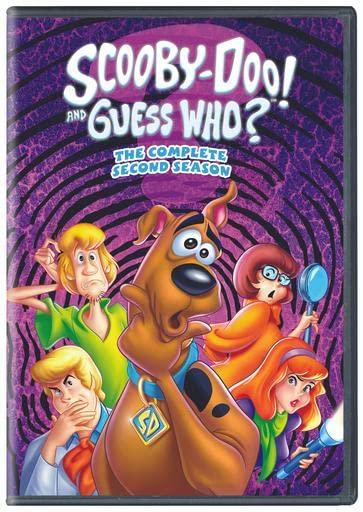 Scooby-Doo is an icon of animation that people just never tire of. The talking dog and his teenaged friends in Mystery, Inc. seem to always have a new series going, with older shows remaining in syndication.
Growing up, one of my favorite runs was The New Scooby-Doo Movies, because each episode would have a celebrity guest star -- many of whom I knew about -- which somehow made the cartoon just a bit more real to me, or at least made the Scoobyverse a bit broader. This tradition began anew when Hanna-Barbera and Warner Brothers delivered Scooby-Doo and Guess Who? which brought us a new stable of contemporary celebs and fictional characters ready to join in the mystery solving.
This second season offers up a new helping of these episodes, each followng a formula so repetitive that we'd actually be disappointed now if the writers were to deviate from it, such as the entire gang saying in unison not only who the guest star is they've encountered, but with all the same modifiers. The gang trots around the globe in Fred's Mystery Machine, often meeting celebrities because they are friends with socialite Daphne, or because they once worked with Shaggy and Scooby on some food-related event.
Sometimes the celebrity guests are even the very villain to be unmasked; of course, there's no real harm done in these episodes, so there's no arrest made (which would have surely made the Scoobyverse TMZ headlines; and wouldn't that be a team-up to be seen in the third season!)
Alton Brown finds his castle home haunted by the monster created by his great-grandfather, Dr. Frankenfooder. Kacey Musgraves puts on a show about the discovery of hot sauce, but has rehearsals spoiled by a vengeful phantom. Sean Astin goes a little off-kilter when he meets the gang and hears the word "ring" too many times, finding a lost key ring and taking it as a quest to return it to the owner. (Cartoon Sean is still harboring disappointment that his character in Lord of the Rings never got to hold the ring.)
My personal favorites of this release are "A Haunt of a Thousand Voices" and "The TV and Movieland Monsters" episodes. In the former, the gang meets up with cartoon voice actors Frank Welker, Grey Delisle Griffin, Matthew Lillard, and Kate Micucci -- the very actors who provide the voices for Fred & Scooby, Daphne, Shaggy, and Velma, respectively. You get to hear the characters in their natural voices, and then see them doing the voices of Mystery Inc. later on. The four monsters in this episode are all call backs to monsters the team has unmasked in the past. The other episode features the immortal Carol Burnett, who is financing a new virtual reality experience that will bring viewers into their favorite television shows and movies. You get some black-and-white Casablanca remakes here, all playing out like one of the many show paradies that made Burnett's television series a classic. The episode ends with a brilliant scene of the gang all singing, along with Burnett, her signature closing song, complete with ear tug.
This second season offers just the right mixture of attraction for the current generation of Scooby fans as well as those who can appreciate the nostalgia of the series.
Episode
Hold the Phone! It's...
The Horrible Haunted Hospital of Dr. Phineas Phrag!
Kristen Schaal
The Phantom, the Talking Dog, and the Hot Hot Hot Sauce!
Kacey Musgraves
The Hot Dog Dog!
Joey Chestnut
A Moveable Mystery!
Gigi Hadid
The Feast of Dr. Frankenfooder!
Alton Brown
A Fashion Nightmare!
Tim Gunn
Scooby on Ice!
Tara Lipinski
Caveman on the Half Pipe!
Chloe Kim
The Crown Jewel of Boxing!
Laila Ali
The Internet on Haunted House Hill!
Liza Koshy
The 7th Inning Scare!
Macklemore
The Dreaded Remake of Jekyll & Hyde!
Sandy Duncan
The Tao of Scoob!
Lucy Liu
Returning of the Key Ring!
Sean Astin
Cher, Scooby and the Sargasso Sea!
Cher
The Lost Mines of Kilimanjaro!
Jessica Biel
The Legend of the Gold Microphone!
Reverend Run
Total Jeopardy!
Alex Trebek
Scooby-Doo and the Sky Town Cool School!
Billy Dee Williams
Falling Star Man!
Terry Bradshaw
Dark Diner of Route 66!
Axl Rose
A Haunt of a Thousand Voices!

Frank Welker
Grey Griffin
Matthew Lillard
Kate Micucci

Scooby-Doo, Dog Wonder!
Blue Falcon & Dynomutt
The TV and Movieland Monsters!
Carol Burnett