You are here
Home
›
Home Video
› Totally Stripped of Hype, This Rolling Stones Set is Awesome! ›
Totally Stripped of Hype, This Rolling Stones Set is Awesome!
FTC Statement: Reviewers are frequently provided by the publisher/production company with a copy of the material being reviewed.The opinions published are solely those of the respective reviewers and may not reflect the opinions of CriticalBlast.com or its management.
As an Amazon Associate, we earn from qualifying purchases. (This is a legal requirement, as apparently some sites advertise for Amazon for free. Yes, that's sarcasm.)
Submitted by

Dennis Russo

on Mon, 06/13/2016 - 08:19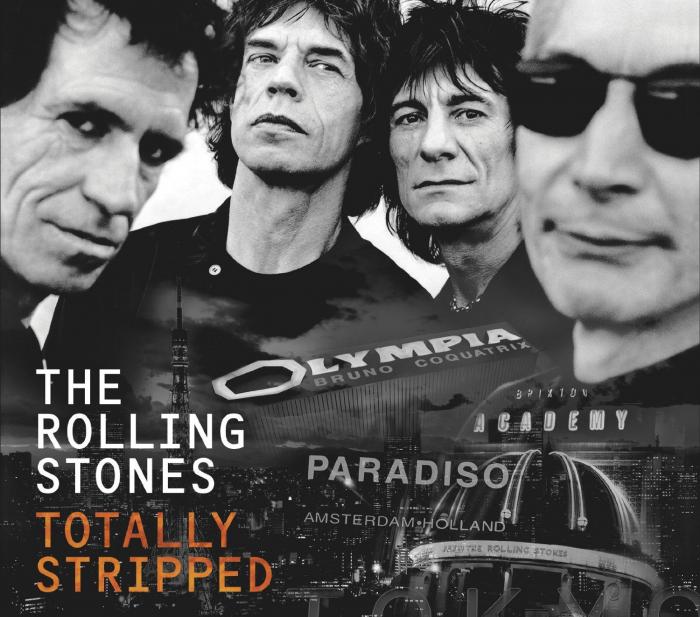 THE ROLLING STONES: TOTALLY STRIPPED from Eagle Rock Entertainment is available in many different configurations: as A DVD or SD BluRay, on DVD+CD, or on DVD+LP as well as a deluxe edition that contains a 60-page hard book set containing 5 Discs (4bluRay and 1 CD) or (4DVD, 1 CD for slightly less money).
The set I am reviewing here is the DVD/CD set.
TOTALLY STRIPPED may sound familiar to a lot of Stone's fans, since the album STRIPPED was released in 1995 following the VooDoo Lounge tour. But don't be thinking this is just a repacking of that release. Nay, nay, I say! TOTALLY STRIPPED itself is a brand new version of the documentary of the same name, which tells the stories of the studio sessions and three live shows that make up this project. (The Deluxe editions contain DVDs of each live show in its entirety!)
The songs that made up the album STRIPPED were reconsidered, pared back renderings of some classics and covers in both live and studio recordings, taken from smaller venues in London, Paris and Amsterdam and studios in Lisbon and Japan.
Again, don't think you are going to hear the same songs on this CD as you do on the STRIPPED album. In fact, per the set's notes, the CD in this set has only one performance in common with the STRIPPED album, and the video is a newly edited version that contains previously unseen content; and the performances are oftentimes a different interpretation of their songs.
I don't want you to think either that by the title you're going to hear the Stone's "unplugged." Again I say nay, nay! The music on the CD in this set is all Stones, all live, and plugged in. It's not over-produced in a huge arena type setting with lavish accoutrements; this is the Stones live in an intimate setting more raw and engaged with the audience than I have heard them in years. This is the most fun I have had listening to the Stones in decades, even though these recordings are themselves over 20 years old.
The sound as it is captured on the CD is stunning. I have not heard Ron Wood's nor Keith Richards guitars sound so clean and clear. Well, I don't think ever, outside of seeing them live! The entire band as well as the audience's excitement is recorded so well, and Mick's voice is spot-on, as was Mick himself. I have said that I didn't think anyone could work a crowd (or room) better than Steven Tyler. Well, I had forgotten just how good Mick Jagger is. He is not only good, he is the iconic frontman, the likes of which we will never see again.
While listening to the CD I had to force myself to remember these were songs sung not in the same show, but at 3 different shows in 3 different countries! Now, you would think that with songs sung live in different countries, going from song to song on the CD you would hear a fade out and fade in between tracks. It would make sense right? Not here. The Stone's mixing and the editing done on this set is so good that I had a hard time detecting where the breaks were! Apart from subtle variances in the hall sounds, it was downright all but impossible to detect the difference. I'd venture to say that anyone not knowing these are songs done in different venues would think these were all from the same show. This is an awesome job, one for the textbooks.
I liked that several of the songs are not ones you hear frequently, so they bring an air of freshness to the playing. They're not all are rock and roll either; again, one of the things that make the Rolling Stones the greatest band ever is the fact that they can play what I would describe as "old school" country in the middle of their set, and pull it off--and the crowd goes wild. The band even flubs the beginning of a song, and it is left intact on the CD and they start again, adding to my sense of being right there in the midst of them.
I had not been so engaged in listening to the Stones live since I last saw them in person, albeit in a much larger arena setting. Everything from the energy to the hall to the crowd to the instruments were all laid out in front of me, between my speakers, and literally had me on the edge of my seat. When Lisa Fischer started in "Gimme Shelter" it was downright ethereal, and when she hit those iconic high notes, spot on in the song, not only did the crowd go wild but I had chills run down my spine and tears well up in my eyes. I knew then this was going to be as perfect a Stones song I would ever hear live, and I now have it forever!
The DVD, while very good, took a backseat to the CD for me. After having listened to the CD several times in its entirety before watching the DVD, I found myself getting frustrated when they would start to play a song and then break away for an interview. Don't get me wrong, the DVD is important in that it shows you all that went into putting these shows and albums together, with a lot of insight into the bands place at that point in time. Hindsight being foresight, though, I should have watched the DVD first and then listened to the CD.
And not that watching the DVD first would in some way make me appreciate the music more. But I can see it perhaps doing that for someone who has never seen them live.
The DVD, while not Blu-ray, is still very sharp, but the concert footage is very warm in hues because of the lighting at the shows. The studio sessions were much brighter.
There is a nice little book that came with my DVD/CD set, which has some nice pictures and talks about some of the things that went into the set; but it is too small for me, as they always are with CDs. (Vinyl records, being bigger themselves, have bigger inserts.)
Now here's the rub: The Rolling Stones certainly do not need me to heap praise on them, and if I were to pan anything they did, who would listen or care? This is The Stones we are talking about. But I am happy to say that this is a great set--an important set--for any fan of the Stones to have that captures the band in great sound, superbly recorded in venues everyone wishes they could have seen them in, and I am going to go on record here and say that after things are all said and done, Eagle Rock Entertainment is going to be looked back on as one of the most important labels ever to come out of the 21st century because they continue to succeed in capturing important times in Rock history and bring them to us in quality production.
I mean, look at the songs on the list below and tell me, if you're a true Stones fan, that you're not dying to hear them played with the raw energy and intimate excitement that only playing in a small venue with fans up close can capture?!
I enjoyed the DVD but I don't know that I would watch it again unless I was showing it to friends. But the CD? Now there's a disc I will bring with me everywhere, and also use as one of my demo discs whenever I audition a new piece of stereo equipment.
Songs on the CD:
Not Fade Away

Honky Tonk Women

Dead Flowers

Faraway Eyes

Shine A Light

I Go Wild

Miss You

Like A Rolling Stone

Brown Sugar

Midnight Rambler

Jumpin' Jack Flash

Gimme Shelter

Rip This Joint

Street Fighting Man