Historical Roots of Thai Comics
FTC Statement: Reviewers are frequently provided by the publisher/production company with a copy of the material being reviewed.The opinions published are solely those of the respective reviewers and may not reflect the opinions of CriticalBlast.com or its management.
As an Amazon Associate, we earn from qualifying purchases. (This is a legal requirement, as apparently some sites advertise for Amazon for free. Yes, that's sarcasm.)
Submitted by

Bill Casticart

on Tue, 03/30/2021 - 20:31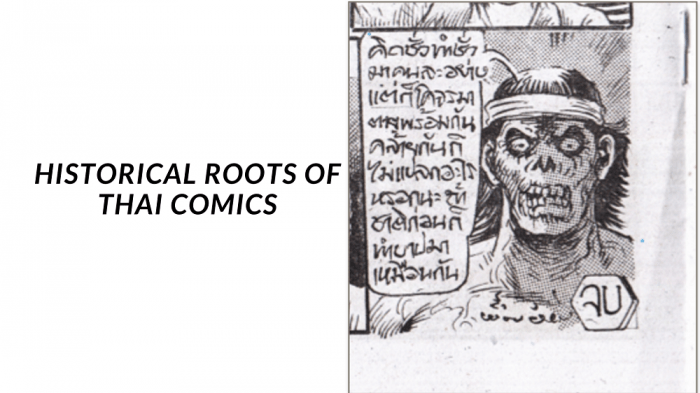 A comic is a form of artistic writing where images and combined text are used to convey the thoughts of the writer. You don't need to look too far to notice how important comics are to our present society, with the superheroes that we know of today having a direct linkage to comic characters. The comic culture is one with roots traceable back to the Asian continent but has found acceptance worldwide. From movies to music and even casino games adopted from favorite characters within the comics (Thai examples: https://www.thaicasinocenter.com/casino-games). 
While there is a lot to be said about comics in general, there's a variant of it that is of particular interest to us. The word "Manga'' first came into common usage in the late 18th century in Japan (Short history: (https://www.widewalls.ch/magazine/japanese-manga-comics-history).
Manga in Japanese literature could be said to have originated from scrolls dating back to the 12th and 13th century.  Other Southeast Asian countries like China, Hong Kong, South Korea, and Thailand also adopted the name in their comic books.
Deep Visual Representation Culture
Like most East Asian countries, Thailand has a very strong visual culture but it does not have as much comic following as those in Japan and China. While Japanese anime have different classes of works to cover for each age grade and sex, Thai Comics has more macho visual content. The indigenous roots of Thai Comics could be traced back to the painting of local mythical creatures based on the stories of their folklore, appearing in the period under King Nangklao. Thai Comics have exhibited some unusual peculiarity during their century of existence, King Rama VI, one of the earliest cartoonists, not only designate the Thai phrase "Paap Lor'' (parody image) to signify cartoons but also drew satirical caricatures to embarrass corrupt officials in the royal newspapers. He also made sure that his characters were easily recognized by people.
According to Thai media historian Snake Nawigamune, the first mention of a piece of cartoon art in the Kingdom of Thai is to be attributed to Norwegian explorer Carl Bock, who traveled in the region in 1881-1882. The first example of Thai comic art was published around 1906 in the issue of Samran Wittaya (enjoyable knowledge). The graphic sequence includes two drawings showing a conflict between a Chinese pork seller and a dog. After the first publication, Comics flourished in Siam or Thai and developed in uniquely Thai culture. There was also another publication in Chotmai Get Saeng Arun (Chronicles of the Dawn) in 1907 of a woodcut cartoon strip. In the 1910s, King Vajiravudh Rama VI created the first Thai cartoons after his introduction to British political cartoons during his Education at Oxford University.
Chun Suwanabun who was a student at the prestigious Poh-Chang school contributed to the proper development of Thai artists. He was one of the pioneers of comics in Thai. His series includes Pong Gab Priaw, launched in 1929, which was also considered the first Thai Comics for children and family, Niyai Lokanit and Pong Pongpang. Around the late 1920s it was a popular practice in Thai printing industry to display cartoons on covers of magazines, tad style books, and some daily newspapers, most of which were satirical, aimed at high ranking corrupt government officials through severe rebukes of their conduct. King Rama VI also became a target of overt political criticism in graphic content even though he promoted the Paap Lor art form.
Civilization and Modern Influence
Western cultures and civilization also influenced Thai Comics. After the Siam revolution in 1932, the first real comic publications were created by Sang Thon, Sawas Jutharop, with help from Khun muen based on inspiration from Disney's Mickey Mouse and Popeye. In the 1950s importation of Western magazines and comic books into Thailand from soldiers during the war, influenced Thai Comics.  With the success of foreign movies in the mid-1950s, in a move to replicate this success, Thai publishers sold thai comic versions of the movies in front of the theatre so that the people who couldn't read the subtitles or understand English could comfortably read the story at home. In 1952, Pimol Kalasse created the first comics for children, called the Tuk Ka Ta.
At the beginning of the 20th century, Thai publishers sold a lot of foreign comics from Japan, China, the UK, USA, and other countries illegally, but in the early 1990s, they started to purchase licenses from Japanese publishers, import from other countries such as South Korea, Hong Kong, South Korea, and the USA which have been distributed and integrated into the Thai market. With Japanese-based mangas the most widely adopted and imported of them all.
At the turn of the 21st century, several new comics globally have drawn inspiration from Japanese manga including Apaimanee saga; the very first Thailand comic that was translated into a foreign language (Watch on YouTube: https://youtu.be/ogZWdvM43TE).
In 2015 Bangkok Post published an article with the theme "Is Thai Cartoon Dead?" discussing the need of international collaborations. Since then Thailand has hosted the Taiwan-Thailand Comics Exchange Event in 2020, launched the WeComics app on Google Play and utilized Social Media to reach a younger generation of Thais. While the future of Thai comics still face many challenges, we believe Thai comics will come out stronger than ever!