You are here
Home
›
Home Video
› Blunt Lyrics: 609 Films Releases Bob Marley and the Wailers Capital Session on CD/DVD ›
Blunt Lyrics: 609 Films Releases Bob Marley and the Wailers Capital Session on CD/DVD
FTC Statement: Reviewers are frequently provided by the publisher/production company with a copy of the material being reviewed.The opinions published are solely those of the respective reviewers and may not reflect the opinions of CriticalBlast.com or its management.
As an Amazon Associate, we earn from qualifying purchases. (This is a legal requirement, as apparently some sites advertise for Amazon for free. Yes, that's sarcasm.)
Submitted by

Dennis Russo

on Tue, 09/21/2021 - 18:12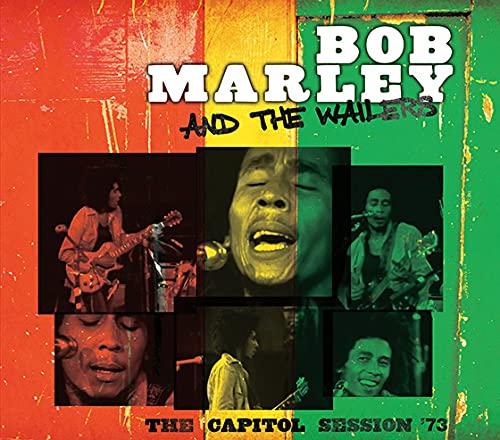 Recorded in 1973 and lost for nearly 50 years, The Bob Marley and The Wailers Capital Session CD/DVD Combo pack from 609 Films captures the band just as they were starting to make a name for themselves in the States.
It's no exaggeration to say that Bob Marley, his music, life and times were the stuff legends are made of now. Many of the political and social things he sang -- as pertinent today as they were back then -- were frowned upon, and that makes this CD/DVD an all the more important and enjoyable experience.
Filmed before a small select group of people, with the cameras rolling even during the set up/tuning of the instruments, this documentary gives one a sense of being transported back in time to the event. The music is tight, but does not have any fast-paced rhythms, flashy stage theatrics, or screeching vocals many of the performers of the day now have. While there is a little bit of wailing, the vocals are mostly subdued in typical Marley fashion. That their rhythms weren't fast-paced and their music rebellious were a couple of the reasons Joe Higgs claims they were fired from the Sly and the Family Stones tour they were on. But because of that, this session came to be -- which the enclosed booklet explains in more detail.
The CD is recorded and remastered in Dolby Digital Stereo and Dolby Digital 5.1 DTS Digital Surround Sound. From a musical standpoint it is well done, with instruments clearly defined and laid out across a fairly wide sound stage. I admit, though, it was hard for me to understand some of the words at times, at first listen, but not because of the recording. Another reason Joe Higgs cites for American audiences not receiving them well was that they couldn't understand their accents. It was that heavy Jamaican accent that made some of the words come across difficult to understand for me as well at first listen. The more times I listened, though, the more acclimated I became and the easier it became to understand the words.
Many of the songs on this set have a similar, familiar Wailers beat, but that's not to say they songs all sound the same.
All here are excellent musicians -- and in the case of keyboardist Earl Lindo, classically trained. This is clearly evident as you sit and listen, and then watch, the performance. It was also evident that Bob, and probably other members of the band, was quite high at the time of the recording; one does not have to take my word for it -- at the start of the video you can see Bob, Peter Tosh and other members roll and smoke some rather large "cigarettes.' Hey, I'm not judging! It could have been tobacco, but in looking at Bob's glassy eyes as they played the first two songs… let's just say I've never seen tobacco have that kind of effect before. (Marley was a big proponent to legalize marijuana back the day.)
As the session continues, he settles down, begins to focus more, and starts playing his guitar -- sometimes even stopping mid-song on the DVD (Midnight Ravers) to collaborate with the other musicians about how they want to play the song, and then start back up.
This gives the video more of a rehearsal session feel to me. You can't really make out what they are saying, but once done, they start into the next song. To me, this made me feel like I was invited behind the scenes.
As I mentioned, many of the songs on this set, if written today, would seem relevant giving the current cultural norms. However, back then some of these songs and the views in them were what got the band into trouble. You just didn't sing about things like that. You only have to listen to the blunt lyrics on "You Can't Blame the Youth" or hear the line in "Midnight Ravers" that goes Can't tell a woman from a man, to understand what I mean. And the poignancy of "Slave Driver" will grab you by the heart.
"Put It On" is another song, which, as with all his songs, you not only sense he's singing from his heart, but on the DVD you can see it on his face.
The footage on the DVD, which runs 88 minutes, seems at times both raw and polished with a definite direction. In many ways it seems very similar to how some of the old Don Kirshner Rock Concerts used to be filmed back. (Yes, I know. I'm old, thank you very much.) However it is perceived, there is no doubting its significance in giving the viewer/listener the chance to hear Bob Marley and The Wailers at what I would say to be the cusp of their greatness, if not necessarily their popularity. Perhaps the best word to use here is 'legend.'
The DVD and CD were clear and not grainy or muddy at all, which I would have expected given it's "lost" status; I figured it would be more archival in nature. I'm happy to say it's not like that at all, as both were restored and remastered wonderfully.
The DVD even has 2 alternate takes, not included on the CD. While sung very similarly, the alternate takes are mostly different in the way they are filmed.
As mentioned, the set also comes with a small booklet tucket into one of the sleeves, and is a nice informative narrative of the session as well as of Bob Marley and The Wailers.
While I listened (and more so as I watched), I kept reminding myself how relatively new this all was to mainstream Americans when this was being made, and how Bob Marley and the Wailers (in all their incarnations) are thought of and revered by fans and fellow musicians today, even though they never really made it "huge" here. Just look at how many artists have covered some of their songs over the years.
Yes, The Wailers and this set are both legendary. Get it, listen to it, watch it, enjoy it. If you are a fan, you'll relish it. If you're new to their music, you're in for something different and special -- even if you don't toke.
Highly recommended.
The Band:
Bob Marley
Peter Tosh
Joe Higgs
Carlton Barrett
Aston Barrett
Earl "Wya" Lindo
CD Songs
You Can't Blame the Youth
Rastaman Chant
Duppy Conqueror
Slave Driver
Burnin' and Lootin'
Midnight Ravers
Put It On
Stop That Train
Kinky Reggae
Stir It Up
No More Trouble
Get Up Stand Up
DVD Songs
All of the above plus alternate versions of:
Duppy Conqueror
Rastaman Chant