New Line's Bonnie & Clyde Delights With Heart and Harmonies
FTC Statement: Reviewers are frequently provided by the publisher/production company with a copy of the material being reviewed.The opinions published are solely those of the respective reviewers and may not reflect the opinions of CriticalBlast.com or its management.
As an Amazon Associate, we earn from qualifying purchases. (This is a legal requirement, as apparently some sites advertise for Amazon for free. Yes, that's sarcasm.)
Submitted by

Jeff Ritter

on Sat, 10/04/2014 - 18:05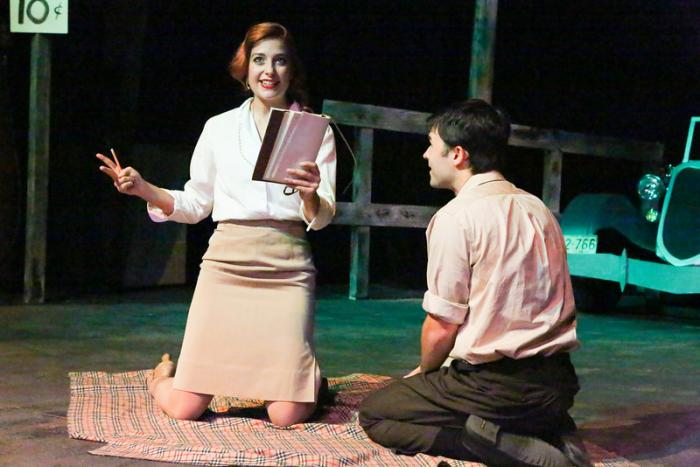 Arthur Penn's 1967 film "Bonnie & Clyde" is considered to be a masterpiece of American cinema. While not the most historically accurate biography Hollywood ever made, it is a crazy thrill ride, and it had Gene Hackman and Gene Wilder in it. That's pretty tough to beat in my book. It was at times very funny and very violent, but I can't recall being emotionally invested in it. When Bonnie Parker and Clyde Barrow meet their young demise, I wasn't shocked or moved. It really couldn't play out any other way.
New Line Theatre's production of Bonnie & Clyde is a musical based on the actual events of these celebrity outlaws' lives. The stage show is a prequel to the film, talking place as the lives of Bonnie and Clyde flash before their eyes. Yes, it's often funny and fairly violent, but the musical has more heart and then the film ever managed.  The film had a pair of good Genes going for it. New Line's musical has Larrisa White. Warren Beatty should have been so lucky.
Larrisa White was a revelation. Tall and lean with smoldering red hair (I am admittedly an easy mark for redheads) and gorgeous eyes that immediately charmed the audience, Miss White captivated with her portrayal of the love struck girl who dreamed of stardom and achieved it through crime. At roughly the same age as Bonnie Parker was during the height to the Bonnie & Clyde Gang's crime spree, Scott Miller and Mike Dowdy, New Line's dynamic directorial duo, made a brilliant call casting Larrisa. Her singing voice was lovely and her acting skills seemed advanced for someone making her debut at the regional level.
Her castmates were certainly no slouches either. Bonnie & Clyde boasts a pretty large cast for a New Line production, and the mix of new faces and New Line regular worked beautifully. Matt Pentecost, as Clyde Barrow, was also charming, exuding confidence in himself to become the next Billy the Kid or Al Capone. Matt seemed to have a gift for harmony, demonstrating his ability to synch his voice with New Line newcomer Brendan Ochs, as Clyde's brother Buck, on "When I Drive," with the always fantastic Renaldo Arceno on "You Can Do Better Than Him," and with both on "Raise a Little Hell," which culminates in a tremendous three part harmony that drew great applause and more than a few shouts of approval for the audience. Brendan Ochs plays Buck as a little dimwitted but perhaps a little more noble at heart, and he showed very good chemistry with New Line regular Sarah Porter, whose fantastic eyes and wonderfully expressive face conveyed unspoken layers of depth to Buck's wife Blanche. I am always thrilled to see Reynaldo Arceno in a show. The man brings such emotion to his roles. He almost made me cry in Hands on a Hardbody and his Ted Hinton, a lawman also vying for Bonnie Parker's favor, displayed palpable emotion. At the end of his duet with Mr. Pentecost in "You Can Do Better Than Him" their flawless harmony gave me goose bumps. I believed that Matt's Clyde loved Bonnie, but only as much as he loved himself. Reynaldo's Ted seemed to love Bonnie completely and unconditionally, and it almost made me wish he'd win in the end. Of course, we all know how that's destined to go.
The sizeable ensemble likewise features a mix of new faces and returning veterans. Christopher "Zany" Clark played Ted's boss, Sheriff Schmid, had a cool, steely edge to him that reminded me of Peter Weller. Kent Coffel switched between a corrupt prison guard and Capt. Frank Hammer, the man who ultimately brings down Bonnie and Clyde. Joel Hackbarth, an underrated actor in my opinion, plays the Barrow boys' father Henry alongside Kimi Short, who has appeared in more New Line shows than I care to type out, as mother Cumie. She also plays a West Dallas townie named Trish, who gets a lot of laughs in a scene with Ann Hier's Eleanore and Nellie Mitchell's Trish on the song "You're Going Back To Jail" and their hilarious dismissal of Blanche's notion that Buck should give himself up and go back to jail to finish serving his time. Alison Helmer never disappoints when she's on stage, and she played Emma Parker, Bonnie's mom, as straight as a ruler despite being surrounded by a bunch of crooked characters. Mara Bollini and Christopher Strawhun have smaller roles as Texas Governor "Ma" Ferguson and Deputy Bud, while Marshall Jennings plays an assortment of counter clerks on the wrong end of Clyde's gun. Last but not least, Zachary Allen Farmer plays a slow-walking Texas Preacher who seems barely able physically to carry a note much less lead a rousing revival lin "God's Arms Are Always Open" while dancing like a man in rapture. I've come to always expect the unexpected from Zachary, and I never leave disappointed.
The New Line Band is always a treat, carefully playing loud enough to be heard but never so loud as to drown out any of the actors. The band for Bonnie & Clyde features Jeffrey Richard Carter conducting D. Mike Bauer, Nikki Glenn, Sue Goldford, Andrew Gurney, Robert Vinson, and typically would include Clancy Newell. I was told they had to use a pinch drummer for Mr. Newell at Friday's performance, and unfortunately I didn't catch the name, but the band sounded top notch as always.  The stage looked terrific as well, with Rob Lippert and his team designing a space that puts you in Depression Era Texas while leaving room for the large cast to work on stage. The lighting played a pivotal role in the show, helping to delineate the actors from static surroundings, transforming a jailhouse to a house of God, and adding a gory red hue to Bonnie & Clyde's victims rather than struggle with the expense and maintenance of set and costumes with special effects blood.  It would be a shame to ruin the dapper duds and lovely dresses costume designers Sarah Porter and Marcy Wiegert created.
Bonnie & Clyde starts off New Line Theatre's 24th season with a bang and some exciting new stars, notably Larissa White, Matt Pentecost and Brendan Ochs as well as giving relative newcomer Renaldo Arceno another opportunity to shine. If you haven't checked out a New Line show yet this would be a great place to start. Visit www.NewLineTheatre.com for information about this and other shows, tickets, and a whole lot more. Bonnie & Clyde runs through October 25, 2014.