You are here
Home
›
Live Entertainment
› Garth Brooks Sizzles In St. Louis with Trisha Yearwood and Karyn Rochelle ›
Garth Brooks Sizzles In St. Louis with Trisha Yearwood and Karyn Rochelle
FTC Statement: Reviewers are frequently provided by the publisher/production company with a copy of the material being reviewed.The opinions published are solely those of the respective reviewers and may not reflect the opinions of CriticalBlast.com or its management.
As an Amazon Associate, we earn from qualifying purchases. (This is a legal requirement, as apparently some sites advertise for Amazon for free. Yes, that's sarcasm.)
Submitted by

Jeff Ritter

on Sat, 12/06/2014 - 00:21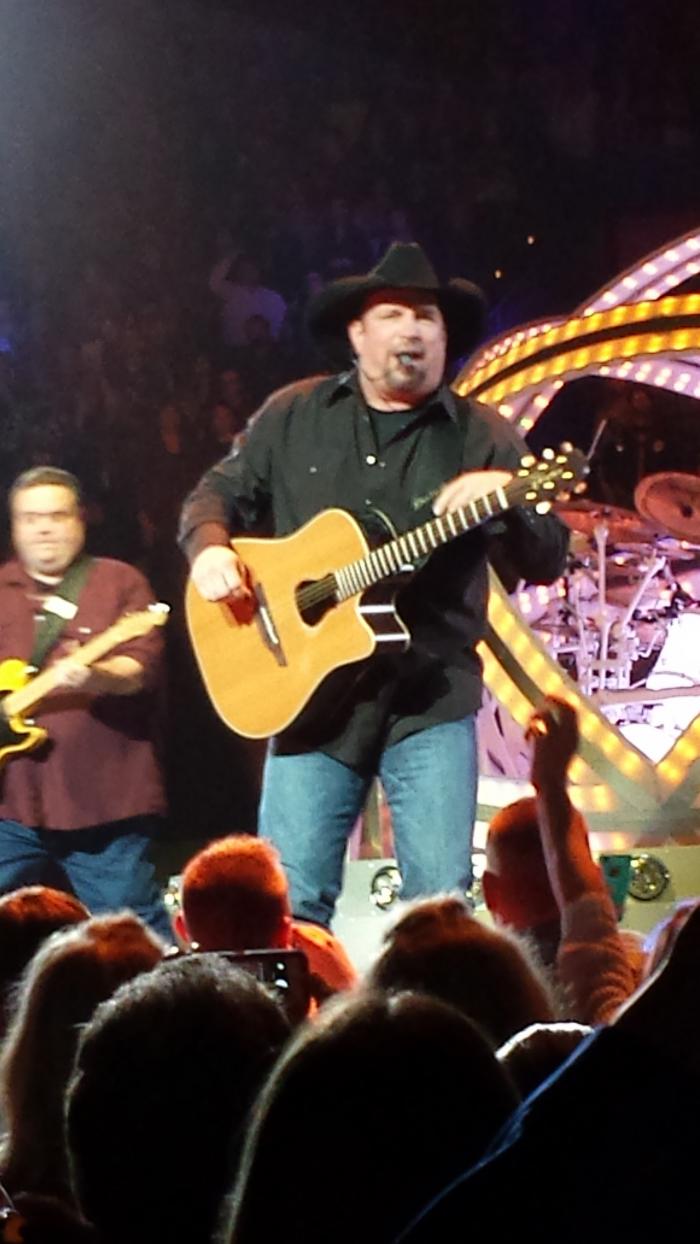 As I write this, 17,000 odd St. Louisians and tourists from far and wide are trying to reach a bar set extremely high. You see, more often than not, weeknight music concerts are typically under-attended and underwhelming. This was not the case on Thursday, December 4, 2014, when country music superstar Garth Brooks and his lovely superstar wife Trisha Yearwood returned to the St. Louis music scene after nearly two decades of the quiet life.
This weeknight was far from quiet. I've been to the Scottrade Center for St. Louis Blues hockey home openers and play-off games. I've seen WWE television tapings and live pay per view events there. I've seen musical acts from Billy Joel to Queensryche and Type O Negative there. I've never heard a Scottrade crown make more noise and sustain such incredible enthusiasm for so long before. I've never played before life audiences myself—I can barely play the radio much less an instrument—but even Brooks and Yearwood, veterans of the concert circuit, seemed taken aback by the overwhelmingly positive response.
St. Louis, as some of you may have heard, hasn't had a whole lot of positives to get excited about lately. We're the focal point of racial tensions across the country and random acts of senseless violence assail our sensibilities almost daily, it seems. On this night, Garth Brooks helped the sold-out Scottrade crowd leave their worries and fear behind for a few hours, revel in their fondness for Garth's catchy tunes and Trisha's lovely ballads, and enjoy urging Brooks on through a lively set lasting more than two hours.
Seventeen years ago, Brooks was at the top of his game. He'd made platinum record after platinum record, sold out tour after tour, and even got to live his childhood dream of being a professional baseball player with a couple of short spring training stints with the San Diego Padres and New York Mets. With financial security, a storybook relationship and nothing more to prove to anyone, Garth Brooks went home. New acts took his place and rose to prominence in the country music world.
Fans have long memories. Garth may have been gone but he was not forgotten. How could he be? I'm not a country fan myself, admittedly, beyond Waylon Jennings, Johnny Cash, and Marty Robbins, but even I knew Garth's greatest hits. "Two Pine Coladas," Garth's ode to umbrella drinks, is right up there with Jimmy Buffett's "Margaritaville." If "Friends In Low Places" isn't high on the all-time karaoke playlist (I wonder if such a list exists?), I'd be shocked. "The Dance" is a slow dance favorite, "Ain't Goin' Down ('Til The Sun Comes Up)" is a party anthem, and "Unanswered Prayers," "The River," "If Tomorrow Never Comes," and his cover of Billy Joel's "Shameless" are soulful ballads that can find their way into the hardest of macho man hearts. I became a fan of Garth Brooks too late to appreciate his not-to-twangy delivery, his feel-good lyrics, and his legendary live performances…or so I thought. I'm glad to have finally had the chance to see what the hype surrounding Garth Brooks' concerts was all about.
I watched an old VHS of Garth that was playing at a Hollywood video store twenty years ago. In it, he was shown sitting in the very back row at the top of a venue he was scheduled to play at. He described how he liked to find the seat the furthest from the stage and imagine being Bobby Jones (or perhaps Chris Gaines?), workaday everyman, who spent a good chunk of his hard-earned money to watch this Garth Brooks dude strut around on stage, and he wondered what could he do to make this guy in the back row feel special, feel like part of the show, feel like his money was well spent. I remember thinking, "If that's true, Garth Brooks is a heck of a guy and deserves everything he has because a lot of performers only play to the first few rows down front." Having witnessed Garth perform in person, I think I can call this myth "Confirmed." I don't think anyone in the Scottrade Center could have walked out disappointed at twice the price.
Perhaps best of all, Garth and Trisha gave back as good as they got. From start to finish, Garth seemed honestly amazed by the crescendo of cheers and applause, hoots and hollers, and lively sing-a-long. He shook his head in disbelief often, and even broke up laughing now and then. When Trisha Yearwood came out about half way through the set, she remarked that all the way in the depths of the Scottrade Center, behind masonry and brick and considerable distance from the stage, the exuberance of the audience was nearly just as loud. Garth replied, "And it's only Thursday! We're in town for three more days and I tell you what, those Friday, Saturday and Sunday folks better pack a lunch because they have their work cut out for them!" I wholeheartedly agree. After their rousing set, Brooks and his long-time band mates (including Karyn Rochelle, a talented songwriter and a heck of a singer in her own right who has double-duty as Garth's opening act and as a backup singer for Garth's set) returned again and again for encore numbers, so often in fact that I lost count. Brooks was very funny and self-effacing all night. He joked that his guitar was seldom even turned on, and that he only used it to hide his gut. Frankly, I thought he looked pretty good for a man of leisure at fifty-two and a bit lighter than I'd seen him on TV interviews now and then in recent years. He was still jumping off the drum kit riser and running back and forth on stage like a rock star half his age. If he puts that much energy into every show, he'll be down to a ukulele covering a slight paunch in no time. For his final encore, he called his wife out to the stage and said, "Honey, my fat ass is done—can you give them one more?" Trisha obliged with "Walkaway Joe" and Garth joined her on the last chorus before they departed, no doubt equally exhausted and exhilarated, much like his appreciative audience.
If you haven't got tickets, you're probably out of luck, I'm sorry to say. All four shows at the Scottrade Center in St. Louis this weekend are sold out. Trisha Yearwood and Garth Brooks brought 17,000 St. Louisians together for the party of the year that night. They're doing it again, right now, and they'll do it twice more this weekend. Wouldn't it be something if the mutual love and respect Brooks and Yearwood shared with their fans could be reciprocated through this entire town and outward to Cleveland, Staten Island, and everywhere else where tensions are running high? We don't need more violence, fear and mistrust in the world. As Garth's new song People Loving People from the Man Against Machine album suggests, the remedy to a lot of what ails the world isn't hard to find, if we just look within ourselves. Hopefully Garth and Trisha won't wait another seventeen years to visit St. Louis again, and hopefully they'll find the seed of hope they planted this weekend flourishing in happier and healthier place. It's the holidays, after all. What better time for miracles?