Phantom Of The Opera Makes Me Wonder What People See In Webber
FTC Statement: Reviewers are frequently provided by the publisher/production company with a copy of the material being reviewed.The opinions published are solely those of the respective reviewers and may not reflect the opinions of CriticalBlast.com or its management.
As an Amazon Associate, we earn from qualifying purchases. (This is a legal requirement, as apparently some sites advertise for Amazon for free. Yes, that's sarcasm.)
Submitted by

Jeff Ritter

on Sun, 03/08/2015 - 06:03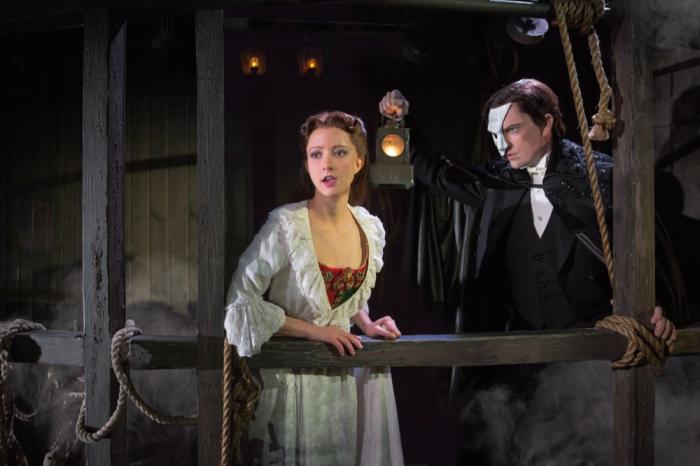 For as long as I can remember people have told me, "Oh, you have to see Phantom of the Opera! It's so terrific, so beautiful." I suppose I can't argue with them in terms of statistics. By box office alone, Phantom is the biggest blockbuster in Broadway history. It has been watched and heard for 30+ years in multiple languages around the world. 180 million audience members can't be wrong, can they? Leave it to me to dissent with the combined populations of Tokyo-Yokohama, Seoul-Incheon, Delhi, Jakarta, and Mumbai, give or take a goodly portion of San Paolo, as of 2010 statistics.  While the pageantry and grandeur of Phantom of the Opera was evident as it opened its roughly 2-wek run at St. Louis' Fox Theatre, I found it lacking in several areas. You can start sending your hate mail now, or wait until you've read the rest—freedom of choice, God bless America!
It seems unnecessary to describe the plot in detail, since chances are if you're reading this you've either already seen it somewhere before and just want to know what this not-so-humble critic thinks, or you haven't seen it before and I'd be doing a disservice to give you much more than you can get on Wikipedia. I think it is best summed up, if unintentionally, by Sting's first Solo hit, "If You Love Someone Set Them Free." That's pretty much the gist of the whole thing. A friend of mine who's opinion I hold in high regard told me it probably would have helped if I'd known what the story was about before I saw it, but that seems counter-intuitive. Most stand-alone productions should be able to get its fundamental point across early on, and yet Phantom makes you wait for it…and wait…and wait… The Phantom himself, played on this national tour by Chris Mann, late of NBC's The Voice, is both protagonist and antagonist. He attempts to injure or kill members of an acting troupe at this lavish but ill-fated theatre in order to ensure that his muse, Christine Daaé (Katie Travis, who recently appeared as Cosette in The MUNY's production of Les Misérables), gets elevated to the lead role in an opera currently held by Carlotta Giudicelli (Jacquelynne Fontaine). Meanwhile Daaé is reunited with her longtime flame Raoul (Storm Lineberger). It's a bizarre love triangle, and it's tedious.
The love triangle is a plot as old as time. It works if there's someone to root for and someone to rally against. Take Beauty and the Beast for example. Beast is monstrous, but he's got something likeable about him and you can't help but hope he finds a way to regain even a hint of his lost humanity while Gaston is every nerd's worst jock nightmare personified, and you can help but root against the arrogant clod. In Cameron Mackintosh's new production, I felt no empathy or sympathy towards any of the primary characters. Daaé was going to win her part by coercion rather than pure talent, Raoul was a rather demanding bastard from the start, and the Phantom was a criminal engaging in mind games less likely to win Daaé's heart than to elicit the Stockholm effect. I found myself actively rooting for Carlotta Giudicelli to tell her show's producers, Monsieur Firmin (David Benoit) and Monsieur André (Edward Staudenmayer) to man up, hunt down and apprehend this Phantom menace with the aid of the local gendarmeries and continue her role opposite Ubaldo Piangi (Frank Viveros). They would do well to apprehend Madame Giry (anne Kanengeiser) too, as she seemed to be a willing accomplice to Le Fantôme. Alas, all you really end up with is a lot of dead stage hands and no truly satisfying conclusion of any kind. I'm beginning to wonder if that's not an Andrew Lloyd Webber hallmark, as the three shows I've seen of his: Phantom, Les Miz, and Evita, have all been quite underwhelming.
Despite my disdain for the story, the show was a dramatic feast for the eyes. The costumes were top notch thanks to Christine Rowland after the late Maria Björnson's designs. Every outfit, from the principles to the chorus was simply terrific. So too were the sets, designed by Paul Brown. The "magic" steps leading down to the Phantom's subterranean lair were devilishly clever, and the magic mirror illusion, undoubtedly aided and abetted by illusion consultant Paul Kieve, was wonderful. There really ought to be more magic tricks on stage in musical theatre, at least where appropriate. The gimmicked chandelier which closes the first act in grand fashion was thrilling, especially for a first timer like me who hadn't really bothered to look up to notice just how close that thing was before it nearly landed on me!
While I found Charles Hart's lyrics difficult to comprehend at times—I haven't the ear for opera, it seems—the quality of the cast's voices was unquestionable. Jacquelynne Fontaine's operatic soprano was thrilling, and Katie Travis certainly held her own. Chris Mann was strong, but I had difficulty hearing him at times. I wondered if his mic was having some issues or if he was just singing too softly to take full advantage of the Fox's acoustics? I also had a little trouble at times seeing the trademark Phantom mask on his face. The lighting seemed a little washed out, especially in the Phantom's lair. I understood it needed to be dark and foreboding, but the audience still needs to be able to see. I would have preferred perhaps a brighter spotlight to show more contrast between the pale mask and Mann's dark hair and unlit background.
 Despite these complaints, I enjoyed the overall experience enough that I can say that I didn't flat out hate it, nor did I love it. I probably wouldn't see it again. Perhaps my experience is undercut by the 180 million souls who largely rave about the show. That's a lot of hype to live up to, and the boat ride across the stage, while nicely done, wasn't any more interesting to me than Cinderella's carriage ride, and frankly fell short of the amazement I felt from The Lion King's animal menagerie or the magnificence and emotional power of the much underrated Warhorse puppetry. Had I seen Phantom of the Opera early in my critical career I may have come away more positive, but in the long run Andrew Lloyd Webber 's work just don't hold my interest. Pretty costumes and clever sets cannot prevail against better crafted stories, no matter who brings them to life. If someone can explain to me what I'm missing in Webber's work, I'd be happy to hear it. I'm willing to accept that it's probably me that's the problem when it comes to his works. Be warned, if you try to sell me on how "romantic" this supposedly is, I will assume you've already paid to see "50 Shades of Gray"--twice--and know as much about romance as your typical reality dating show.  
Phantom of the Opera runs March 4 - 15 at the Fabulous Fox in St. louis. See www.FabulousFox.com for more. Now eady those hate mails…aim…fire!