You are here
Home
›
Live Entertainment
› New Line Theatre's Jerry Springer: The Opera Is Obscenely Fun But Not For Everyone ›
New Line Theatre's Jerry Springer: The Opera Is Obscenely Fun But Not For Everyone
FTC Statement: Reviewers are frequently provided by the publisher/production company with a copy of the material being reviewed.The opinions published are solely those of the respective reviewers and may not reflect the opinions of CriticalBlast.com or its management.
As an Amazon Associate, we earn from qualifying purchases. (This is a legal requirement, as apparently some sites advertise for Amazon for free. Yes, that's sarcasm.)
Submitted by

Jeff Ritter

on Mon, 03/09/2015 - 02:26

Jerry Springer is like Coca-Cola. When someone says "Coke" you immediately think "sweet, brown, carbonated beverage." When someone says "Jerry Springer" you immediately think "cross-dressing Neo-Nazi cheats on his pregnant midget fiancée with his gay first cousin." Well, okay, maybe not that exact scenario, but you'd agree that it's within the realm of possibility. The Jerry Springer Show is relevant not because it shows the biggest fools America can produce this side of Congress, but because it has done so with consistently solid ratings for two decades. Jerry himself was not immune. Before he became as big of a household name as, well, that other Jerry (Seinfeld), he was a budding politician in Ohio with dreams of the Governor's mansion. That fell apart when he bounced a check—a check mind you—to a prostitute. That would barely rate a chuckle from his notoriously lively studio audience compared to the usual parade of bizarre people who march onto his stage with the most unlikely secrets to tell.
Anything with the staying power of The Jerry Springer Show is easy fodder for being transformed into a musical, or in this case, an "opera" of all things. In St. Louis, there's only one theatre and one director that I can think of with the audacity to even attempt to do this nutty show: Scott Miller's New Line Theatre. As usual, his troop of fine thespians is not shy about performing edgy material. If you blanch at Avenue Q's full frontal puppet sex and masturbation songs or feel ill at ease with the irreverent humor of The Book of Mormon, then I'd encourage you to get your fix of operatic theatre at the Fox this weekend. If, however, you like your theatre bold, if you're the type of person who stretches their neck to see the body when you pass a car wreck, or if you have a peculiar predilection for adult diapers, Jerry Springer: The Opera is for you.    
Act I is your typical taping of an episode of Springer. An over-eager audience hype man (Matt Pentecost) gets the studio audience (Reynaldo Arceno, Tyler Cheatem, Joel Hackbarth, Ann Hier, Sarah Porter, Michelle Sauer, Kimi Short and Christopher Strawhun) revved up to start things off. Jerry Springer (Keith Thompson) then hits the stage followed closely by his head of security, Steve Wilkos(Matt Hill). After a few words, the madness begins. Dwight (Zachary Allen Farmer) tells his girlfriend Peaches (Taylor Pietz) his terrible secret, admitting that he's not only been cheating on her with her coked out best friend Zandra (Lindsey Jones) but also cheating on both of them with drag queen Tremont (Luke Steingruby, a fellow who walks in heels better than many women I know). That, folks, is about as tame as it gets.
After a break during which the studio audience sings a few funny commercials, the show resumes with Andrea (Christina Rios) discovering that her man Montel (Marshall Jennings) has a secret fetish—he wants to be an adult baby, diapers and all. Taylor Pietz once again hits the stage as Baby Jane, who wants Andrea to administer some corporal punishment. This is followed by a somewhat more typical "I want to be a pole dancer" segment featuring Shawntel (Anna Skidis) channeling her inner "Flashdance" with Chucky (Ryan Scott Foizey) as her dirty-looking yet disapproving dude. The segment goes off the rails when Chucky admits to being a member of the Ku Klux Klan, and several more hooded racists come on stage to tap dance. During the breaks between segments, tensions rise between Jerry and his hype man, resulting in the poor guy's dismissal. He comes back and murders Jerry as the show goes to Intermission.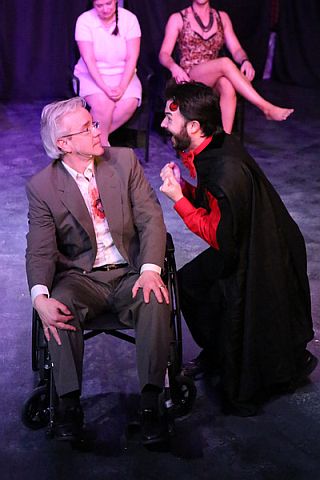 Act II is a bit surreal and I admit I had a hard time following it, and really don't know that I can do it justice. Part of this could have been due to the temperature of the theatre itself—it was warm and a bit stifling that evening on the South Campus of Washington University. Many patrons were fanning themselves, and I was admittedly feeling a bit groggy and had a little trouble focusing down the stretch. It was beyond the production's control—Washington University is apparently a bit slow in fulfilling maintenance requests. I wouldn't worry about it if you're planning on seeing the show in upcoming weeks, I'm sure they'll have it cooled down by then.
The gist of it is "Jerry in Hell." The Warm-Up Man is revealed to be Satan, with Dwight returning as God, Montel as Jesus, Chucky and Shawntel as Adam and Eve, and Baby Jane as herself, entreating the Christian powers to spare Jerry's soul. Jerry wrestles with his own personal turmoil about whether or not he's responsible for the weirdness his show churned out regularly, or if he's just an outlet for the inevitable depravity of humanity. In the end, he finds a bit of truth and the Biblical entities release him, or at least that's what I think happened. Admittedly, back-to-back operatic musicals—I saw Phantom of the Opera­­ for the first time the night before—may be a bit too much for me. I can only handle sung-through musicals for so long. For the record, Keith "Jerry" Thomson is the only member of the cast who doesn't sing his lines.
Between the two, I most definitely preferred Jerry Springer: The Opera over Phantom of the Opera. I seem to not enjoy 
anything from Andrew Lloyd Webber as much as the general public would seem to. While the New Liners aren't precisely operatic, several of them really stood out, most notably Anna Skidis and Taylor Pietz. Anna seems to play a stripper every time I see her perform (the exception being Hands on a Hardbody, a show I had fully suspected to be about strippers somehow, judging by that title), but she never fails to wow the audience with her magnificent voice. I need to see her do a cabaret one of these days (hint-hint Mike Dowdy). Taylor Pietz is always a joy to watch, and her higher range still sounds melodic, unlike, say, mine—I sometimes wince to hear myself doing Barry Gibb's falsetto when the Bee Gees come on the radio. With three roles to play, Taylor was a very busy woman and she handled it admirably. Marshall Jennings, possessor of a terrific, soulful voice, was hysterical, ripping off his clothes to break into a song about crapping his pants. Kimi Short has an odd little extra part as she occasionally breaks ranks with the rest of the very talented studio audience ensemble to be "Jerry's Inner Viking," a kind of Jiminy Cricket conscience character that Jerry constantly shoos away. Director Scott Miller and The New Line actors have always had a knack for breaking the fourth wall or stepping out of the narrative to get inside a character's head, and it always works beautifully. Kimi's comical internal chiding of Jerry's subconscious for letting the show get crazy…again…is no exception. As always, the New Line Band conducted by pianist Jeffrey Richard Carter and featuring musicians D. Mike Bauer, Sue Goldford, Clancy Newell, Patrick Swan and Robert Vinson were spectacular. If I ever get a late night talk show, I'd make them my house band. Don't tell Scott Miller.  Rob Lippert and his team of scenic artists recreated the Springer set beautifully.
The biggest accolades though must go to Keith Thompson. I've seen him perform on the New Line stage before, usually in a small supporting role. This is first time I have seen him in a leading role, and he was terrific. He looks like Jerry! From my recollection he even seemed to move like Jerry. When he hits the stage you won't be able to help but smile and think, "Yeah, okay, that's him! Now bring on the freaks!" Perhaps it was the spot-on costuming of Sarah Porter, or perhaps Mr. Thompson is just that good, probably a bit of both. I think most actors would agree that it's somewhat easier to play a real person because there's usually video or recordings to draw from, but it's also tough because if you don't nail it the audience won't buy into the character and by extension the show itself. Keith Thomson nailed it.
Other than the odd temperature issue in the venue and a lack of off-stage audience interaction—I really expected the theatre patrons would break into "Jerry! Jerry! Jerry!" chants of their own—New Line Theatre's production of Richard Thomas and Stewart Lee's Jerry Springer: The Opera was filthy fun. It's also completely uncensored. You have been warned.
Jerry Springer: The Opera runs from March 5 through the 28th. Visit www.NewLineTheatre.com for tickets, show times, production blogs and more.