Entourage is out on Blu-Ray & DVD today!
FTC Statement: Reviewers are frequently provided by the publisher/production company with a copy of the material being reviewed.The opinions published are solely those of the respective reviewers and may not reflect the opinions of CriticalBlast.com or its management.
As an Amazon Associate, we earn from qualifying purchases. (This is a legal requirement, as apparently some sites advertise for Amazon for free. Yes, that's sarcasm.)
Submitted by

Mike 'Ace' Maillaro

on Tue, 09/29/2015 - 13:57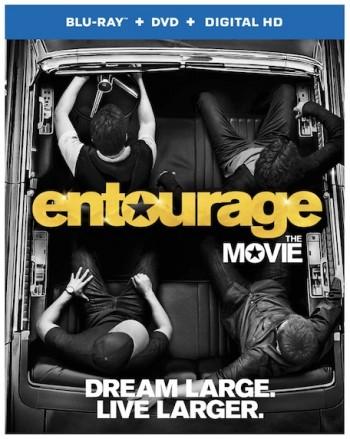 Nicole did a great review of ENTOURAGE it came out in theaters back in June.  But with the DVD release this week, I finally got to watch the movie myself, so I wanted to add some thoughts of my own.
---
Entourage (2015)
Written by: Doug Ellin & Rob Weiss
Directed by: Doug Ellin
Cast:
Kevin Connolly as Eric Murphy

Adrian Grenier as Vincent Chase

Kevin Dillon as Johnny "Drama" Chase

Jerry Ferrara as Salvatore "Turtle" Assante

Jeremy Piven as Ari Gold

Perrey Reeves as Melissa Gold

Rex Lee as Lloyd Lee

Debi Mazar as Shauna Roberts

Constance Zimmer as Dana Gordon

Billy Bob Thornton as Larsen McCredle

Haley Joel Osment as Travis McCredle

Emmanuelle Chriqui as Sloan McQuewick

Scott Mescudi as Allen, Ari's assistant

Rhys Coiro as Billy Walsh

Nora Dunn as Dr. Marcus

Alan Dale as John Ellis

Sabina Gadecki as Melanie

Martin Landau as Bob Ryan
Despite ENTOURAGE the Movie being a bit of a critical and financial bomb, I was still excited to see it.  I am a fan of the show, and I have a long tradition of enjoying movies that people hated (in fact, I used to run a website for Waterworld with fellow Critical Blast writer Chris Delloiacono).  I am very happy to add ENTOURAGE to that list.< One thing I loved about this movie is that is respects the fans of the show. This could have easily been season 9 of the show.  Even though ENTOURAGE ended almost five years ago, everything just falls right back in to place.  The tone and scope of the movie was perfectly in line with the TV series.  It works as a stand-alone movie, so even if you don't know the show, you can follow it easily enough.  But, there are a still a lot of callbacks to the series, including some great scenes by Gary Busey (who once again played an even crazier version of himself) and Billy Walsh (played by Rhys Coiro), who is just about my favorite character in any TV series.  In true ENTOURAGE fashion, there are a lot of appearances by celebrities playing cartoonishly exaggerated versions of themselves, like Russell Wilson, Rouda Rousey, and Andrew Dice Clay. 
BUT, the core of Entourage has always been about the five main characters.  Actor Vincent Chase, his manager Eric, his half-brother Johnny Drama, his driver Turtle, and his one-time agent Ari Gold.  The love and friendship between these characters is on full display here, and for this ENTOURAGE fan, it makes up for any potential shortcomings this movie might have had.  Hell, just for the scene with the guys meeting Eric's baby (who they all consider "their baby"), it was worth it for me.  There is also a great scene at the end of the movie with Ari and the guys just talking about their past and the future.  It really felt like the perfect ending for the seires to me.
As for plot, Vince decides to expand his resume by directing his next project, a big budget futuristic version of Jekyll and Hyde.  Ari is the head of the studio, and everyone knows they are taking a big risk here.  The project is being financed by a Texas business man and his son (played brilliantly by Billy Bob Thornton and Haley Joel Osment).  But the son decides to sabotage the movie, out of jealousy over Vince's relationship with Emily Ratajkowski.  Haley Joel Osment goes way over the top is his portrayal of a rich scumbag.  It's so out of character for him, but he pulled it off perfectly. I will admit that it's not the heaviest of plots, but ENTOURAGE has never been about that.  It's also never been about taking hard shots at the excess of Hollywood, which is what a lot of people seemed to be looking for here, based on the negative reviews I had read.  ENTOURAGE always felt more like playful teasing than any real satire.   If you want to see ENTOURAGE, you are going to see fast cars, beautiful women, and five guys living life to the fullest. Actually, when you think about it, ENTOURAGE has a lot in common with big-budget superhero movies.
What's really nice is that Doug Ellin, the show's creator wrote and directed it.  That make sure this didn't feel like a "film made by committee."  At it's heart, it's pure ENTOURAGE.  Each character had their own story arc, we get to see a fictionalized version of a movie being made, and everything basically works out to a happy ending.   There are also some real heartfelt moments.  Lloyd's wedding at the end was great (l' chaim, bitches!).  And I actually cheered when Johnny finally shows he has some acting chops and wins a Golden Globe.  Mark Wahlberg's shocked line "Holy Shit!  I haven't seen the movie, so maybe he was actually good in in" was just brilliant.   ENTOURAGE isn't particularly complicated, but it is very satisfying. 
I also thought this movie was the perfect length at 1 hour, 44 minutes.  It seems like every movie tries to be over 2 hours these days (something the movie even jokes about), including those superhero movies I talked about earlier.  But with a breezy fun movie like ENTOURAGE, it makes sense to me to keep it a little shorter. I did have one small gripe about the movie.  I am a huge Scott Caan fan.  I kept waiting for him to show up in this movie, but it just didn't happen.  I swear I had heard he was in it.  He had a pretty major role in the last season or so of ENTOURAGE.  I assume he was filming Hawaii Five-O…ironically, a show that I only started watching because he was in it.  Warner Brothers sent us over the DVD/Blu-Ray/Digital download combo pack for this review.  Unfortunately, I don't have a Blu-Ray, so I didn't get to watch most of the extras.  I did enjoy the Deleted Scenes, which were mostly just extended versions of various scenes of the movie, including the movie premiere.
Entourage the movie is basically just high-end mindless entertainment, which is what the show always was to me.  If you're willing to just let yourself go for two hours without carrying any social agenda, you will probably enjoy it.
DVD Extras:
BLU-RAY extras:
The Making of Hyde – Go behind the scenes with Vincent Chase, the hot new director of Hyde
The Gang – Still Rockin' It: Join the Cast as they discuss how things have changes.
Hollywood, Baby! – The guys and Doug Ellin deliver the ultimate LA Experience.

Meet the Newest Member of Entourage

Lucas Ellin is Jonah Gold

Deleted Scenes

Gag Reel
Recent Tweets
Top Ten Most Popular Ever