St. Louis Comicon Has Strong Debut, Room To Grow
FTC Statement: Reviewers are frequently provided by the publisher/production company with a copy of the material being reviewed.The opinions published are solely those of the respective reviewers and may not reflect the opinions of CriticalBlast.com or its management.
As an Amazon Associate, we earn from qualifying purchases. (This is a legal requirement, as apparently some sites advertise for Amazon for free. Yes, that's sarcasm.)
Submitted by

Jeff Ritter

on Sun, 06/26/2016 - 18:34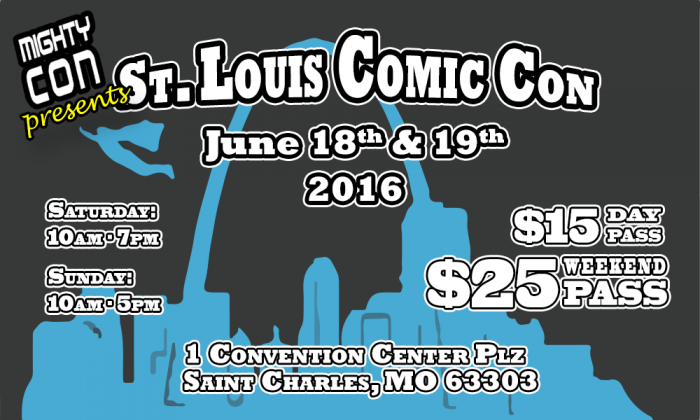 St. Louis has more than enough comic, anime, cosplay, sci-fi and fantasy geeks within its general market area to support a substantial pop culture convention or "comicon." Yet we don't have one, or at least we don't really have one in the traditional sense. The Wizard Worlds conventions have run downtown for a few years now and some comic creators have said they've done okay there, but they are grossly overpriced for admission which grants you the privilege to hand over an even bigger wad of cash to the likes of T.J. Hooker, some random cannon fodder Jedi gal from one of the what-should-be-non-canon STAR WARS prequels, or some dude who got ate by one of THE WALKING DEAD three seasons ago. For the $100+ I could spend to get a selfie with a lesser Hobbit I could buy a lot of comics, or a new board game, or go watch a double-feature at the AMC and still be able to afford a nice dinner at Dewey's and some good ol' Fritz's frozen custard (because no matter what you hear, Imo's Pizza is total crap and Ted Drewes is overrated and overpriced—deal with it, St. Louis!) afterwards.
No, St. Louis needs a dedicated, straight up, old-fashioned Comicon. Project Comic Con, started several years ago by the fellows at Newcastle Comics in Maryland Heights, had that feel, but in recent years it's been plagued by inconsistent scheduling—taking a year off, trying it on a different weekend, then another year off, trying to survive and grow by word of mouth rather than invest in significant marketing. Hey, I know putting on a convention isn't cheap or easy, and sometimes life just happens. That's why I was glad to see that Mighty Con, a convention-producing company based out of Chicago who also runs shows in Wisconsin, stepped in this year to fill the void with the first St. Louis Comic Con, held June 18-19 at the St. Charles Convention Center. Their convention took up just one modestly sized conference room, probably not even a tenth of the space that you'd find at a mega-convention like C2E2 in Chicago or the (in)famous San Diego Comicon. That, however, turned out to be just enough for their first attempt of what will hopefully be many more to come.
The convention was laid out into simple rows, with tables surrounding the perimeter and the rows spaced wide enough apart that even at the height of foot traffic you could still move around relatively freely.  That includes cosplayers with their insanely clever and sometimes bulky costumes. Remember, folks, it is good convention etiquette to ask cosplayers for permission to take their picture at a convention (which I did) and to ask permission to put them online (which I completely blanked on for some reason, so no cosplay photos here, unfortunately). If you're the selfie type, asking permission to take a picture with a cute cosplayer is not blanket consent to be touchy-feely. You wouldn't think you'd have to be reminded in this age of extreme political correctness and litigation, but there you have it just the same. If any scum rebelled against the rules, the 501st Legion of the Empire was on hand to restore order to the galaxy…er…Comicon (as was security). The vendors selling comics and graphic novels were generally lined up in the left-most rows as you entered the room, and the comic creators, independent hopefuls, up and coming artists and industry vets alike were down the middle and to the right, save for the featured artist of the show, comic legend George Perez, who was stationed in the left corner of the room as you entered. Mr. Perez does art commissions through a "line ticket" system, kinda like ordering lunchmeat at the deli counter. It works very well, but you have to get there early to get a low number and I wasn't able to get there early enough on either day. George is also one of the genuinely nicest people in comics, as my friend April Hunter, the model/wrestler/writer whom his SIRENS comic character Agony is modeled after can attest.
There was no shortage of quality creators in "Artist Alley." Keith Champagne, a writer and artist who has worked for a number of big name publishers and creator of "The Mighty" at DC Comics (with Peter J. Tomasi, Peter Snelbjerg and Chris Samnee, collected in trade paperback format by Dark Horse Comics), was a pleasure to meet. He was friendly, forthright, and eager to talk about his recently successful Kickstarter for THE SWITCH with Tom Nguyen, who was also at the show and likewise a gentleman. Tom has worked all over the industry and if you're a fan of the Marvel Legendary deck building game, you've seen some of his excellent art. Their Kickstarter campaign had some fantastic stretch goals—I wish I had discovered it before it was over! I hope to review it when it's ready to ship, so put CriticalBlast.com in your favorites list and check back for more on THE SWITCH. Local comic veteran Rick Burchett was on hand, drawing away as usual. The man is constantly busy at every convention I've seen him at. Mike Czerwonka, an artist from Southern Illinois who "paints" both actual people and pop culture characters with markers on canvas, displayed his unique wares. I didn't spot in until the second day of the show just as things were winding down, but he had a Judge Dredd canvas that I simply couldn't pass up—and his prices are extremely reasonable for the size and quality! Justin "Holmes" Holman, another Illinois resident, was doing quick and inexpensive sketch covers, demonstrating his rising talent.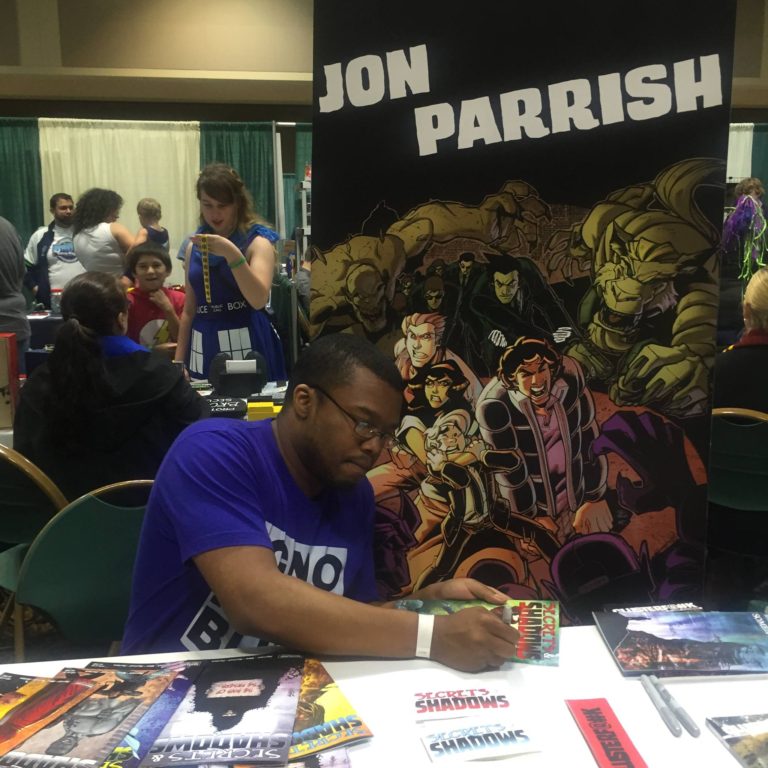 Jon Parrish, an enthusiastic young writer from Indiana, showed me his black and white dark-themed superhero comic, Secrets and Shadows. It reminded me a little of DC's wonderful Starman comic—back when DC still made wonderful comics—in that they both revolved around reluctant superheroes with daddy issues. Jon's book is darker in tone and absent of color, but no less compelling. I've read through two issues so far and keep coming back for more. He was also selling his CLUSTERF@#K graphic novel, published by Alterna Comics and available in bookstores, comic shops and Amazon. It's a more lighthearted though perhaps not necessarily all-ages buddy cop-horror romp and looks like a ton of fun. He was seated near Jesse Kwe and the boys who successfully launched Ghost Town's first issue on Kickstarter. Their dystopian future comic looks to have plenty of potential. Last but not least, I was pleased to meet Greg Schmidt, and artist out of Wisconsin who hasn't really published anything but whose art style is simply a blast to look at. It's whimsical and fun, reminiscent of the old Saturday morning cartoons of my youth, existing somewhere in between Jonny Quest and Powderpuff Girls.  It turns out that Greg is a board game enthusiast like me, and his art style is so intriguing that I may just have to discuss doing a comic or some board game art for me if I ever get any of my many projects out of the concept stage. I didn't really get a chance to speak to animation icon Tom Cook or TEENAGE MUTANT NINJA TURTLES artist Frank Fosco, because they were busy chatting with other guests every time I strolled by. Artist and colorist Jeff Balke was also super busy but I did manage to get a hello in before the show was over.  
Big things come in small packages and despite the modest size St. Louis Comic Con appeared to be a successful show, even with a few unavoidable situations working against it. The road outside of the St. Charles Convention center is currently under reconstruction as St. Charles is remodeling many of their major interchanges for better traffic flow. It should be great in the long run but there was a lot of confusing detouring for even a local like me. The Sunday session was slow to get going as church and Father's Day festivities may have prevented some folks from attending earlier in the day. I presume there were panel discussions but I didn't see any signage or programs describing such, and announcements over the intercom were completely unintelligible—Charlie Brown's teacher would have been proud. There is a natural resistance for the substantial population of South St. Louis County or many City of St. Louis residents to venture "way out west" to St. Charles for anything, despite being just 20-30 minutes on the highway. If pop culture fans from that part of town ever decide to make the trip, the St. Louis Comic Con will outgrow the current venue in a hurry, although the St. Charles Convention Center does have much larger accommodations available if the folks at Mighty Con decide to expand. While I appreciate the focus being on comics and creators, I can certainly understand the appeal some celebrities might have and their ability to draw fans to a convention. I also think it's important to be affordable, something Wizard World shows doesn't seem to consider at all. My hope is that they'll continue to run St. Louis Comic Con annually around the same time of year, give or take Father's Day, and expand the creators talent pool to draw the likes of Javier Saltares, Jeremy Haun, Brian Hurtt, Matt Kindt, Cullen Bunn, Jeffrey Edwards, Adam McLaughlin and many other talented creators and artists in and around Missouri and our neighboring states. I know it's the first time running this show and we probably don't need to run our own version of a C2E2 here, but as fun and friendly as this Comicon was I certainly wouldn't mind seeing a few more big names on the guest list.
Please visit www.stlouiscomicon.com for more information.