You are here
Home
›
Television
› Outsiders Returns to WGN for Second Season ›
Outsiders Returns to WGN for Second Season
FTC Statement: Reviewers are frequently provided by the publisher/production company with a copy of the material being reviewed.The opinions published are solely those of the respective reviewers and may not reflect the opinions of CriticalBlast.com or its management.
Submitted by

Dennis Russo

on Wed, 01/18/2017 - 07:13

Taking place in the Appalachian Mountains of Kentucky, the base story of the Outsiders centers around the Farrell clan who have lived isolated on top of their mountain for generations.  Struggling to keep an uneasy truce with the townspeople below and maintain their way of life, they also struggle within themselves for power within their clan, and are put to the test when their very way of life is threatened from the outside.
In the first season we learned there is a Big Coal company that has bought rights to mine the coal rich land. But to do so, they must enlist the help of the Sherriff T. Wade Houghton (Thomas M. Wright) and the law enforcement of Blackburg to remove the Farrell's and any others that may reside up on the mountain by whatever means possible. At the same time, the struggle for power within the clan drives some to commit murder, ending with a huge confrontation between the authorities and the clans that ended in massive bloodshed.
Season 2 begins in the aftermath, with the coal company and authorities regrouping while the struggles both internally and externally with Big Foster (David Morse), Lil Foster (Ryan Hurst) G'Winveer (Gillian Alexy) and Hasil (Kyle Gallner) that took place in season one start to bear fruit, before going off into other story directions.
The series in general is odd to me but for more than one reason very intriguing. It reminds me in ways of a combination of a people and land and story that has roots in everything from Middle Earth and GAME OF THRONES to BRAVEHEART, with characters that remind me of the likes of Wrestler Kevin Nash, survivalist Mick Dodge, and the Brown family members from ALASKAN BUSH PEOPLE. There is an element of mysticism, magic and superstition which give it a surrealist quality that is not quite believable as something that could be true or real in this day in America. But...
The story, or I should say the stories, of the interactions between the family, fellow clans and civilization in general, is well thought out and entwined with each other so that there's enough to keep me very interested. But what really makes it all work, what makes it believable, is the excellent casting and the acting of those stars.  At no time do I ever feel like I'm watching actors say their lines. I like how the characters have been created in a way that breaks the mold of what you think they would be like, based on what they look like.
a Rafflecopter giveaway
Win an OUTSIDERS T-Shirt
Enter to win this Women's Cut, Size L t-shirt featuring the OUTSIDERS logo on the back, WGN on the sleeve, and "Mountains of Trouble" boldly on the front! Just take one or more options from the form above!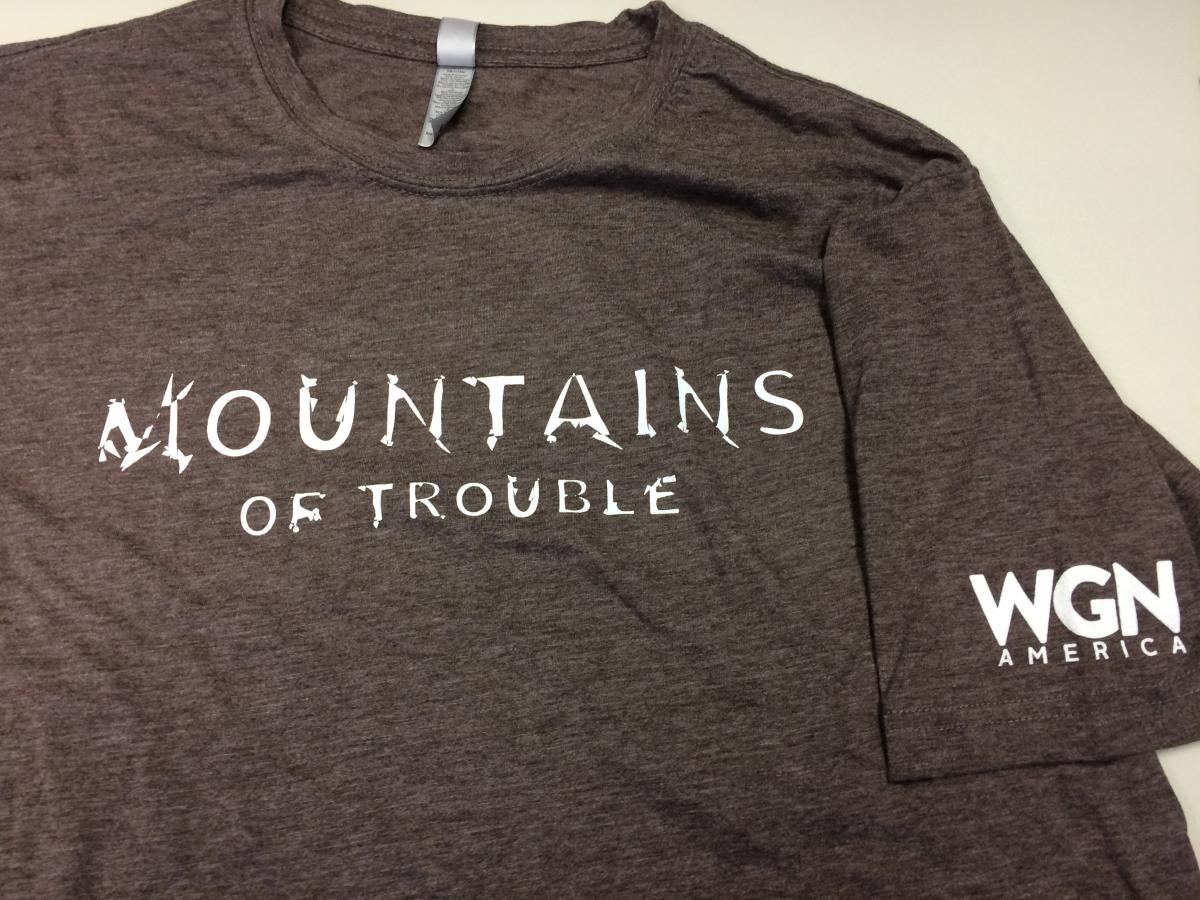 Several in particular really bring it for me, and while all of the acting is solid, it is the conviction to which David Morse, Ryan Hurst, Thomas M. Wright, Gillian Alexy, and Kyle Gallner portray their characters that makes me believe I'm watching actual people, similar to the real Brown family I mention above.
Again I'm not downplaying the acting of the other main characters, but for me these are my favorites. (And we all have our favorites, don't we?)
Visually it is pretty unexciting: it's a mountain with and a rural town that could be anywhere in the U.S. And except for an exceptionally filmed fight scene at the end of season 1, there's not much to call attention to it.
Story-wise, though, it is very solid and well thought out. I could go into a lot more detail, but I don't want to spoil anything for you. If you're a fan of the show, then you're waiting with anticipation for what is going to happen next with Big Foster, Lil Foster and G'Winveer, and wondering who will become the next Brenan of the clan. And then there are the struggles the Sherriff is dealing with both in his town in the aftermath of the confrontation with the clans and in his own home, not to mention the relationship issues another member of the clan is having with a certain townsperson and members of his own clan. So I don't want to spoil that for you. If you've not seen the first season, the weather outside is frightful and it would be a great time to binge watch and catch up so can you can be up to speed.
While not a huge fan of the mysticism and clan aspect of the show, I can overlook that because this series is different enough from the others out there, and the acting is above reproach enough to warrant it being on your weekly watch list. I think you'll find something and someone you'll take a shining to, and want to see how things work out for them.
The Outsiders begins its second season on WGN at 9:00pm ET/PT January 24.
Recent Tweets
Top Ten Most Popular Ever