You are here
Home
›
Live Entertainment
› O'Fallon Theatre Works' PETER AND THE STARCATCHER Is A Family Friendly Treasure ›
O'Fallon Theatre Works' PETER AND THE STARCATCHER Is A Family Friendly Treasure
FTC Statement: Reviewers are frequently provided by the publisher/production company with a copy of the material being reviewed.The opinions published are solely those of the respective reviewers and may not reflect the opinions of CriticalBlast.com or its management.
As an Amazon Associate, we earn from qualifying purchases. (This is a legal requirement, as apparently some sites advertise for Amazon for free. Yes, that's sarcasm.)
Submitted by

Jeff Ritter

on Sat, 02/25/2017 - 16:20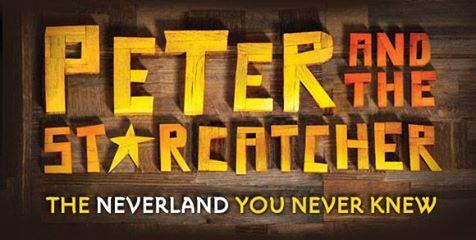 "Avast, ye scurvy dogs, and heave to! Aye, you'll hoist me treasure, or you'll be sleepin' in Davy Jones' locker, argh!" Sigh…I think I'd have made a great pirate. I'm told I have a certain kind of intensity in my eyes, I don't particularly like shaving, and I have a pet macaw. All I need is an ocean, a galleon and a time machine. Since I can probably only get my hook onto two of those three piratical requirements, I guess I'll settle for the next best thing: pirate-centric community theatre! Hot on the heels of earning 16 nominations for NOISES OFF and ANNE FRANK at this year's Arts For Life Awards, O'Fallon Theatre Works presents PETER AND THE STARCATCHER, running February 24 - March 5.
Written by Rick Elice with music by Wayne Barker and based on the novel by Dave Barry and Ridley Pearson, PETER AND THE STARCATCHER is the second show I've seen recently focused on the origin of Peter Pan. FINDING NEVERLAND at the Fox Theatre highlighted the literary take, but here the audience is inside the narrative and witness to the creation of Neverland, Peter Pan, and his arch nemesis, the evil pirate Captain Hook, or, as he is humorously referred to throughout this show, Blackstache! ("AAAAH! BLACHSTACHE! AAAAH!") The first act revolves around two ships, the Wasp and the Neverland, piloted by separate captains on identical (by which I mean separate) missions (because pirates!). The dastardly crew chases the other's treasure and the nobler crew seeks to take their most dangerous cargo—stardust—to a far away island for safe disposal in the world's hottest volcano. It is during this dangerous journey that Queen Victoria's ("GOD SAVE HER!") agent's plucky daughter Molly discovers the existence of three young slave boys destined to be fed to the monstrous snakes belonging to the volcanic island's treacherous king. Act two finds both crews ashore, chasing the children for the treasure they are attempting to maneuver around the island, past the greedy pirates and into safekeeping with Molly's father. The island's tribal king is quite mad, and as a former kitchen slave to English masters he's extremely hostile to his unwanted visitors. In the end, the stardust enables the heroic and sadly unnamed slave boy to become the erstwhile Spirit of Youth that we all grew up with on Disney home video while his devilish and devilishly handsome opponent loses a hand but gains the eternal yin to his infernal yang.
Directed by Melissa Boyer, this production of PETER AND THE STARCATCHER features a strong cast of local thespians including some truly special performances. Mark Killmer is a stage rookie but a performance veteran who traded in the royal robes of King Henry VIII at the St. Louis Renaissance Faire for the filthy rags of pirate leader Slank/tribal prince Hawking Clam. His pirate dialect was spot on and for the most part decipherable. There were a couple of occasions where the dialogue was hard to make out, but with a stage crowded with actors speaking in piratical English dialects it certainly wasn't Mark's fault if a line or two got swallowed by the din. James Keeler Rollins was fearsome as the sadistic Grempkin, the orphanage headmaster who sold kids into slavery, and hilariously odd as Fighting Prawn, the mad king of the island. Arturo Latimer and Tim Naeglin brought Captain Robert Scott and Aster of the Queen's men, respectively, to life. Tim brought a strong sense of nobility to his role and I would think he'd be a hot commodity for any production in search of a leading man. Among the scurvy side of the motley crew Joe Groebling's Alf set up many of Mrs. Bumbrake's (more on her n a moment) best jokes and Joshua Thomas Ignatius Towers, another Renaissance Faire veteran, shined bright as the bumbling First Mate Smee. I firmly believe that any production revolving around Peter Pan and Captain Hook is only as good as its Smee, and Mr. Towers is an excellent Smee. Mark Van Coutren, a high school senior, projected a strong voice as Prentiss, leader of the boys in all but deeds. As a former pro wrestling ring announcer myself, I know a good ring announcer when I hear one, and Mark's ring announcer scene was terrific.
Ah, Mrs. Betty Bumbrake. One might wonder if the doting protector of young Molly wasn't a Doubtfire before marrying Mr. Bumbrake. Such was the hilarity that ensued whenever the spotlight shone upon Greg Stiff, the man behind the bearded—or at least goateed—lady providing huge laughs throughout the show. S/He would show up at seemingly random intervals like a running gag in an episode of FAMILY GUY and never fail to get a big reaction from the audience. What a joy it must be for him to share the stage with his son. Brady Stiff has his father's comedy chops, playing young Ted as the warm, caring slave boy with the voracious appetite. This talented lad is a scene stealer! Jeremy Boyd, the nameless boy who would become Peter Pan, plays the hero well, growing from beaten wretch to wily pirate foil and hero of the day. He is a versatile actor who handles the drama and comedy equally well. Calyn Roth, a Lindenwood University student actress, was outstanding as Molly. She brings strength and charm to her role, and thus Molly never feels like a damsel in distress but a hero in her own right. She carried her English aristocratic accent well throughout the production, shined in her opportunities to sing, and convinced the audience of the existence of magic by sheer force of personality. If anyone is working on turning STAR WARS VII: THE FORCE AWAKENS into a stage show, look no further than Calyn—she'd make a perfect Rey (Skywalker—yeah, I said it)!
Last but not least, there's Ben Ketcherside, the delicately constituted Freddy/Phillip of NOISES OFF playing Stache, the future Hook. I saved him for last, because if ever there was a role I'd covet myself, it would be the Pirate of Panache, the Fiend of Facial Hair, Blackstache! While I may covet the part, I can only beam with admiration for Ben's performance. I was afraid he'd go too "Jack Sparrow" or as I'd probably do, too "Dustin Hoffman." He went more the late Roger Rees, calling to mind some of the best moments of Ree's' Sheriff of Nottingham in ROBIN HOOD: MEN IN TIGHTS complete with malapropisms quickly and hilariously corrected by Smee. Dashing and dangerous, macho and Machiavellian, Mr. Ketcherside positively nailed it. If that wasn't enough, I do believe he even grew out his own majestic moustache for the role! Well done, O Captain my Captain!
With a fine set—actually a pair as each act takes place in very different locales--by Christopher Resimius, lovely costumes by Raelynn Twohy, and extraordinary lighting by Corey Verdusco, all under the watchful eye of stage manager Katie Adams (Happy Birthday!), the O'Fallon Theatre Works will no doubt garner future award nominations for their production of PETER AND THE STARCATCHER. There is vibrant art being created all across the St. Louis metro region, and St. Charles, Lincoln and Warren County residents need not travel very far to see an outstanding stage show.
For more information, please visit https://www.ofallon.mo.us/parks&rec/ofallontheatreworks or https://www.facebook.com/OFallonTheatreWorks