New Line Theatre's ZORBA Explains What Life Is All About
FTC Statement: Reviewers are frequently provided by the publisher/production company with a copy of the material being reviewed.The opinions published are solely those of the respective reviewers and may not reflect the opinions of CriticalBlast.com or its management.
As an Amazon Associate, we earn from qualifying purchases. (This is a legal requirement, as apparently some sites advertise for Amazon for free. Yes, that's sarcasm.)
Submitted by

Jeff Ritter

on Mon, 03/06/2017 - 02:00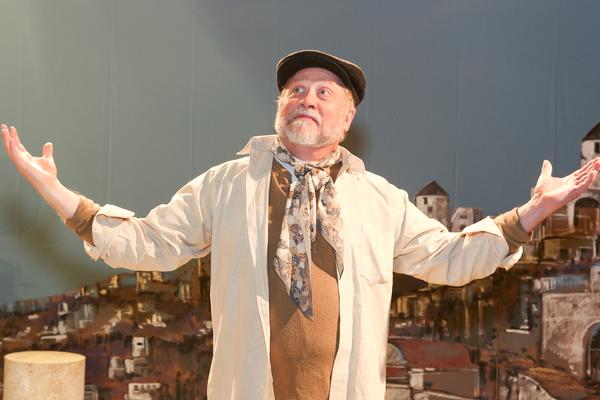 Life is a simple word that conjures images in one's head of everything from bland breakfast cereal to fierce religious/political debates to the birth of a child. It is a capricious word. Jobs, relationships, health, you name it--life will change it in an instant, sometimes for the better, sometimes far worse. New Line Theatre's newest production, ZORBA, is a perfect example of the unpredictability of the one commodity that everyone holds most precious.
The show's book was written by Joseph Stein, based on the novel by Nikos Kazantzakis with music by John Kander and lyrics by Fred Ebb. The story revolves on the strange friendship of bookish Greek American Nikos (Dominic Dowdy-Windsor) and the peculiarly liberated laborer Zorba (Kent Coffel) as told by a group of Cretans in a bouzouki parlor. What the audience witnesses is their story brought to life, or perhaps more accurately the summation of these storytellers' discussion of what life is. In fact, "Life Is" is the musical number that bookend the entire show, so right from the start you know what it's all about. The trick is to remember that, as it's easy to get wrapped up in the details.
The story itself is pretty straightforward. Nikos meets Zorba, strike a professional relationship and the unlikely pair heads to Crete to survey a mine Nikos just inherited. Upon arrival they encounter some of the locals, including Madame Hortense (Margeau Steinau), the owner of a local inn. She is infatuated with Zorba, who simultaneously returns and subtly rejects her advances. As their relationship evolves into a sensual little game of cat and mouse, Nikos becomes interested in a local Widow (Ann Hier), who has been struggling to shake off the yoke of her mourning and get back to living life. I won't divulge how these relationships play out, but if you've ever seen a musical before you know something generally goes wrong for a major character at some point.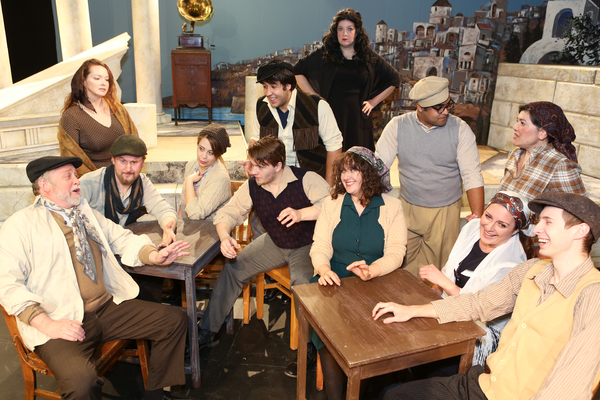 The first act is quite funny and rather celebratory. Dominic Dowdy-Windsor's Nikos generally plays the straight man against Kent Coffel's more bombastic Zorba, and the two have a natural chemistry on stage. Mr. Dowdy-Windsor has a wonderful low tenor voice, charming presence and a far better dancer than I—ZORBA has its fair share of traditional Greek dancing, which would be incredibly daunting to someone like me with two left feet. Margeau Steinau, whom I've enjoyed before in a pair of my favorite New Line shows, HANDS ON A HARDBODY and THE THREEPENNY OPERA, was graceful and elegant as Madame Hortense. Her love for Zorba was playful and endearing, and in some small way I felt Zorba was a fool to keep this woman at arm's length early on. Ann Hier is a lovely actress with an operatic voice who is capable of blending seamlessly into an ensemble in one scene and standing out as a vivacious beauty in the next. Damn the spoilers, I was mad when her character arc ended…but we'll get back to that. The rest of the cast, including Lindsey Jones as Leader, Evan Fornachon as Pavli, Devin Riley as Mimiko, and Mara Bollini, Sarah Dowling, Robert Doyle, William Pendergast, Kimi Short and Sara Rae Womack as the villagers, are all excellent, with Kimi Short getting what I felt were the majority of the funnier lines from the ensemble. Lindsey Jones' character might be perceived as the Grim Reaper, but remember, she's the ringleader of the storytellers—we're watching the story as a visual representation of an oral tradition. She's simply guiding the voices in and out of the tale they weave, her own powerful voice leading the way. Evan Fornachon's character meets with an early demise, but the actor returns sporting a change of costume and a moustache only an Italian plumber with an ape problem could love.
Last but not least, Kent Coffel showed once again why he's one of the best local actors in the St. Louis area. As he did in New Line's recent production CELEBRATION, where he played a schemer looking to carve out his own little slice of the American Dream, he can grab the attention of an audience in so many ways: booming voice, fantastic facial expressions, and deep characterization. Here, Mr. Coffel's Zorba seeks to liberate his friend Nikos from a life of sameness and paths too often traveled. He is a laborer by trade but a philosopher by nature. The character is reminiscent of "The Most Interesting Man in the World" from the Dos Equis Beer commercials, and Kent can project that kind of quality as he did in the role of Potemkin in CELEBRATION. His Zorba feels completely realized, more than just an actor's notion of who the character is. To what extent he's traversed the globe, how many unique adventures he's had throughout his life, I couldn't say. Kent's gift as an actor is making you forget the actor completely and only see, in this case, Zorba. Every actor strives for that but not everyone achieves it. I tip my hat to Mr. Coffel on a job most beautifully done.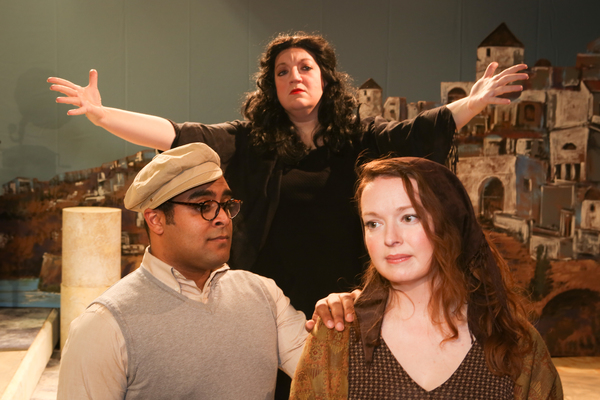 I also tip my hat to the always sensational New Line Band, consisting of conductor and pianist Sarah Nelson, guitarist D. Mike Bauer, violinist Twinda Murry, percussionist Clancy Newell and bassist Jake Stergos. D. Mike also plays the bouzouki, a traditional Greek stringed instrument that I mistook for a dulcimer. I couldn't quite make it out from my angle. The players may change from show to show but the consistently super performances never cease to amaze me. I can also say the same for yet another gorgeous Rob Lippert set, complete with large columns to evoke the Parthenon.
As well performed as it was, and lovely to behold, ZORBA was entirely my cup of tea. I know director Scott Miller is a musical historian, and I'm sure the version he and co-director Mike Dowdy-Windsor have crafted holds very true to the original version in many respects. Maybe it's a little to true for my taste. Some of the lyrics—written in the 1960s—show their age with certain references to the fairer sex. The first act is joyous, but the second act things turn very dark, very quickly. I was excited to see Ann Hier get a chance to really light up the stage and the next thing I know the whole damn village attacks her…in the name of Christ! I was raised Catholic, and I know Greek Orthodox is a little different, but I'd give dollars to loukoumades that their version of the Bible mentions "Thou shalt not kill," somewhere. Again, I don't fault the directors, and clearly I'm not as worldly wise as Zorba, but these were the same people who encouraged the Widow to break her long mourning and get on with life, and then they killed her for it? This Big Fat Greek Lynching really threw me, and I'm sure it took another song or two before I was able to start processing the show again. One of these days I want to see Ann play somebody like…Glinda the Good Witch from WICKED. That part has great lines, good songs, and the character survives to have a more or less happily ever after ending.  
Alas, despite my protestations, this reaction is precisely what Scott Miller, Mike Dowdy, and Joseph Stein, Fred Ebb and John Kander was going for. Ut vitae. Ko te ora. C'est la vie. Life is. It doesn't care if I like it; it's going to happen nonetheless. The best you can do is be more like Zorba, accept it, and carry on in whatever direction your feet happen to be pointing. Point yours towards the Marcelle Theatre March 2-25, 2017, and see ZORBA yourself. Visit www.NewLineTheatre.com for ticket information and other upcoming shows from St. Louis' most daring musical theatre groups.