You are here
Home
›
Television
› Pep Talk: Riverdale, Episode 108, "The Outsiders" ›
Pep Talk: Riverdale, Episode 108, "The Outsiders"
FTC Statement: Reviewers are frequently provided by the publisher/production company with a copy of the material being reviewed.The opinions published are solely those of the respective reviewers and may not reflect the opinions of CriticalBlast.com or its management.
As an Amazon Associate, we earn from qualifying purchases. (This is a legal requirement, as apparently some sites advertise for Amazon for free. Yes, that's sarcasm.)
Submitted by

RJ Carter

on Fri, 03/31/2017 - 07:52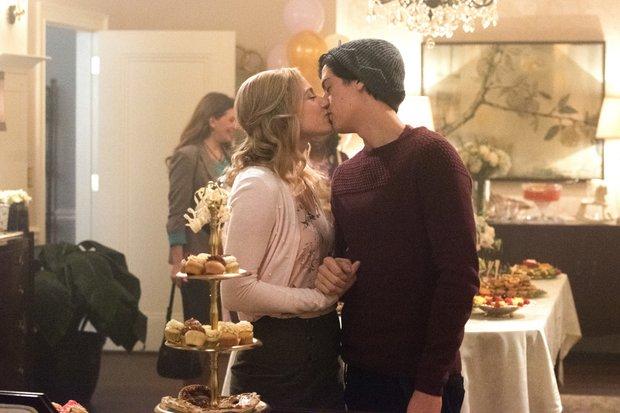 It's been a few weeks since we've had a new episode of RIVERDALE, so thankfully we get a really quick time capsule of the Pregnancy of Polly Cooper (TIERA SKOVBYE) that comes with a bit of new information as we see her talking with Sheriff Keller (MARTIN CUMMINS): Jason Blossom (TREVOR STINES) truly was delivering drugs before he was murdered, but as a one-time deal to make cash for him and Polly to start their new lives. He took the job from the South Side Serpents.
Polly is currently staying with Hermione Lodge (MARISOL NICHOLS), as her mother, Alice (MADCHEN AMICK), wants Polly home, but not the baby, and Jason's mother, Penelope Blossom (NATHALIE BOLTT), wants the baby, but not Polly. Veronica (CAMILA MENDES) proposes to solve the unsolvable by holding a baby shower for Polly, with both mothers invited, hoping that being in the same room in front of a bunch of other people will prevent them from fighting. (Perhaps Ronnie hasn't been paying attention to the other public spats that have taken place.) Betty (LILI REINHART) is uncertain, but comes around to backing the plan for Polly.
Meanwhile, as Fred Andrews (LUKE PERRY) begins to break ground on his newest project (unaware that Lodge Industries is the buyer through Hermione and her forging of Veronica's signature), only to find that his foreman is pulling his crew from the job, having received an offer of solid work for two years from Cliff Blossom (BARCLAY HOPE). Fred goes to confront Cliff, but ends up doing little more than venting his frustrations, learning that the Blossoms owned the land once and were trying to reacquire it until Fred's mysterious benefactor yanked it out from under them. Fortunately for Hermione, Cliff has no idea that Lodge Industries is the buyer. Unfortunately, Fred's company is bleeding money and with no crew he can't keep the business open.
That's when Archie (KJ APA) steps in. Knowing the situation, he pulls together his own crew, including Reggie (ROSS BUTLER), Moose (CODY KEARSLEY), Kevin (CASEY COTT), and his new roommate, Jughead (COLE SPROUSE). Together, the begin breaking ground. But at the end of the day, when Moose goes back to retrieve a forgotten cell phone, he encounters two men vandalizing equipment with crowbars -- who then turn to vandalizing Moose with the same tools! Archie and the gang rush out, but the men are already driving off, leaving a bruised and battered Moose.
Archie is certain the vandals belong to the South Side Serpents, since the drive-in used to be their old hangout, but Jughead says that they never bothered him when he was living there.
Archie decides to take things into his own hands, and with Kevin and Moose, accompany Kevin's South Side Serpent boyfriend, Joaquin (ROB RACO) into a bar frequented by the gang. Moose thinks he recognizes one of the guys, and Archie confronts him. A fight almost ensues, but is broken up by F.P. Jones (SKEET ULRICH), who called Archie's dad the second they all walked in. And on cue, Fred arrives. After dealing with Archie, Fred asks F.P. if the Serpents really did have anything to do with the vandalism, which F.P. denies -- but he'll ask around and see if any of his friends know anything.
Archie realizes the reason Jughead was so defensive of the Serpents was because he was keeping it a secret that his father was one of them.
Over at Hermione's, the baby shower is in full swing, with cordiality ruling the day as Nana Rose Blossom (BARBARA WALLACE) "divines" the sex of Polly's baby -- and gasps with the revelation that it's both: one boy and one girl, just like Jason and Cheryl. Things fall apart, however, when Penelope Blossom offers her home to Polly, causing Alice to confront her right there. Polly steps in, however, stopping them both with her claim that this kind of feuding is exactly why Jason is dead -- they wouldn't let them have their own lives, and it cost Jason his. She also drops a bomb on Alice in private: she doesn't want to go home because dear old daddy Hal Cooper (LOCHLYN MUNRO) had initially made Polly a doctor's appointment to deal with her little mistake. This hits a nerve with Alice, and she later confronts Hal about it. Turns out Hal had made a similar appointment for Alice several years ago -- I wonder whose baby that would have been? Alice is angry, and kicks Hal out of the house so that Polly can come home.
Polly, however, has other plans.
At the conclusion of the last episode, we saw that Jason's school jacket had been rescued from the car before it went ablaze, and was now hanging in a closet in F.P.'s trailer. We see that jacket again as F.P. is stuffing it in a bag and giving it to Joaquin. He tells Joaquin that the jacket is their insurance policy if the police ever come asking questions. He also asks how things are with Joaquin's boyfriend. "It's good," he says. "He thinks we're legit." Oh my, Joaquin is playing Kevin so that the Serpents have an inside connection to Kevin's dad, the sheriff! However, Joaquin may actually have feelings for Kevin, and F.P. reminds him, "We've all got a part to play. Including me."
When we next see F.P. it's at the Andrews' job site. He surprises Fred with a crew of Serpents who need work -- and if there's any trouble, they know how to handle it. Fred's problem is handled -- but Hermione's is just beginning! F.P. takes her aside to let her know he found out who did the vandalism -- men connected to her jailed husband, Hiram. Seems he may have caught wind of her little fling with Fred Andrews, and learned that his company bought this land. The question posed to Hermione is this: Who told Hiram? Suspicion is immediately cast on the only other person with an immediate motive: Veronica.
The Internet is buzzing with the #Bughead relastionship that has developed on the show. Admittedly, I was as surprised as anyone, as Betty has and always will have a place in her heart for Archie. But some talk has leaned toward Jughead's asexuality in the comics as being his traditional stance. Yes, Jughead shunned female relationships for a long time, and was frequently and comedically often on the run from Ethel. However, that doesn't mean that Jughead didn't have romantic interests in his life. Such as: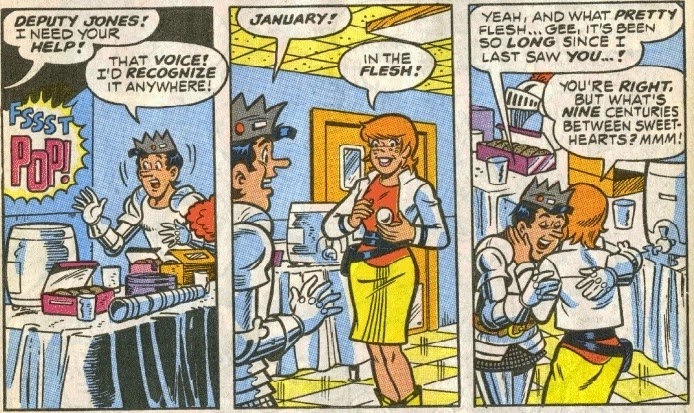 If January looks familiar, she should. Her name is January McAndrews, and she's a descendent of you-know-who. So make of that what you will about Jughead's true feelings!
There are actually more off-and-on love interests in Jughead's life (would you believe in the old days he even went on platonic dates with both Betty and Veronica?) and you can see them all together in a nicely done piece over at ComicBookResources.com.
Recent Tweets
Top Ten Most Popular Ever