Men of Steel: The best actors to have played Superman
FTC Statement: Reviewers are frequently provided by the publisher/production company with a copy of the material being reviewed.The opinions published are solely those of the respective reviewers and may not reflect the opinions of CriticalBlast.com or its management.
Submitted by

Bill Casticart

on Mon, 05/08/2017 - 10:18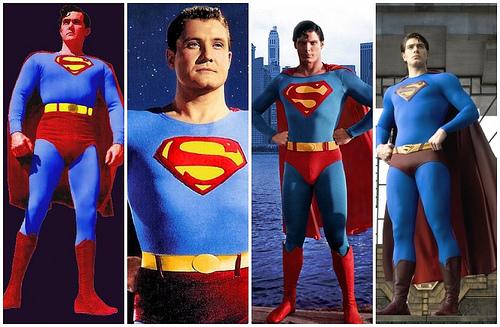 Photo: "Superman Through the Ages" (CC BY-SA 2.0) by Helgi Halldórsson/Freddi
 
Ahead of this year's long-awaited JUSTICE LEAGUE movie, which features yet another appearance for Henry Cavill as the Man of Steel, we're here to take a quick look at the few men lucky enough to pull on those famous red underpants for either TV or the silver screen.
The storied history of the Superman character now spans over 80 years, and it's safe to say there have been quite a few portrayals during that time. Originally conceived by writer Jerry Siegel and illustrator Joe Shuster as a comic book strip, it took a little over a decade before Superman made the all-important leap into the world of cinema.
These days, the franchise continues to evolve and now spans print, screen and a massive range of video games, with NetherRealms' INJUSTICE 2 being due to release later this month. There's even a themed MAN OF STEEL online slots game that has recently been developed by Playtech and hosted by operators including Paddy Power casino. The five-reel game contains wilds including Henry Cavill's Superman and Michael Shannon's General Zod, and new customers can receive a welcome bonus of up to £300.
We bet Siegel and Shuster didn't see that one coming when they were busy drafting up the first edition of Superman for Action Comics #1.
Anyway, it's safe to say that every portrayal of Superman comes with its own set of distinct expectations. For any actor who is tasked with wearing the cape, it's all about how they should look, sound and act, which makes it even more interesting to dig into what each actor brought to the table individually.
This looks like a job for Critical Blast…
Kirk Alyn (1948–1950)
When Jerry Siegel and Joe Shuster made the call to take their comic book strip to a global cinema audience, they called on Kirk Alyn to play the leading role. Alyn, a former dancer, gave Superman a certain spring in his step and was largely responsible for cementing the idea of Clark Kent as a meek, mild-mannered guy – the complete antithesis to his weekend job as a hotshot crime-fighter.
It could also be argued that Alyn was the first actor to suffer the fate of the infamous Superman Curse, failing to capitalise on his success in the role and soon finding his career in decline after 1950's Atom Man vs. Superman.
George Reeves (1951–1958)
When George Reeves (no relation to Christopher Reeve, of course) took the reins for the inaugural Superman TV series – The Adventures of Superman – he flipped the character of Clark Kent on its head somewhat. Instead of a geeky, sometimes infuriatingly feeble alter ego, Kent became way more rugged, charming and willing to dive into the action whenever trouble presented itself.
His portrayal really does beg the question as to how people were so incapable of realising the two guys were actually one and the same. What a difference a pair of glasses can make…
Christopher Reeve (1978–1987)
By far the most recognisable incarnation of Superman belongs to none other than Christopher Reeve, who played the role for close to a decade during the late 70s and 80s. But what exactly made Reeve's portrayal so quintessential?
There are a few key things, but it was certainly the first time that an actor had dug into the human psychology behind the superhero. Reeve's Superman wasn't just battling baddies; he was also trying to come to terms with his own position as a pariah of society, never truly belonging on the planet that he so desperately wanted to help. His altruistic nature really shone through and empowered audiences to share a similar mentality – whatever strengths we have at our disposal, they should be used as a force for good.
But wait. We also have to give a few honourable mentions to Dean Cain, who brought Superman back to the '90s generation in The New Adventures of Superman (while also creating a whole new dynamic between Superman, Clark and Lois), and also Tom Welling for his teenage portrayal of Clark Kent in the long-running Smallville series. Hats off to you too, chaps.
As for Henry Cavill, he still has every chance to make his own sizeable impact on the role, and this year's Justice League is certainly the ideal place to do just that.
Recent Tweets
Top Ten Most Popular Ever