Top 5 Ranked Casino Movies
FTC Statement: Reviewers are frequently provided by the publisher/production company with a copy of the material being reviewed.The opinions published are solely those of the respective reviewers and may not reflect the opinions of CriticalBlast.com or its management.
Submitted by

Bill Casticart

on Tue, 05/30/2017 - 06:51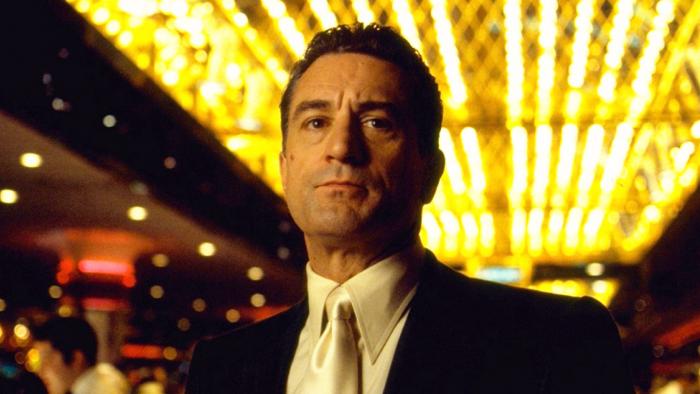 Top 5 Gambling Movies
The list of casino movies is long and will continue to increase with new movies on the rise. Among the ones that make a thoroughly good viewing, covering a range of gambling aspects, I would select five. Let's take a quick look at each one of them to find out why these are the top 5 casino movies of all time.
1. Casino (1995)
Showcasing one of Robert De Niro's best acting jobs, CASINO centers on Ace, a gambling genius who runs a thriving mob-owned hotel casino with the help of his most trusted friend and muscle, Nicky Santoro. This movie articulates the intricacies of casino cheating and complex financial structures, linking mob bosses to casino profits. As the movie unfolds, Nicky's shortcomings soon lead Ace to a dangerous life of crime and run-ins with law enforcement. A mix of danger and charm, it makes its mark as a one of the must-watch classics, and is one of Martin Scorsese's best movies.
2. Rounders (1998)
Featuring a young Matt Damon, ROUNDERS follows the story of an entrepreneur who plays poker to pay for university tuition. Prominently buying into compulsive gambling, this film is a happily-ever-after kind that depicts authentic poker strategy. The hero (Mike) takes all kinds of risks, including the relationship with his girlfriend, gambling with tuition fees, and almost his life as well. Unlike most gambling movies that deter gambling, this I would classify as a recruiter movie which is both informative and entertaining for poker fans and fans-to-be. It's considered by many to be the best poker movie ever created.
3. Owning Mahowny (2003)
Based on a true story, this movie features Mahowny, an ordinary banker with a compulsive gambling addiction. The habitual gambler accrues lots of debt and starts to steal from the bank to fund his behaviors. His life spins out of control when the missing money becomes harder to hide. It is an amazing tale of single-handed bank fraud, fueled by gambling, by a banker who, to everyone, looked like an ordinary, good guy who couldn't hurt a fly.
4. The Last Casino (2004)
This is a movie about a university teacher who recruits his best math students into Blackjack card counting in an attempt to resolve his financial misfortunes. Things are going well until the students get tempted by the idea of scoring big money. The speed effects of this movie effectively outline the emotions of the players as they battle with internal conflicts as well. It is not the story that makes this movie outstanding, but the methods used to portray realities of gambling. The emotions of the players become tangible to you as the game paces.
5. The Mississippi Grind (2015)
Starring Ryan Reynolds, as Curtis, a charismatic everyday man, and Ben Mendelsohn, as Gerry, a gambling addict who seems to be on a losing streak, this film is a story of character revelations and less about gambling itself. The gambling comedy-drama is more of an emotional rollercoaster that depicts two different personalities on a relationship journey. When the movie ended, I felt like it was a cliffhanger in the best way possible. This film felt like a bet on the future because you never know how it ends.
If you're a fan of gambling, these movies are a must see. It's not often gambling is portrayed in such an honest and real matter as the movies above. Now with technology, people can just go online, find a casino and play without risking their own money. It's not the same as it used to be. Who knows how the future of gambling movies will look like. Will we see a kid 12-tabling online poker, or a Twitch streamer playing high stakes casino slots.
Recent Tweets
Top Ten Most Popular Ever