You are here
Home
›
Television
› Jennifer Muro: A Force of Destiny Behind New Star Wars Series ›
Jennifer Muro: A Force of Destiny Behind New Star Wars Series
FTC Statement: Reviewers are frequently provided by the publisher/production company with a copy of the material being reviewed.The opinions published are solely those of the respective reviewers and may not reflect the opinions of CriticalBlast.com or its management.
As an Amazon Associate, we earn from qualifying purchases. (This is a legal requirement, as apparently some sites advertise for Amazon for free. Yes, that's sarcasm.)
Submitted by

JK Elison

on Mon, 07/03/2017 - 07:37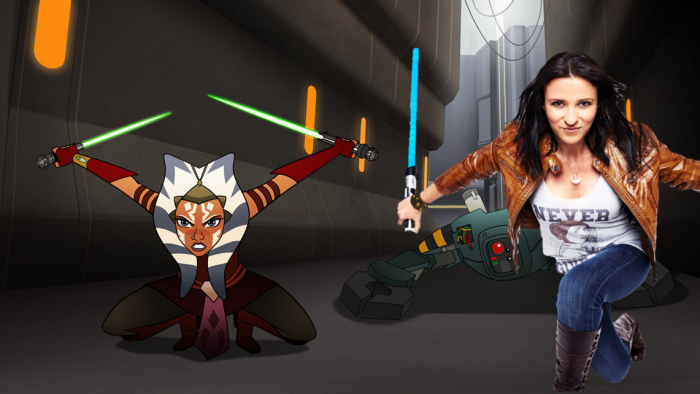 (photos: Ricky Middelsworth)
This week Critical Blast sat down with Jennifer Muro writer for the much anticipated "Star Wars: Forces of Destiny" which debuts on Disney's YouTube Channel today and on The Disney Channel Sunday, July 9, 2017. Jennifer is working on some amazing projects and was able to share some awesome information about all the things she has in the works.
J.K. Elison: As a female engineer and a writer myself, I'm super excited to see strong female characters at the forefront of some new stories in "Star Wars: Forces of Destiny." What have you enjoyed most about writing some of the most iconic female characters from the Star Wars Universe?
Jennifer Muro: I really enjoy fact that these characters are getting a voice individually and seeing small moments time that are told from their point of view. It will also be nice to see some team-ups we haven't seen before. That was truly a thrill.
J.K.E: Star Wars means so much to so many, and I think most fans have at least one memory related to the saga, the characters, and/or seeing the movies that stands out. What's your favorite Star Wars memory?
JM: One of my favorite memories, oddly enough, was more recently in 2005. Opening night for Revenge of the Sith, I was working at Nickelodeon at the time and everyone was super excited to be going to the Arclight in Hollywood to see it. A lot of people at the studio were dressed up in costume and raring to go. Two of those people were Dave Filoni dressed as Plo Koon and Giancarlo Volpe dressed as Kit Fisto. There was such a buzz of energy from all of us that I remember fondly.
J.K.E: In addition to Star Wars, you've also worked on the Spider-Man animated series, can you tell us a little bit about that?
JM: Can't really say much, but I truly believe people are going to love this incarnation of Peter in his early years, just starting up and figuring things out. And the animation is really gorgeous.
J.K.E: You also have a female-driven comedy/adventure series and a web series in the works. Can tell us about each of those and any other up and coming projects you have?
JM: Actually one just went into turnaround and I'm starting to take it out again. There's a lot of interest in the property and I'm super grateful that there is still interest in making it happen. The other is still in development and looking for artists right now!
J.K.E: Since you write and love so many strong female characters, what's you're all time favorite female character and why?
JM: Buffy is really tough to beat. She is so well written, so relatable and so likeable. She's also funny as hell and that is a huge part of it for me. Being a bad-ass doesn't hurt either. If she ever comes back on the screen in any incarnation, sign me up. 
J.K.E: Great Choice!
Now for the Lightning round:
    1. Coffee or Tea? Coffee. Flavored please.
    2. Superpowers or The Force? I'd ask what kind of Superpowers, but The Force covers some pretty awesome things, so I'd have to say, The Force.
    3. Winter or Summer? Summer
    4. You're a Superhero...
        1. Cape or no cape? No cape
        2. Mask or no mask? No mask
    5. Ninjas or Pirates? Tough one. But pirates.
    6. Cake, Pie, or Cookies? Pie is pretty amazing.
    7. And the ultimate question, Light or Dark side? Light of course!
Thanks so much for joining us on Critical Blast, Jennifer! We can't wait for "Star Wars: Forces of Destiny." Luckily we don't have to wait long!
Jennifer Muro

As one of the industry's top female writers, Jennifer Muro has quickly made a name for herself through the storylines she has crafted for film and TV projects over the last decade. Through her writing, Muro is on a mission to make women of all ages feel strong and empowered through the characters she creates, and it's her refreshing perspective that has made her a go-to name in the writing world today.
This year Muro serves as the sole writer for Lucasfilm's animated series "Star Wars: Forces of Destiny." Set to premiere on Disney in July 2017, the series consists of 16 episodes and celebrates the inspiring stories of iconic Star Wars heroes, and will feature previous film and series talent to reprise their roles including Daisy Ridley, Felicity Jones, and Lupita Nyong'o, to name a few. Additionally, Muro recently completed writing for Marvel's upcoming "Spider-Man" animated series, set to premiere on Disney XD in the near future.
In addition to working on "Star Wars" and "Spider-Man," Muro is also hard at work on an original web series with Jim Henson Studios. Other recent writing credits for Muro include: Netflix's "Stretch Armstrong" (premiering in 2017), "Buddy Thunderstruck," "Legend Quest," "Care Bears and Cousins," "Lego DC Super Hero Girls," "Justice League Action"(premiering in 2017), "Wacky Races"(premiering in 2017), and Disney Jr.'s "Mickey's Roadster Racers." Muro has also written for a handful of best-selling Walt Disney Interactive Apps, including "Minnie's Home Makeover," "Palace Pets," and "Whisker Haven."
Born and raised in New York as a first-generation Italian-American on her mother's side, Muro studied film production at the USC School of Cinema Television and landed her first job in 2002 working in development for Nickelodeon. Her knack for production and script writing have landed her recognition over the years, including serving as a 2015 quarterfinalist in the Script Pipeline Contest for her live-action, sci-fi pilot "Tellura," and as a 2016 first-round finalist in the Austin Film Festival for her comedy pilot "ZEBRA."
Muro also has a knack for film composition, and has been playing music by ear since the age of four. She was even in an all-female rock band in New York City, before she found her passions in writing and production. Muro is involved in multiple philanthropic efforts to benefit charities such as Best Friend's Animal Society, World Food Program USA, and Prevent Child Abuse America. Muro currently lives in the Los Angeles area.
Visit Jennifer on her social media pages:
https://www.facebook.com/OfficialJenniferMuro/
https://twitter.com/jennifermuro