Marvel Rising: Is this Marvel's answer to DC Superhero Girls?
FTC Statement: Reviewers are frequently provided by the publisher/production company with a copy of the material being reviewed.The opinions published are solely those of the respective reviewers and may not reflect the opinions of CriticalBlast.com or its management.
As an Amazon Associate, we earn from qualifying purchases. (This is a legal requirement, as apparently some sites advertise for Amazon for free. Yes, that's sarcasm.)
Submitted by

Mike 'Ace' Maillaro

on Thu, 12/07/2017 - 13:37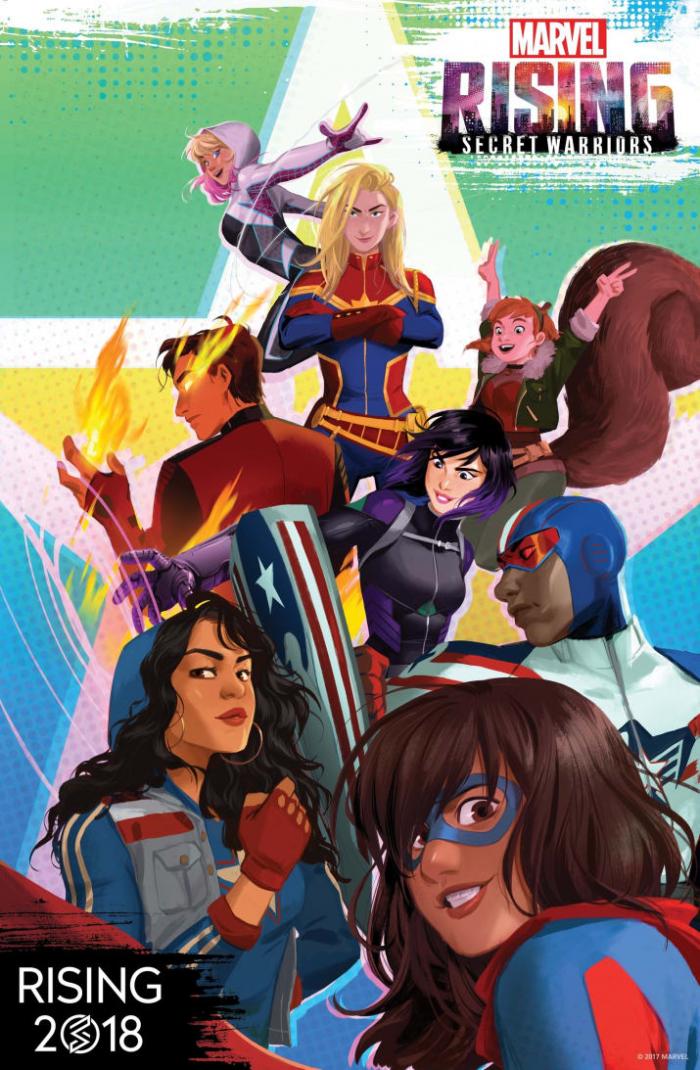 From Buzzfeed:
BuzzFeed News can exclusively reveal that Marvel Television is working on Marvel Rising: Secret Warriors, an upcoming feature-length animated film about a new generation of diverse superheroes.

Marvel Rising: Secret Warriors is part of a new, multi-platform animated franchise starring the next generation of Marvel heroes set to launch in 2018. The program will launch with six, four-minute digital shorts (which will follow Spider-Gwen with her new secret moniker, Ghost-Spider). Marvel Rising: Secret Warriors will premiere later in 2018.

"This feature [film] is an evolution of all of the great characters that people have come to love," Sana Amanat, Marvel's director of content and character development, told BuzzFeed News in July.

"It came out of a desire to be able to tell stories about characters that we think are the next great heroes of the Marvel Universe," Amanat continued."I think it's incredibly important that we tell young women and young girls that they have this incredible power within themselves, and that they have heroes out there [who] ... they can look up to, especially in these times."

Cast:

Kathreen Khavari will return to voice Ms. Marvel, aka Kamala Khan, Marvel's first-ever Muslim hero

Cierra Ramirez will voice Miss America, aka America Chavez, Marvel's first Latino-American LGBT character.

Milana Vayntrub will voice Squirrel Girl. (She will also play Squirrel Girl when she makes her live-action debut on Marvel's New Warriors in 2018!)

Agents of SHIELD star Chloe Bennet will, of course, voice Quake.

Dove Cameron will voice Ghost-Spider, aka Spider-Gwen.

Tyler Posey will voice Inferno, a brooding loner with the power of pyrokinesis.

Kamil McFadden will voice Patriot, a young hero who strives to live up to Captain America's legacy.

Kim Raver will voice Captain Marvel.

Booboo Stewart will voice Exile, a troublesome but charming Inhuman.

Dee Bradley Baker will voice Tippy Toe and Lockjaw.

Skai Jackson will voice Gloria "Glory" Grant, a clever young girl who's a friend of Gwen Stacy.

Steven Weber will voice Captain George Stacy, chief of the NYPD and Gwen Stacy's loving but overprotective father.

And Ming-Na Wen will voice the villainous Hala.
Source: Buzzfeed
Commentary: First off I want to say the casting for this is terrific.  A nice mix of big names like Ming-Na Wen, Chloe Bennet, Steven Weber, Dove Cameron, and Booboo Stewart with some diverse young actors.  We also get Dee Bradley Baker...who basically does the voice of every animal on every TV series.  May sound crazy, but I've been a fan of his animal voices since he was the voice of Buster on MY PAL TIGGER AND POOH. and I have followed his work closely over the years.
Part of me kind of sees this as being Marvel's answer to DC SUPERHERO GIRLS...but to be honest, I don't see that as a bad thing.  Booboo Stewart's comments on Marvel Rising are dead on: "To just be a part of this new wave of superheroes and to have women at the forefront of that ... I feel like it's great that young kids are just going to grow up with it."  All three of my kids (inclidung my son) are obsessed with DC SUPERHERO GIRLS, and this is a great way to open the Marvel universe to them as well.   I do notice that we are getting a lot of Inhumans here...not exactly my favorite characters, but Marvel continues to try and make them happen.
One last thing: I don't want to have to be "that guy" but I hate when people refer to Ms Marvel as "Marvel's first-ever Muslim hero."  Don't get me wrong, I absolutely adore Kamala.  She is a terrific character and represents my home town of Jersey City proudly.  She even goes to my old high school, though it was slightly renamed from McNair Academic High School (located on Coles St) to Coles St Academic High School.  BUT, there were Muslim heroes at Marvel before her, including X-Men like M and Dust.  She is arguably the most well-known Marvel Muslim hero, not to mention the only one with a long lasting ongoing series, but that doesn't make her the first.
---
Update:  Later in the day, Marvel posted a little more information about the characters on their website:
Gwen Stacy aka Ghost-Spider (formerly Spider Gwen) voiced by Dove Cameron ("Descendants," "Hairspray Live") – a free spirited teen who found her calling to be a super hero after being bitten by a radioactive spider and gaining spider-like powers. As Ghost-Spider, she aids those in need, but has to keep her alter-ego a secret from her father, Captain George Stacy, who sees Ghost-Spider as more of a menace than a hero.
Daisy Johnson aka Quake voiced by Chloe Bennet ("Marvel's Agents of S.H.I.E.L.D.," "Nashville") – a leading agent of S.H.I.E.L.D. whose tendency for rule-breaking gets her into trouble now and then. Daisy befriends the young group of heroes and through them discovers how to become a better leader. She can generate powerful vibrational waves, which produce effects similar to earthquakes. 
Dante Pertuz aka Inferno voiced by Tyler Posey ("Teen Wolf," "Lincoln Heights") – a brooding, dark loner on the run. Dante has the power of pyrokinesis, which makes him capable of generating flames – however, he is not fully in control of his fiery abilities. It's a thin line between good guy and villain for the unpredictable Inferno.
Victor Kohl aka Exile voiced by BooBoo Stewart ("Descendants," "The Twilight Saga") – a charming, handsome, and troublesome young Inhuman whose quest for superiority places him into the wrong crowd. He can use Darkforce energy to create weapons and portals that allow him to teleport.
Kamala Khan aka Ms. Marvel voiced by Kathreen Khavari ("Marvel's Avengers Assemble," "Big Little Lies")  – a devoted fan of Super Heroes, especially of her mentor Captain Marvel; she is determined that she too can be a great hero! If only she'd be taken seriously. Kamala is equipped with metamorphic powers that allow her to stretch, enlarge, or shrink her overall size, parts of her body, or alter her physical appearance. She is especially fond of "embiggening" her fists.
Doreen Green aka Squirrel Girl voiced by Milana Vayntrub ("Marvel's New Warriors," "This Is Us") – the uber-positive, hilarious best friend and teammate of Ms. Marvel. With advanced computer skills, enhanced strength, agility, durability, and senses of a squirrel, Doreen (along with her squirrel partner, Tippy Toe!),  is primed and ready to become a successful hero.
America Chavez voiced by Cierra Ramirez ("The Fosters," "The Secret Life of an America Teenager") – a strong, independent young hero whose painful past drives her to reject leadership and remain a loner. America's powers include superhuman strength, speed, and durability, plus the ability to fly.
Rayshaun Lucas aka Patriot voiced by Kamil McFadden ("K.C. Undercover," "Grown Ups 2") – a natural born leader who is quick to leap into action to impress his colleagues at S.H.I.E.L.D. Rayshaun strives to live up to Captain America's legacy with integrity, honesty, and order above all. His skills include heightened strength, speed, stamina, and durability.
Gloria "Glory" Grant voiced by Skai JacksFron ("Bunk'd," "Jessie") – Gloria, or 'Glory,' is Gwen Stacy's friend and member of their garage band "The Emm-Jays." Gloria is a smart, hard-working girl that genuinely cares for Gwen, but has felt a distance growing between them ever since their friend, Kevin, was murdered. When being casual, Gloria's known to be funny, sarcastic and sassy.
Carol Danvers aka Captain Marvel voiced by Kim Raver ("Grey's Anatomy," "24") – a bold leader who doesn't sugar-coat and is guided by a strong sense of duty and honor. She's the ultimate inspiration for our band of misfit heroes. She is equipped with superhuman strength, can fly at high speeds, and can project intense energy blasts.
Hala voiced by Ming-Na Wen ("Marvel's Agents of S.H.I.E.L.D.," "Mulan") – Hala is a Kree Accuser bent on galactic domination. She'll go to any length or treacherous means to achieve what she, and the entire Kree race, wants: Power. Hala is cold, cryptic and nefarious, often challenging those who try to oppose her.
Captain George Stacy voiced by Steven Weber ("13 Reasons Why," "NCIS: New Orleans") – Chief of the NYPD and Gwen Stacy's loving, but fiercely protective father. Captain Stacy is a very disciplined, hard-working man that will stop at nothing to obtain justice – who unfortunately sees Ghost-Spider as a menace and a threat to society.
Lockjaw and Tippy Toe are voiced by Dee Bradley Baker ("Star Wars Rebels," "Gravity Falls").

Two lovable and heroic sidekicks: Lockjaw is Kamala's trusty, teleporting mutt and Tippy Toe is Doreen's partner in crime and best squirrel friend.