The Cat's Meow: Introducing March 2018 Bombshell, Cosplay Kitti!
FTC Statement: Reviewers are frequently provided by the publisher/production company with a copy of the material being reviewed.The opinions published are solely those of the respective reviewers and may not reflect the opinions of CriticalBlast.com or its management.
As an Amazon Associate, we earn from qualifying purchases. (This is a legal requirement, as apparently some sites advertise for Amazon for free. Yes, that's sarcasm.)
Submitted by

Critical Blast Staff

on Thu, 03/01/2018 - 03:00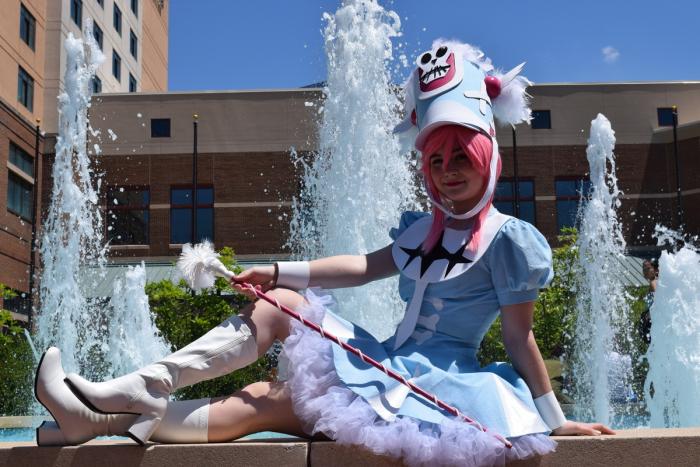 Having attended my share of conventions, I can attest to the fact that cosplay is an intergenerational thing. From toddler Captain Americas to nonagenarian Harley Quinns, cosplay is something that everyone can get into.
I've also seen it become a family activity, with one of my favorite cosplays evern being a mom and dad with two kids play out a simple-yet-magnificent group of LEGO Batman characters.
This month's Critical Blast Bombshell is still barely getting started in the field, and is already gaining a skill level that will have her competing with some of the top talent in the hobby. With an assist from her mother, this high school student is bringing to life characters from manga and anime with her elaborate costumes and wigs. 
We could tell you more about her--but why, when she has already so eloqently done so? Continue on, gentle readers, as we are pleased and privileged to present to you the...
Critical Blast Bombshell, March 2018
Cosplay Kitti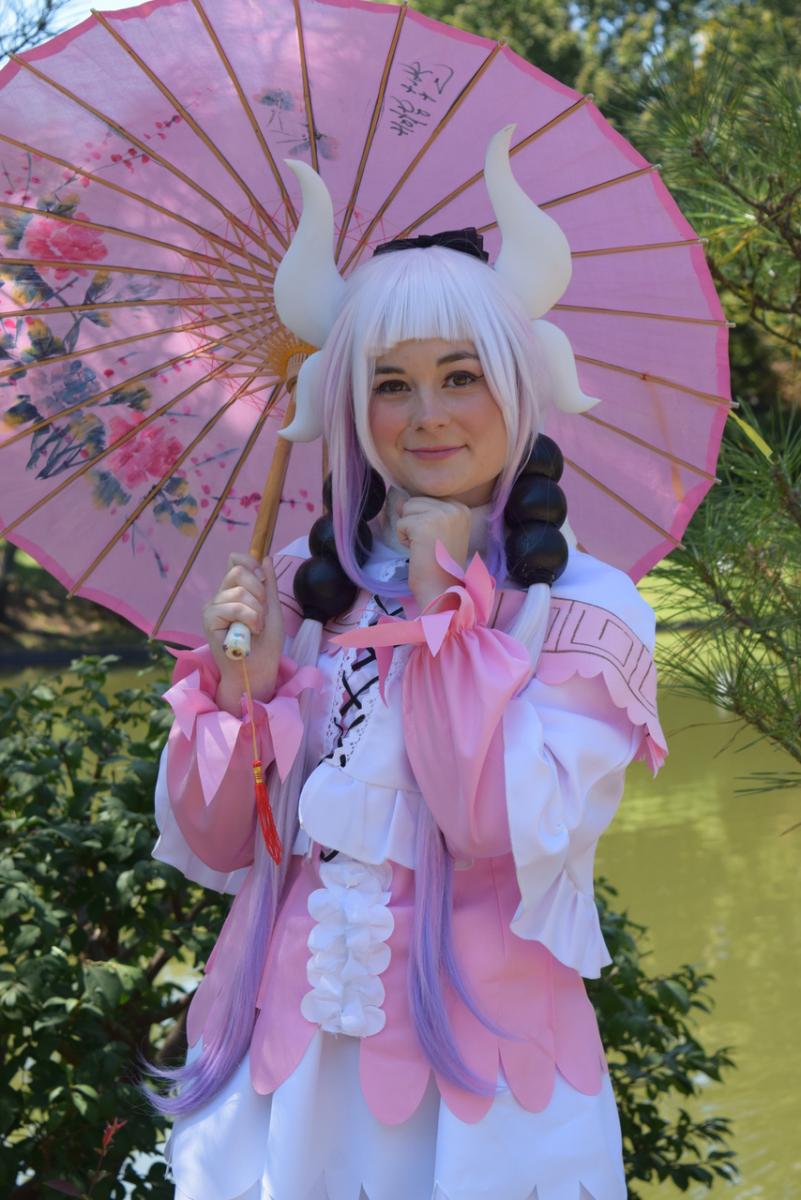 Kanna Kamui (MISS KOBAYASHI'S DRAGON MAID)
What is your interest in cosplay?
The reason I love to  cosplay is because it allows me to express myself and use my creativity to its fullest.  For just a brief moment in time, it allows me to become a superhero, a villain, a princess, or  an animated character that I believe we all truly are on the inside. For a weekend, I can escape from day to day routines and be more than the things that I am defined by everyday. There are no limits!  Cosplaying does not mean that you are hiding who you really are; instead, it means that you are able to be the best version of yourself. Introverts can suddenly become extroverts because there is no judgement in the community.
What was your introduction to cosplay?
When I was in 7th grade, I met a few friends through social media who were interested in the show GRAVITY FALLS just like I was. After talking with them for awhile, they introduced me to something called cosplay. I was intrigued about the idea and began to explore what it meant to cosplay.  Soon  I found myself creating my first cosplay, Mabel Pines. As all cosplayers start out, the cosplay was a bit rough around the edges. Yet, the more costumes we made, the better they got. Archon was the first convention I attended. The idea of going to a venue with other people who walked around in costume and shared the same interests thrilled me. Getting stopped for pictures or being asked to be in a CMV made me feel like I was a celebrity! Ever since then, I have been hooked with cosplaying and attending conventions.
How has your cosplay evolved since you began?
My cosplay evolution has come a long way, baby.  In 2014, Mabel Pines from Gravity Falls was my very first cosplay. I had no idea what I was doing! I purchased my first wig from a local beauty store and a sweater similar to Mabel's from a thrift store. No sewing involved. My mom literally printed out an image online and bedazzled it with rhinestones and a little E6000, but in the end the sweater itself really wasn't that bad. Years later, the letters are peeling off , but nonetheless it is a trooper and is still holding up well. I took my first sewing class with my mom at Joann's Fabric and was not happy when I was told to seam rip out my first project, a pillowcase. Apparently the instructor was a stickler for straight seams. So needless to say, sewing the cosplays became a real challenge. Both my mom and I have learned lots of new sewing skills while making these costumes.There have been nights where we would stay up extremely late to try and fabricate a prop or a part of a costume, sometimes even the night before the con! We like to call this "Con Crunch!" Even though we hit lots of bumps while making a costume, they all still turn out great and we have learned lots of new skills along the way. 
What's your "secret identity" outside of cosplaying?
Outside of cosplay, I am a busy high school student who has many interests. I attend dance classes twice a week at my studio and have participated in several performances of "The Nutcracker" ballet, dancing various roles. Fun fact: I have been dancing since the age of 3 and have danced the lead role of Clara four times. At school, I am a captain on the Varsity Dance Team, member of Little Theater, French Club, Student Council, Renaissance Committee, History Alive, Concert Choir, and National Honor Society. I am also a member of Gateway Superfriends and a dance ambassador for Traveling Tutu's, a non-profit organization.  Even though I am involved with lots of activities, I make it a priority to attend local conventions and find a way to give back to the community.
What kind of social or charity events do you get involved in with your cosplay?
Currently I participate with an amazing social activity within the community. As a member of Gateway Superfriends, I use my love of cosplay to give back to others. Founded by Krissy Stone, Gateway Superfriends attends local events such as 5k Walks/Runs, fundraisers, military events, school reading nights, foster children events, or visits to children who may be living with terminal illnesses. No request is too big! It really is unbelievable to know you can make such an impact by doing something you love and work with others who love it as well. Seeing a smile on a child's face because they are able to get close to their favorite character makes this part of cosplay so rewarding. 
Do you make as much of your own costume as possible or rely on purchased materials -- and is that important overall to cosplaying?
90 percent of the time we really try to make all of our own cosplay or props.  My mom really deserves all of the credit for the costumes that I wear or the props that we make. She spends many hours working on them and is quite a perfectionist. She is a dental hygienist trapped in a seamstresses body!  Sometimes when time doesn't allow or a a costume looks too complicated, though, we quite honestly end up buying it online instead.  I personally do not believe that buying a cosplay makes you any less of an established cosplayer than someone who does make their own. As with all things, we each possess our own strengths and weaknesses. I have met many people who are fabulous fabricators of armor but not such great sewers, and vice versa. There really is a niche for all of us  and we should all be proud to wear and display our cosplay best regardless. 
What is your favorite cosplay, your "go to" look that you just love to put on and act out?
It is hard to choose just one cosplay that I love more than the others, but if I had to pick just one it would probably have to be my Nonon Jakuzure cosplay from Kill La Kill. She has just the right amount of sass, fire, and dominance that doesn't allow others to walk over her. When I slip into the dress and the conductor hat, I feel very powerful and confident. I feel like i can do anything!
Where can people find you online?
If you want to check out some of my other cosplays or follow me on social media, you can find me on Instagram and Facebook as CosplayKitti. I also have a YouTube channel.