Understudies Triumph On Opening Night For THE COLOR PURPLE
FTC Statement: Reviewers are frequently provided by the publisher/production company with a copy of the material being reviewed.The opinions published are solely those of the respective reviewers and may not reflect the opinions of CriticalBlast.com or its management.
As an Amazon Associate, we earn from qualifying purchases. (This is a legal requirement, as apparently some sites advertise for Amazon for free. Yes, that's sarcasm.)
Submitted by

Jeff Ritter

on Thu, 03/22/2018 - 02:03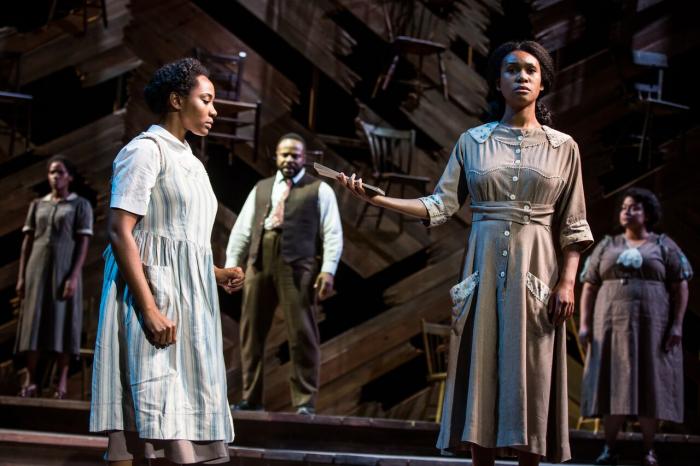 The national tour of The Color Purple swept into the Fabulous Fox Theatre in St. Louis on the first day of spring, March 20, 2018. I have never read the book nor seen the movie, so this was to be my first experience with the Pulitzer Prize-winning story by Alice Walker. I had managed to see the opening credits of the film a handful of times, but I had always attempted to start watching it too late at night and wound up sleeping through it every time. That streak finally came to end and I must admit I was rather shocked by what I'd missed all these years.
Incest, rape, under aged marriages, trading women like livestock, emotional and physical abuse, infidelity, child abuse, homosexuality set in a much less tolerant era and more – this was easily the heaviest show I've ever seen on the Fabulous Fox stage. The stage itself was quite plain, with three rustic wooden panels for a backdrop, each festooned with a variety of wooden chairs which served as the only props besides the Mister's whip and his poor wife's blanket.
I'll eschew plot details as most of the audience already knows what to expect and I don't want my own feelings about this production to affect the expectations of my fellow uninitiated theatre patrons. Instead, let me heap haystacks of praise on the voices in this cast. From the leads to the ensemble, this is one of the finest collections of voices you'll find anywhere. The performance I saw included a number of substitutions but clearly everyone in this tour is up to the task. Adrianna Hicks (Celie) sings beautifully, ballads like "What About Love?" with emotion. Her counterpart Gavin Gregory (Mister) brought Deep South revival gospel mixed with a touch of Motown soul on "Big Dog." Carla R. Stewart, brought Mister and Celie's shared love interest and bawdry nightclub singer Shug Avery to life wonderfully with "Push Da Button," which I could easily picture being covered by The Pussycat Dolls (are they still around?). Brit West, playing Sophia in my showing but listed as one of the Church Ladies in the Playbill, was stellar, showing more backbone and a better right cross than most of the men in the show. She let her voice fly too in "Hell No!" And to think that part was originated in the film by Oprah Winfrey – I guess I'm still coming to grips with the depth of misery many of these characters endure and ultimately triumph over the course of this story.
The understudies -- Brit West as noted above, Church Ladies Nyla Watson and Nikisha Williams, and Gabrielle Reid handling a split track (subbing for the usually actor in another role while still handling her own) as both Celie's long lost daughter Olivia and Harpo's Jook Joint waitress/side piece Squeak, usually played by Erica Durham, deserve special recognition for handling these role swaps so capably on opening night. Yet despite the quality of the cast's singing and Adrianna Hicks' complete performance, I found the themes much to dark for my taste. I kept trying to reconcile the cast of the film I never saw more than five minutes of in these roles, and the era in which the film was released against the tolerance of homosexuality that we see today, and found it to be difficult to wrap my head around it all. I have no doubt that women in the Deep South in the early twentieth century were treated worse than cattle. I understand that Celie gains enough confidence inside herself to break free from Mister, who eventually comes to the light and seeks redemption. After the Hell of her existence in Act I, Celie's story wraps up a little too neat, tidy and happily ever after for my taste by the end of Act II.
If that's how Alice Walker handled Celie's road to empowerment in her novel, that's fine. This tale has been cherished in the hearts and minds of readers, movie goers and the Broadway crowd for years, and will rightly continue to do so for generations to come. It just isn't for me. I don't like my musicals quite so heavy with the worst traits of humanity—I get plenty of that on the Internet—nor such difficult tribulations ending in such a sugar sweet closing scene. When art imitates life, I want it to do so all the way through. The stage production of The Color Purple, based on the book by Marsha Norman, music and lyrics by Brenda Russell, Allee Willis and Stephen Bray, and directed by John Doyle, doesn't seem like the kind of story that the prototypical Broadway musical ending should apply to, but I guess that's show business.
The Color Purple plays at the Fabulous Fox Theatre March 20 – April 1, 2018. For ticket information, please visit www.FabulousFox.com, and check out https://colorpurple.com/ for more about the cast and tour.