Clay, Peirson & Pecchioni Sinfully Fabulous In THE BOOK OF MORMON
FTC Statement: Reviewers are frequently provided by the publisher/production company with a copy of the material being reviewed.The opinions published are solely those of the respective reviewers and may not reflect the opinions of CriticalBlast.com or its management.
As an Amazon Associate, we earn from qualifying purchases. (This is a legal requirement, as apparently some sites advertise for Amazon for free. Yes, that's sarcasm.)
Submitted by

Jeff Ritter

on Thu, 05/31/2018 - 23:42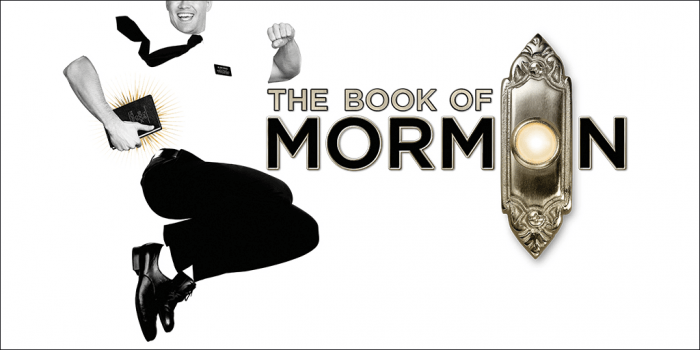 When the first National Tour of The Book of Mormon arrived at the Fabulous Fox Theatre in St. Louis several years ago, I was excited to see it. The hype at that time rivaled what you hear about Hamilton today. The show featured book, music and lyrics written by the creators of Comedy Central's flagship South Park, Trey Parker and Matt Stone and Avenue Q creator Robert Lopez, who also wrote the music for Disney's animated blockbuster, Frozen. I expected to be in fits of uncontrollable laughter amid moments where my jaw would hang agape at a line that only Archie Bunker or Eric Cartman could get away with. When it was all over, I remember feeling let down. I described it like a boxer pulling their punches when they have their opponent against the ropes. Instead of going in for the crushing blow, they'd stick the jab and then back off. Sure, there were funny bits, but by and large I kept thinking how Cartman would have reviewed the show in the briefest possible summation: "Weak. Lame."
Fast forward several years to the present and The Book of Mormon National Tour plays the hallowed Fox Theatre stage once again but only for a short run from May 29 – June 3, 2018. Seeing it for the second time, I expected to chuckle, to find the offensive comments underwhelming, and generally wish they'd have gone straight for the jugular a lot more often than they did last time. Lo and behold, they did the exact same show, and yet this time I laughed out loud repeatedly, shared looks of shock and awe with my lady, and thoroughly enjoyed every minute of it! Obviously the problem with the first show was me, right? It's entirely possible, but there are other possibilities.
One such possibility is the cast. The actors and actresses in the first tour were all remarkable performers, I'm sure, yet I recall not being totally thrilled with the young man who pled the awkward Elder Cunningham. I forget the actor's name now, and that review was retired from our original server years ago, but I remember him being high pitched, somewhat annoying, kind of reminiscent of Screech from Saved By The Bell. And that's perfect alright—the kid isn't really meant to be likeable from the beginning. In this show, however, Conner Peirson is phenomenal. He's goofy, awkward, clumsy, and yet endearing. His Mormon missionary partner, Elder Price, played by the equally fantastic Kevin Clay, makes for a dynamic duo that kept a smile on my face for two and a half hours. Add in a stunning performance by Kayla Pecchioni as Nabulingi, the beautiful and eager Ugandan convert to the faith, and you wish you could come back the next night to see an all new Book of Mormon II: The Book of Arnold (as in Arnold Cunningham, who "ad-libs" the Mormon bible in order to convert a whole village).  Strangely, the Playbill makes no reference to any of the songs in the production. Clay showed off his powerful voice on "You and Me (But Mostly Me)" and "I Believe." Peirson displayed his versatility on "I Am Here for You," "Man Up," and "Baptize Me," the latter a duet with Pecchioni that has a very Meatloaf vibe. Clay and Peirson blended their voices perfectly in several songs, most notably on "Tomorrow is a Latter Day" while Pecchioni stood out on her own on "Sal Tlay Ka Siti"
Of course the supporting cast is equally fun to watch. André-Chance Goddard plays the village Doctor, who suffers from seemingly incurable scrotum maggots. Corey Jones as General Butt F'ing Naked is simultaneously over-the-top silly and yet still menacing. Jacques C. Smith gives Mafala, Nubulungi's father, a mix of tribal wisdom, modern intelligence and religious  irreverence that is highly entertaining. Andy Huntington Jones as the closeted Elder McKinley dazzles in dance—to be truthful everyone in the cast danced up a storm. Kristen Jeter played Mrs. Brown, the erstwhile Lion King cosplayer, in the performance though the Playbill lists Monica L. Patton as the regular actress in the role. Once again I have to commend Conner Peirson, who put so much energy into his dancing and acting and yet he never looked gassed or even short of breath.
Another possibility for my increased enjoyment may be the timing. The intensity of the current political climate and the unrelenting march of political correctness seem to make it harder to laugh at one's self, much less get away with making jokes about things nobody would have thought twice about doing ten or twenty years ago.  The irreverence in the script and songs feel sharper and more outrageous this time. How much of that is the actors craft versus my almost overwhelming need of a release from the constant bombardment of political scandals, violence and the pressures of living in 21st century America I honestly can't say. What I can say is thank you to Robert Lopez, Matt Stone, co-directors Trey Parker and Casey Nicholaw (who is also responsible for the delightful and robust choreography), and the entire cast for giving me and the appreciative Fox Theatre audience a couple hours of much-needed laughter and joy, and for teaching me the phrase "Hasa Diga Eebowai!"
For more information on the remaining dates and tickets for The Book of Mormon at the Fox Theatre, please visit www.fabulousfox.com. To see when this tour stops in or near your town, visit the official website at https://bookofmormonbroadway.com/tour