You are here
Home
›
Live Entertainment
› New Line Theatre's YEAST NATION Is Seriously Strange And Infectiously Funny ›
New Line Theatre's YEAST NATION Is Seriously Strange And Infectiously Funny
FTC Statement: Reviewers are frequently provided by the publisher/production company with a copy of the material being reviewed.The opinions published are solely those of the respective reviewers and may not reflect the opinions of CriticalBlast.com or its management.
As an Amazon Associate, we earn from qualifying purchases. (This is a legal requirement, as apparently some sites advertise for Amazon for free. Yes, that's sarcasm.)
Submitted by

Jeff Ritter

on Thu, 06/07/2018 - 00:56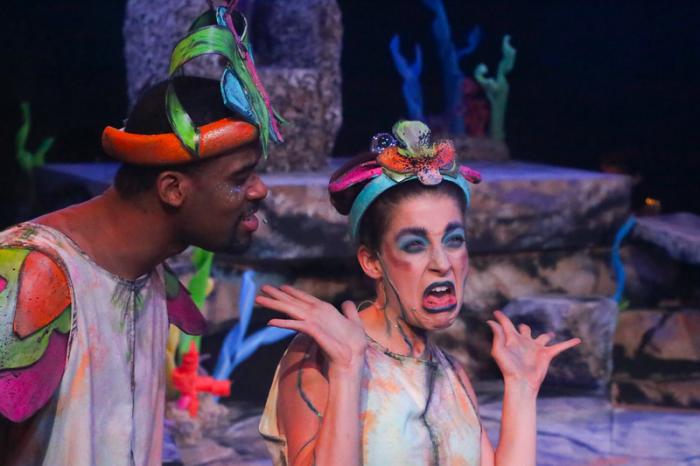 When Scott Miller announced that New Line Theatre was doing Anything Goes during their 27th season, the local theatre crowd was abuzz – it seemed too "safe" of a show for the bad boys of musical theatre. Of course they put on a dynamite production. The counterpoint production this season is clearly Yeast Nation, a musical about…yeast. Not the bread kind per se, or any other culinary culture, but the base of the primordial food chain, the single-celled stock of the soup of life. Is it weird? Yes. Is it New Line turned up to eleven, zany and shocking and well-acted with music and songs that are, dare I say it, infectious? Yes, indeed! Yeast Nation is easily the most bizarre musical you'll see this year and perhaps for many years to come.
Springing from the fertile minds of Urinetown's creators Greg Kotis and Mark Hollmann, Yeast Nation is set three billion years in the past on the brand-spanking new ocean floor (geologically speaking) and yet it in many ways it's eerily applicable to modern human existence. As the story unfolded it felt like a peculiar but not unpleasant mix of Schoolhouse Rock and Game of Thrones. There are bits of biochemical science mixed in a solution of kings, court intrigue, royal proclamations, the struggle of a leader to balance what is right for one versus what is right for many, regiside, and Darwinian evolution at it's simplest level. Sounds familiar, doesn't it? It's Shakespearean but accessible, as everything is told from the point of view of yeast, which, as you probably know, has a very narrow world view.
This world view is dominated by Jan-the Elder (pronounced YAHN, apparently they're on the sea floor near the Nordic area of Pangaea) played by the reliably funny a deep voiced Zachary Allen Farmer. It would have been easy for him to play the leader of this nation like Donald Trump, but he feels much more like Game of Thrones patriarch Robert Baratheon – weary of the burden of leadership, wary of his scheming children, and ultimately misguided in his hope for the future of his nation. Jan-the Second-Oldest (Dominic Dowdy-Windsor) and Jan-the-Sly (Grace Langford) are the scheming children, but each with very different reasons for wanting power. Jan-the-Wise (Micheal Lowe) is torn between his duty, his own hunger for power, and his feelings for Jan-the-Sweet (Larissa White), who herself has single-celled emotion for Jan-the Second-Oldest. Meanwhile, Jan-the-Wretched (Keith Thompson) and Jan-the-Famished (Jennelle Gilreath) suffer their own trials and tribulations. Colin Dowd plays against his own height as Jan-the-Youngest, however he's not the youngest for long. When Jan-the Second-Oldest breaks his father's laws to partake of primordial muck, he sires The New One (Lex Ronan) who is an evolutionary game changer. This twisted tale of intrigue and ingestion is partially narrated by the blind Jan-the Unnamed (Sarah Gene Dowling), who hilariously exists within and beyond the story simultneously, while Evan Fornachon, Brittany Kohl Hester, Eleanor Humphrey, and Bradley Rohlf join Dowd, Ronan and Thompson in the Yeast Chorus, back by the ever-excellent New Line Band, led by Sarah Nelson. If the names are confusing you, it's not really as bad as it sounds. Unlike George Foreman's kids, the Jans all have descriptive titles in their names so it's relatively easy to understand each Jan's motivations. 
The songs are familiar in their rhythms, recalling everything from Motown to Andrew Lloyd Webber. "Burnin' Soul" and "You're Not the Yeast You Used to Be" showcased White and Dowdy-Windsor at their best, with Dowdy-Windsor appearing more confident and commanding in every new show. It's been amazing to witness just how powerful Larissa White has become as both an actress and a vocalist in just a few short years since her New Line debut in Bonnie and Clyde. "Liar" pairs her with New Line newcomer Lowe, and he holds his own quite well. Lowe alos does a fine job on "Don't Be a Traitor to Love" opposite Grace Langford. Lex Ronan, another first-timer for New Line, does a remarkable job in the strangest role you can conceive of singing "Me Good" with the sweet preciousness of a beloved Sesame Street muppet before settling comfortably into her unofficial title of "murder baby." It's just all so bizarre and yet it completely works.
There is an incredible amount of live theatre in St. Louis, and some companies are producing challenging and decidedly different fare. With Yeast Nation, Scott Miller, co-director Mike Dowdy-Windsor and the whole New Line crew -- from Rob Lippert and his fantastic deep sea thermal vent set to Sarah Porter and her imaginative, playful and slightly disturbing costumes -- remind everyone why they are the bad boys of musical theatre. Yeast Nation is the funniest cautionary tale you're likely to ever see. The basic premise alone of yeast reminding humans that in many ways we aren't as evolved as we think we are should make this a hot ticket.
Yeast Nation runs May 31-June 23 at the Marcelle Theater. For show information an tickets, please visit www.NewLineTheatre.com or call MetroTix at 314-534-1111.