Anastasia Is A Joyless, Discordant Mess At The Fox Theatre
FTC Statement: Reviewers are frequently provided by the publisher/production company with a copy of the material being reviewed.The opinions published are solely those of the respective reviewers and may not reflect the opinions of CriticalBlast.com or its management.
As an Amazon Associate, we earn from qualifying purchases. (This is a legal requirement, as apparently some sites advertise for Amazon for free. Yes, that's sarcasm.)
Submitted by

Jeff Ritter

on Thu, 12/27/2018 - 19:12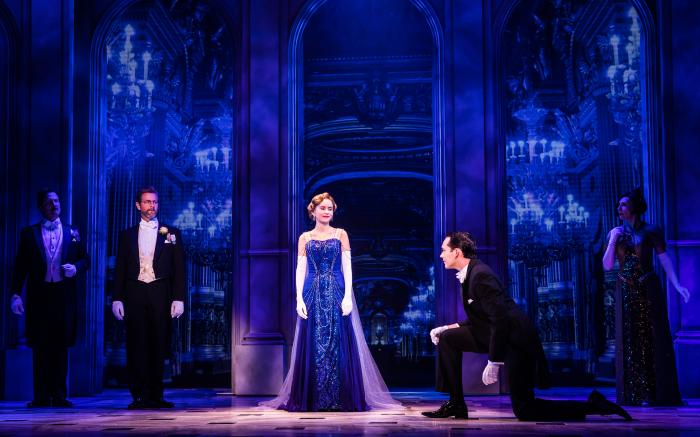 Anastasia is a newer musical, opening on Broadway in 2017 and currently on the road for its first U.S. Tour. It's playing at the Fabulous Fox Theatre December 26, 2018 – January 6, 2019. Based loosely on the Don Bluth-directed animated feature from 1997, the musical adapts the myth of the Grand Duchess Anastasia Nikolaevna, daughter of the last Russian Tsar Nicholas II. In gossip that grew into national folklore, young Anastasia somehow survived the brutal massacre of her family at the hands of the Bolshevik Revolution. Don Bluth's animated version changed some of the more gruesome details for the sake of the children that would comprise much of his audience. The musical does not, and while it doesn't recreate the last moments of the Russian Royal Family's terrible demise in gory detail, it could be a little unsettling for small children. Neither the animation nor the musical are Disney products, so keep that in mind when deciding whether to take your younger theatre fans.
The production is pretty. The costumes by Linda Cho were beautiful. The technical aspects of the production, thanks in large part to Alexander Dodge's award-winning scenic design and the use of digital backgrounds to convey a breathtaking depth of field (though I'm not sure how well that could be seen from the balcony seats) was visually exciting. The train ride at the end of the first act felt quite realistic as the background fluttered by, and when the train on stage changed direction the background followed suit appropriately. For a story that could have drowned in gloomy grays the scenery and costumes were quite vibrant and made for easier viewing. The book by Terrence McNally and the music and lyrics by Stephen Flaherty and Lynn Ahrens, respectively, have a strong pedigree and a history of collaboration. Flaherty and Ahrens have teamed up on My Favorite Year, Seussical, Once Upon This Island, Ragtime, and Rocky to name but a few. Terrance McNally is a Tony Award winner for writing the books for Ragtime and Kiss of the Spider Woman. Despite that star power behind it, the show just didn't work for me.
Is it possible to be a stage actor and be too theatrical? The cast felt like a collection of archetypes trying hard to pull off a Les Miserables experience despite the show not being sung through nor attempting much in the way of Russian accents. Lila Coogan's acting as the title character was solid enough, and when she sang at a normal tone and volume she was fine, but when she tried to push it for the big finish, she was merely loud. Jason Michael Evans as Gleb, the Bolshevik who is chasing leads on Anastasia to "finish the job," by contrast, too bombastic for a show that shouldn't try to emulate Les Mis. I struggled to understand what he was saying through his operatic delivery—though I confess I have never been able to develop an ear for opera. As the nominal villain of the show I wish he'd have been more…evil. I thought he was going to commit suicide at the end of his character arc, which ultimately accomplishes nothing. Vlad, the former courtesan turned rogue, played by Edward Staudenmayer, generally adhered to the prototypical baritone singing voice, though his acting at times shows hints of wide-ranging voice talent that I wish could have been better displayed here. Stephen Brower as Dmitry, Vlad's partner in crime (the crime being their attempt to pass off the amnesic Anastasia as the real Anastasia when she already was the real deal…cartoony, isn't it?), acted and sang generally straight forward, which I appreciated, though his character arc wasn't anything original. How many times has a princess and a commoner fallen in love in a musical? I can't think of another one just this season at the  Fox alone, and probably at least one more to come, or at least a variant on that theme. Perhaps the worst offender for me was Fred Inkley as Count Leopold, a robust fellow who comes off as a clichéd "classically gay" archetype. His mannerisms, vocal style everything about him seemed to be a less than subtle hint about his orientation, which is as completely unnecessary as his character. The only actor I was completely on board with was Tari Kelly, playing Countess Lily, the Dowager Empress' (stage and television veteran Joy Franz) "chief of staff" in Paris. She brought verve and style to her scenes when everyone else just seemed content to stand around talking or singing. There was more action in the set pieces than there was in the cast, except for a few numbers where I wondered if dancing and singing depressive ditties about Russian expatriate life was even entirely appropriate. David Chase's dance arrangements were well done, at least.
How much of my malaise for this production is the actors' fault, who can say? Director Darko Tresnjak surely had some say in the casting. I found that very few of the pairings and group songs were harmonized well, with deep operatic baritones drowning out weaker deliveries more often than not. Every song with more than one actor singing was discordant and bothersome to listen too. One would think he could have found more for his cast to do in a given scene but stand on a mark and recite a line. The creativity of the scenic design wanes in the second act but set pieces can only be asked to do so much when the rest of the production just doesn't gel. I suspect I'd fine all of these actors to my liking in other productions, but collectively they just lacked chemistry, in my opinion. I won't spoil the ending, but it's rather silly and joyless. A common theme in Russian literature is suffering, and that s eemed to be the fate of most of the charaters in the show. I usually prefer my musical theatre to be a little more puposefully upbeat. Anastasia isn't the first musical to be based on a tragedy and certainly won't be the last, but with a long running time, no truly memorable songs and performances that standalone more than they standout, it's not one I'd care to suffer through again.