Check Your Political Correctness At The Door for AVENUE Q
FTC Statement: Reviewers are frequently provided by the publisher/production company with a copy of the material being reviewed.The opinions published are solely those of the respective reviewers and may not reflect the opinions of CriticalBlast.com or its management.
As an Amazon Associate, we earn from qualifying purchases. (This is a legal requirement, as apparently some sites advertise for Amazon for free. Yes, that's sarcasm.)
Submitted by

Jeff Ritter

on Wed, 01/30/2019 - 22:16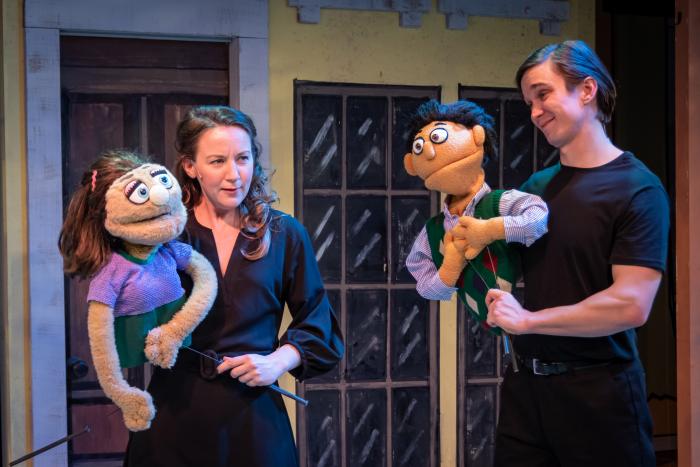 The first time you see Avenue Q, a musical parody of Sesame Street written by Jeff Whitty with music and lyrics by Robert Lopez and Jeff Marx, you'll either be laughing uncontrollably or seething with indignation. The story of how a puppet character with a Bachelors of Arts in English interacts with the humans, puppets and monsters of Avenue Q in search of his "purpose" is one of the least politically correct musicals there is. If you're the type of person who gets easily offended by jokes about....anything, pretty much... go at your own risk. If you are the type of person who can put whatever personal crusades you believe in aside for a couple of hours and laugh at yourself, you're going to love it. 
Avenue Q is running January 25 - March 3 at The Playhouse @ Westport Plaza in St .Louis. If you've missed it the last two times the National Tour came to town at the Fox Theatre, you're in luck -- this production is just as good! Featuring a mix of St .Louis theatre new-combers and familiar faces from stages around the metro area, the show is just as outrageous, side-splitting and at times introspective as ever. 
 
In the National Tours I've seen, most of the actors played just a single character. In this production, the cast is pared down and most of the puppeteers are responsible for multiple characters. The fresh-faced college graduate without a clue is Princeton, a puppet operated and voiced by Andrew Keeler, who also voices and operates Rod, a successful but uptight "Bert-like" puppet character who frequently clashes with his roommate. That would be, Nicky, a sloppy and unemployed "Ernie-esque" character, is brought to life by Kevin O''Brien, who also plays Trekkie Monster (don't let the name fool you) and one of the Bad Idea Bears, impish little Grateful Dead-style puppet bears who occasionally appear to sweetly lead various characters to making a bad choice at the worst possible time. Jennifer Theby-Quinn plays the sweet Kate Monster and the sultry Lucy. April Strelinger has a pivotal role for a multi-part cast arrangement. Not only does she voice and operate the frumpy old kindergarten teacher Miss T and the other Bad Idea Bear, she also stands in for the other puppeteers when they need to be in two places at once. rounding out the cast are the human characters. The buildings everyone lives in are maintained by child celebrity turned superintendent Gary Coleman, played by Illeana Kirven. Brian, played by Brett Ambler, and Christmas Eve, played by Grace Langford, are an odd couple, an unemployed comedian and an Asian therapist with no clients and less patience.  
The cast makes or breaks this show and everyone on stage in this production are pretty near perfect.  It can't be easy to switch voices on the fly or to sing in those voices. While Princeton singes in a clear tenor, Rod sings in a more nasally and clipped manner. Likewise, Nicky is pretty straightforward but Trekkie Monster is not too very different in vocal approach form Cookie Monster, and the Bad Idea Bears are high-pitched and edgy. Kate Monster is sung in a youthful soprano while Lucy takes it down three notches, like the button on your...um...I've said too much. O'Brien, Theby-Quinn, Strelinger and  Langford  are all local actors who clearly reveled in performing this show, while Keeler, Ambler and Kirven were delightful in the St .Louis debuts. I was particularly impressed by O'Brien on "If You Were Gay" and "The Internet Is For Porn," and with his ability to handle three of the most diverse voices anyone in the show  is asked to handle. Theby-Quinn pulled off the subtle emotions of Kate Monster beautifully on "A Mix Tape" and "There's A Fine Fine Line."  Langford puts on a thick"Engrish" accent on "The More You Ruv Someone," and has probably been my favorite of the three actresses I've seen play Christmas Eve. Keeler strikes just the right note of wide-eyed hopefulness for Princeton on  "What Do You Do With A B.A. In English?" and drives Rod over the edge in "My Girlfriend Who lives In Canada." Kirven brings Gary Coleman back to life with gusto on "You Can Be As Loud As The Hell you Want." Ambler and Strelinger don't have much in the way of solo songs but are import for carrying the plot along and for helping characters to be where their voices cannot. 
An amazing job by everyone in the cast makes this production of Avenue Q a must see. Director Lee Anne Mathews sets a lively pace for the production. Rissa Crozier's costumes for Gary Coleman, Brian and Christmas Eve are perfect (the puppeteers wear all black to minimize their presence and allow the audience to focus on the puppets). Dunsi Dai's sets are lovely, and Charlie Mueller's music direction of Stephen Oremus's arrangements sounded wonderful without drowning out the actors in the intimate confines of The Playhouse. Admittedly, I'm not sure if there were actual musicians performing live behind the set as none are listed in the program, so if not, I give props to the cast for not missing their queues. Because it's a show with a small footprint, it gives the actors plenty of room to accommodate Ben Nordstrom's choreography while fitting better on a smaller stage than it did on the big Fox Theatre floor.
If you haven't figured it out at this point, 
Avenue Q 
is not for children! Heck, it's probably not for your parents either--I don't know if I'd be comfortable watching it with mine! Just keep that in mind when you visit
www.playhouseatwestport.com
for ticket and show information. Take a break from political correctness and enjoy!