New Line Theatre's BE MORE CHILL Brings The Heat!
FTC Statement: Reviewers are frequently provided by the publisher/production company with a copy of the material being reviewed.The opinions published are solely those of the respective reviewers and may not reflect the opinions of CriticalBlast.com or its management.
As an Amazon Associate, we earn from qualifying purchases. (This is a legal requirement, as apparently some sites advertise for Amazon for free. Yes, that's sarcasm.)
Submitted by

Jeff Ritter

on Tue, 06/18/2019 - 22:54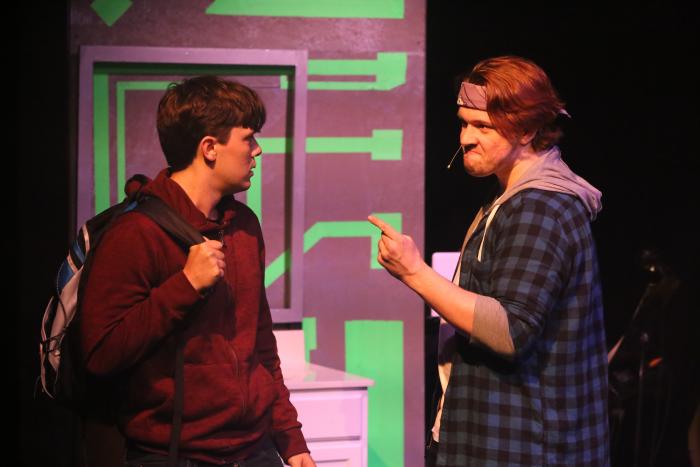 You don't see a lot of science fiction musical theatre. That's a shame, because there's a lot of wonderful stories and a ton of diversity in that genre. It's not just space operas. The creative team of Joe Tracz (words) and Joe Iconis (music and lyrics) demonstrates what this genre can be on stage with Be More Chill, a musical based on the novel by Ned Vizzini. Once again, New Line Theatre quickly seized the opportunity to present this highly entertaining cautionary tale. 
Lead director Mike Dowdy-Windsor and creative director Scott Miller close out New Line Theatre's 28th season in fine form. The cast features a strong mix of New Line regulars and strong newcomers. Jayde Mitchell (Next Generation's Jekyll and Hyde) makes his New Line debut as Jeremy, an awkward teen from a broken home, desperate for acceptance in the savage social jungle of modern suburban New Jersey high school. Evan Fornachon (New Line's La Cage aux Folles) plays Rich, the bully who terrorizes Jeremy mercilessly. Grace Langford (Playhouse at Westport Plaza's Avenue Q) is Christine, the excitable high school thespian and Jeremy's crush. Ian McCreary (La Cage aux Folles) as popular overachiever Jake stands in Jeremy's way. Laura Renfro (New Line debut) plays Chloe, the ringleader of the school's popular girls clique (I just call them Heathers). Isabel Cecilia Garcia (Theatre Nuevo/Mustard Seed Theatre's excellent Luchadora!) and Melissa Felps (The Zombies of Penzance) play Jenna and Brooke, Chloe's "besties," respectively.
New Line fan favorite Zachary Allen Farmer, as Jeremy's depressed and perpetually pantsless father, offers little support to his son. He also handles several other bit parts in the show. Wide-ranging Kevin Corpuz is Michael, a stoner and fellow "freak" who often hangs out with Jeremy to play video games together. Jeremy is clearly outnumbered in his battle for peer acceptance. Midway through the first act, poor Jeremy makes a decision that could have dire consequences, he takes a "Squip." More than a drug, a Squip is an ingested nano-sized supercomputer that gets absorbed into your blood stream until it connects to your brain. Once the interface is activated via the unofficial official drink of high school, Mountain Dew, it projects an avatar of what you subconsciously perceive as being the epitome of "chill." In Jeremy's case, it's Laurence Fishburne as "Morpheus" from The Matrix. Clad in an awesome long black coat that looks like Sarah Porter snatched it right out of The Matrix, Dominic Dowdy-Windsor is perfect as the evil cybernetic Jiminy Cricket of cool. I don't want to go too deeply into the plot, but as Squips become more popular in the school, the consequences become increasingly sinister and dire. It's intense yet hopeful, a clear warning about being careful what you wish for, self-medicating against life, the pervasiveness of technology in our lives today, and the folly of trying to be anyone but yourself. It's a heck of a production, and with one weekend left you might still be lucky enough to sneak a seat or two, though from what I hear the rest of the run may already be completely sold out.
While the songs may not be instant classics, they're not bad. "Two-Player Game" is a fun number delivered with outstanding energy by Mitchell and Corpuz. They match each other word for word with rock solid timing, which can't be an easy thing to accomplish night in and night out during the run of the show. Mitchell's overall performance was quite enjoyable, and I look forward to watching him in future productions. Grace Langford, who seems to be gaining verve and confidence with every role, brings "I Love Play Rehearsal" a good dose of adolescent Attention Deficit Disorder and delivers "A Guy That I'd Kinda Be Into" with humor and heart. Mr. Dowdy-Windsor always impresses, and he seemed to embrace the Fishburne/Morpheus attitude and the cold logic of a supercomputer in equal measure on "Be More Chill" and "The Pitiful Children." He should definitely consider playing the villain more often. Corpuz delivers the number of the night with, "Michael In The Bathroom," a stirring, melancholy song that fell flat with viewers of the Tony Awards when it was parody at the start of the show with no recognition given at all. If you want to see it done the way it should be, watch the incredible Mr. Corpus. I've telling anyone who will listen that Kevin Corpuz is a fast rising star, and his physical and emotional energy in this show is simply superb. 
I must say, however, that I found the style of the music to be rather bland. I get that there are certain tropes in musical theatre that one comes to expect, but several of the songs in this production set my mind drifting off to older musicals instead of concentrating on the performance in front of me. The modern themes and setting would seem to lend themselves to a more modern musical esthetic. I'd have to listen to the songs again to tell you precisely which archetypical shows and songs popped into my head, but it was rather distracting at times. Or maybe I'm just being overly critical of the music—I don't have issues with any of the lyrics—because I have to be critical about something. That's what my Squip tells me, in the likeness of Alan Rickman, who's perfect diction and measured enunciation would lend itself to copious quantities of chill. The New Line Band, consisting Marc Vincent on keyboards and conducting, Jake Heberlie on guitar, Joseph Hendricks on reeds and keys, Jake Stergos on bass and Clancy Newell on drums perform the music with their usual spot-on blend of swagger and chill. They never drown out the actors, which always amazes me in the cozy black box theatre at The Marcelle, New Line's home in St. Louis' Grand Center Arts District. I imagine sound designer Ryan Day manning the soundboards in the control room helps accomplish that impressive feat as well.  
Neatly performed on a compact stage designed by Rob Lippert, consisting mainly of four rotating microchips which hide a variety of quick-change scenery pieces, Be More Chill should be on everybody's radar. I am sure a lot of other local theatre groups will be performing it over the next few years, but the regional premiere run at New Line is truly special. It runs through June 22, 2019. Visit www.NewLineTheatre.com for more information on Be More Chill and the milestone 30th Season of New Line Theatre coming this fall, featuring Cry-Baby, Gilbert & Sullivan's Bloody King Oedipus, Head Over Heels, and Urinetown.