You are here
Home
›
Live Entertainment
› Weird Al Yankovic Rocks With A Full Orchestra On The "STRINGS ATTACHED TOUR" ›
Weird Al Yankovic Rocks With A Full Orchestra On The "STRINGS ATTACHED TOUR"
FTC Statement: Reviewers are frequently provided by the publisher/production company with a copy of the material being reviewed.The opinions published are solely those of the respective reviewers and may not reflect the opinions of CriticalBlast.com or its management.
As an Amazon Associate, we earn from qualifying purchases. (This is a legal requirement, as apparently some sites advertise for Amazon for free. Yes, that's sarcasm.)
Submitted by

Jeff Ritter

on Wed, 06/26/2019 - 16:15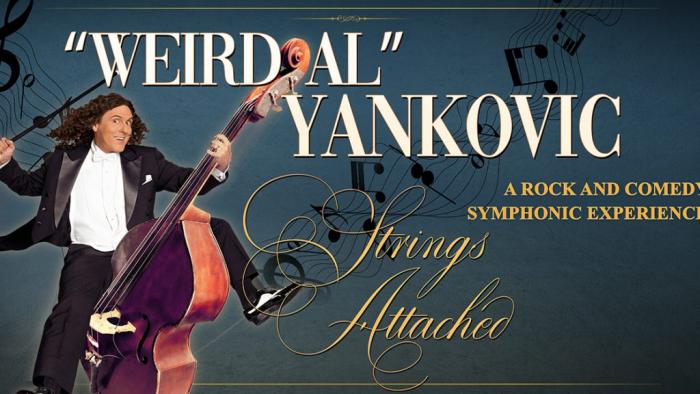 A 41-piece orchestra was the opening act for a rock concert on Saturday, June 22, 2019, at the Fabulous Fox Theatre. Weird, right? Not for the funniest man in music, the man who embraced the weird label over 40 years ago, Weird Al Yankovic. His "Strings Attached Tour" features Yankovic and his usual band of masterful musicians joined by orchestral musicians from all across the country. 
The orchestra opened the show with the "Theme from Raiders of the Lost Ark," a mash-up of the themes from "Mission Impossible" and "Austin Powers," John Williams' "Superman Theme" and the "Throne Room/End Credits" suite from Star Wars. After a short intermission, the orchestra returned with Weird Al, who launched into a two hour treat if a show. The set started with a lounge act-style medley of his early classics "I Lost On Jeopardy," I Love Rocky Road," and "Like A Surgeon." The next two songs were personal favorites, his original ode to family vacations "The Biggest Ball of Twine In Minnesota" and his sharp lamentation of language butchery "Word Crimes," a parody of Robin Thicke's hit "Blurred Lines." I was well satisfied already, but the world's favorite comedy musician was just getting started. His epic "Jurassic Park" parody, accompanied by the classic "clay-mation" video, preceded "Don't Download This Song," "Weasel Stomping Day," and another excellent original in "You Don't Love Me Anymore." Yankovic clowned around with the audience  during his "Tacky" parody of Pharrell's "Happy." He then celebrated the presence of the orchestra by doing a song he claimed could never be done without a 41-piece orchestra: "Harvey the Wonder Hamster," which is about as long as its own title.
The final stage of this stop on the "Strings Attached Tour" was exceptionally strong, featuring "Jackson Park Express," a fantastic song from the Mandatory Fun album, "Smells Like Nirvana," which the legendary Foo Fighters frontman Dave Grohl claims that when Weird Al cover their biggest hit his old band knew they'd made it. The Devo-inspired "Dare To Be Stupid" was a sweet surprise. Closing the set with his two best rap parodies, "White & Nerdy" and "Amish Paradise" had the sold-out Fox faithful singing along joyously.
But wait! There's more! After a short break the 501st Legion of Imperial cosplayers hit the stage as the orchestra and band played the Imperial March (my ringtone!). Yankovic hit the stage dressed in Jedi attire for "The Saga Begins," the orchestra jammed the "Star Wars Theme" and then…finally, he hoisted his famous accordion and regaled us with "Yoda."
Weird Al Yankovic is one of only three people to chart in four consecutive decades. The other two are Michael Jackson and Madonna. That's elite company. Some cry that he's making money off of other artists' labor, but those nay-sayers clearly haven't done their homework. Yankovic personally communicates with every artist he parodies beforehand. Some artists, like Nirvana, have sent him their records or CD and with a note that says, "Please pick one!" His original songs are often just as strong as his parodies. He's a national treasure, a family-friendly comedic genius, and a music icon. Why he hasn't already been enshrined in the Rock & Roll Hall of Fame in Cleveland, Ohio I'll never understand, but rest assured I nominated him while I was there recently. If you ever have the opportunity to see him perform live, you owe it to yourself to take advantage. The audience ranged from 8 to 90, so a tremendous time will be had by all. Visit www.WeirdAl.com for more tour dates, merchandise and other interesting information. And if you're tired of all the Rebel scum hanging around your cantina, check out www.501st.com to learn more about the Legion and how to join their noble ranks.