THE WHO'S TOMMY Rocks Hard To Open Stray Dog Theatre's 17th Season
FTC Statement: Reviewers are frequently provided by the publisher/production company with a copy of the material being reviewed.The opinions published are solely those of the respective reviewers and may not reflect the opinions of CriticalBlast.com or its management.
As an Amazon Associate, we earn from qualifying purchases. (This is a legal requirement, as apparently some sites advertise for Amazon for free. Yes, that's sarcasm.)
Submitted by

Jeff Ritter

on Sun, 10/13/2019 - 22:06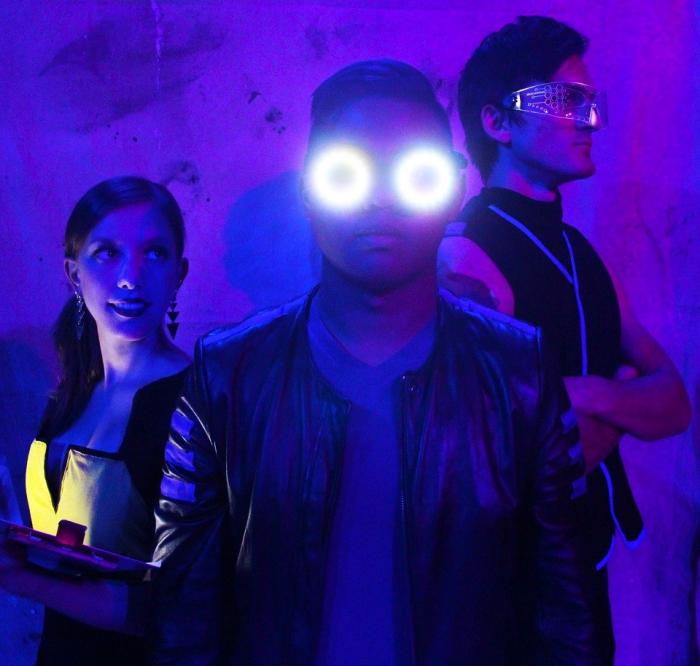 In 1969, future Rock & Roll Hall of Famer The Who released Tommy, their fourth studio album. Conceived as a rock opera by Pete Townshend, the band's guitarist, it featured a few tracks that have stood the test of time on classic rock radio, but as concept albums go it wasn't the tightest story-wise. Nonetheless, the infamous British film director Ken Russell turned the album into a movie in 195 which featured the likes of Ann-Margaret, Oliver Reed, Tina Turner, Elton John, Eric Clapton, Jack Nicholson, and of course The Who, with vocalist Roger Daltrey playing the title character. It was weird, trippy, incoherent, and yet reasonably successful. Such was cinema in the 70s. Jump ahead to the 90s and Townshend joins forces with Jersey Boys Broadway director Desmond McAnuff, who wrote the book for the stage musical, The Who's Tommy. Now, running October 10-26, 2019 at the Tower Grove Abbey, Stray Dog Theatre presents this nutty, challenging rock opera to modern audiences with a cast of talented actors, many of whose parents probably weren't born when the album came out.
The story is hard to explain because quite honestly it makes no sense at all. Tommy witnesses a a violent event at a young age and is rendered virtually catatonic. His parents try to get him help, but since they were also the root cause of his mental break, and they make constantly poor decisions since as seeking aid from quack doctors, gypsies and leaving Tommy from time to time his lecherous and abusive uncle and cousin, their motivations are constantly suspect. Come to think of it, there really isn't any character in the show that's completely likeable—they're all brutally flawed, except for perhaps Tommy in his younger years. By the time he is "cured" he becomes a bit too much to take. Townshend is a fantastic guitarist but a lousy storyteller. Fortunately, the shortcomings of the story doesn't detract from the enjoyable effort of the cast, and the music is really good..
Kevin Corpuz has been steadily rising in the ranks of St. Louis' vibrant theatre scene. He's been turning heads with strong performances at Stray Dog (Jesus Christ Superstar, Spring Awakening) New Line Theatre (recently Be More Chill, La Cage aux Folles), The Tesseract Theatre (Spinning Jenny) and others, and it was great to see him in a leading role at last. It's too bad that this show isn't a good vehicle to showcase Corpuz's acting talents. He's capable of deep emotion and personable wit, but here he spends a lot of time watching events unfold with blank detachment. Yes, as the "deaf, dumb and blind kid" that's pretty much his job, but the job is a waste of his talent. There is one big dance number where Corpuz excels—I think he's arguably the best male dancer in local theatre—and the more soulful songs best suited for his vocal range are clumped near the end of the second act ("I'm Free", "See Me Feel Me"). The majority of the show he's sacrificing his signature smooth delivery to emulate Daltrey's smoke and whiskey soaked hoarse growls. It's a game effort by Corpuz but ultimately a mismatched part for this fine actor.
The supporting cast produced some notable performances. Cory Frank (Uncle Ernie)) and Tristan Davis (Cousin Kevin), are creepy, slithery, vile and captivating. Frank gives Tommy's nasty uncle a delightfully wicked sense of humor, at least when Ernie's not abusing his nephew. Davis also handled the most famous song in the show, "Pinball Wizard," wonderfully. If there's a Batman: the Musical out there somewhere he'd be my choice to play the Joker. Davis handled the production's robust choreography (very well done by choreographer Mike Hodges) capably and is definitely a talent to watch out for as he finishes his undergraduate studies at SIUE, from where Kevin Corpuz is an alumnus. Kelly Howe, returning to her hometown after a decade of singing and acting in New York, makes a fine Stray Dog debut opposite Stray Dog veteran Phil Leveling as Tommy's parents and the root cause of what would likely now be diagnosed as severe Post Traumatic Stress Disorder. The ensemble features a mix of familiar faces and new talent: Brenda Bass, Angela Bubash, Eileen Engel (who also created the show's slick costumes with light-up elements that really pop!), Kellen Green, Clayton Humburg, Molly Marie Meyer, Kevin O' Brien, Dawn Schmid, Jordan Wolk, Sara Rae Womack, and the ever-excellent Jeffrey M. Wright. The Who's Tommy is a challenging show at any age, so a very special tip of the hat to Leo Taghert, who plays Tommy at age 10, and Alora Marguerite Walsby, who plays Tommy at age 4. Watching these two talented young future stars perform was a real treat!
The Stray Dog Band was well-suited to the task of performing the rather intricate work of Pete Townshend, John Entwhistle and Keith Moon. Led by Music director and keyboardist Jennifer Buchheit, musicians John Gerdes supplemented her keyboards and added the beautiful sounds of the French horn, Bradley Martin pounded the skins on drums; M.  Johnson Ryan made the beat throb on bass while John J. Reitano sets the pace on rhythm on guitar. That leaves only the best kept secret in St. Louis: Adam Rugo on lead guitar. He's certainly not a secret to Stray Dog Theatre audiences—The Who's Tommy marks the twelfth production with Rugo jamming in the band. His perfect strummed intro to "Pinball Wizard" drew respectfully quiet gasps of amazement. I think I noticed two points during the show where Rugo started to stand up from his seat and then quickly sat back down. It may be that he simply needed to stretch but he may also have been struggling to contain his excitement and nearly kicked things into full-on concert mode. I don't know if it ever crossed director Justin Been's mind to break for tradition and let Rugo off his chain to wander the stage, or at least the space near his seat, in full rock and roll glory (or the whole band for that matter), this would be a primo production to try it in! Bonus points to everyone in the band who had to play parts of two songs blinded by a large and thick cloud of theatrical smoke.
The abstract stage is pretty Spartan save for the band, and a couple of props: a full length mirror/window into Tommy's soul, and a pinball machine just as abstract as the set. Buying an actual pinball machine, even an old one, is typically a few hundred dollars and cost prohibitive for most local theatres. There actually is an official The Who's Tommy pinball machine manufactured by Data East, but those will cost you upwards of $6,000.  Pinball machines are often terribly heavy as well. When their homemade pinball machine is brought on stage I was underwhelmed. It's basically a white rectangular box with a scoreboard that's less than half the size of most pinball machines. A strand of small lights strung around the perimeter gives it an electrical glow, but not much life. My guess is the smaller-than usual-proportions and general lack of adornment allows Kevin Corpuz to be seen by the audience from all angles and/or eliminate the need for him to stand with his back to the audience every time he plays. It seemed shame for the one big prop of the show to be such an abstract representation of itself. With the gift of hindsight, I'd suggest running just a few different colors of the neon wire or whatever Eileen Engle used on her costumes to give a hint of ramps, bumpers, and flippers, while still being unobtrusive.
The Who's Tommy must be a production that keeps directors up at night. The story simply doesn't work. Every director adds a bit of their own vision into every show they work on, but they'd have to go pretty far off script to even being to give Tommy a reasonably decent plot. I certainly don't blame Director Beem for making the attempt a second time. In his "Director's Notes" essay in the program, Been discusses the deeper themes of the story: confronting fear, the loss of innocence, and more.  While that's all very true, it's just so difficult to digest via a story presumably written while higher than Mt. Everest.  Justin Been has now directed this material twice and I applaud him, his energetic cast, and his incredible band for their immense effort in this production--your standing ovation was well deserved. Yet I can't muster as much esteem for the sum of the parts as a whole when the material itself just isn't worthy of top marks. Trying to catch the white whale that is The Who's Tommy is a pipe dream, and I hope Mr. Been "won't get fooled again" into giving it a third go some years hence,
Please visit www.straydogtheatre.org for ticket information and more on The Who's Tommy and the rest of Stray Dog Theatre's stacked 17th season.