Colin Healy's MADAM Sets A High Bar With Inaugural Production
FTC Statement: Reviewers are frequently provided by the publisher/production company with a copy of the material being reviewed.The opinions published are solely those of the respective reviewers and may not reflect the opinions of CriticalBlast.com or its management.
As an Amazon Associate, we earn from qualifying purchases. (This is a legal requirement, as apparently some sites advertise for Amazon for free. Yes, that's sarcasm.)
Submitted by

Jeff Ritter

on Wed, 02/12/2020 - 23:02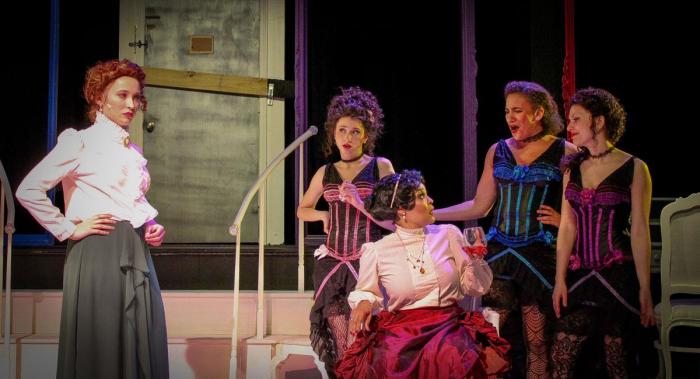 Madam, a new musical from Colin Healy, recently ended it's inaugural production at the .Zack Theatre in St. Louis. I was fortunte to catch the closing show of the shor trun. Healy is in the zone creatively, as his previous effort The Gringo headlined last year's St. Louis Fringe Festival and garnered rave reviews. Madam is an another strong effort featuring a wonderful cast and interesting characters, some of which come directly out of St. Louis history that you might not have known much about before this show.
The title character is Madam Eliza Haycraft, played by Kimmie Kidd-Booker. Haycraft was at one time the richest woman in St. Louis. She ran a brothel where her girls were empowered to say "No." Madam captures Haycraft at the twilight of what's been a hard but proud life, her body beginning to fail, and her mind occupied with thwarting a conniving male patron who seeks to buy her property for it's prime location and redevelopment potential. Kidd-Booker is outstanding in the role, demonstrating Haycraft's high strength of spirit while her physical strength ebbed. Kidd-Booker is always fun to watch, and when you hear her sing on songs like "All You Need To Know" and "Joy," you'll know why, 
The women of the brothel were likewise portrayed by a collection of wonderfully talented actresses. Billie, the former slave who disguised herself as a man to serve in the Union Army, was played by Marta Bady, whose soulful voice captured my attention immediately. She provided Billie with the toughness of someone who has seen far too much of the worst parts of humanity, both on the battlefield and in the bedroom. Eileen Engle, who seems to always add a unique spark to every production I've seen her in, played Tennie, the allegedly estranged sister of Victoria Woodhull, a leader of the women's suffrage movement and the first female Presidential candidate. Engle plays Tennie with a kind of hopeful innocence, even when she admits her sister probably isn't coming for her. SIUE alum Gracie Sartin plays Ripley, perhaps the most grounded of the bunch, who is working (pardon the pun) her way into a med school in Boston that accepts women. Sartin's acting and singing were equally impressive and I'm hopeful that she'll find continued success and bigger roles in St. Louis' ever-growing theatre scene. These three ladies primarily functioned as the chorus but each get enough time in the spotlight that their characters' stories don't go just fall by the wayside.
But wait--there's more! Cameron Pille played Calista, the one who seemingly never says "No." Pille has one of the more complicated roles in the show, acting as if her work has taken a toll on her both physically and mentally, though she might just be crazy like a fix. While I thought Pille did a good job, I found Calista's story arc a bit hard to follow, particularly in the second act. More on that in a bit.
Abigail Becker, a musical theatre major from SEMO, played the pivotal role of Mercy Jones, a lady of sophistication forced to seek refugee with Madam Eliza after the tragic death of her poor husband. At least that's how her character described her past. The truth is integral to the plot, which I'd rather not spoil. I've obviously hinted that Mercy is not what she seems to be, but is she a ruthless con artist or does she find redemption among this strange family born from a convergence of circumstances? I hope this show gets produced again sooner than later, and I would have no problem with Becker returning for this part. She played the innocent and the sneaky equally well. As with Calista, her character's arc seemed somewhat murky near the end.
Last but not least, and the sole man in the production, Phil Leveling plays The Benefactor, a rather unusual a name considering how the only character who would seem to benefit from him buying Madam Eliza's property would be himself. Leveling can be scene at many venues in town but is probably best known for his work with Stray Dog Theatre. I thought he was outstanding in Madam -- perfectly cast as the scoundrel seeking to leverage a rich woman's death to increase his own personal wealth. His duet with Abigail on "The Unfortunate Song" was a highlight of the show. 
The technical aspects were likewise excellent. George Shea, whose set for Vivre Theatre's recent production of A Gentleman's Guide to Love and Murder felt a bit sparse in places, created a top notch set in both form and function here. The split-level stage created what seemed like ample space in the often cozy confines of the .Zack Theatre and brought the actors literally right to the feet of the first row of the audience. He also wisely used bright colors and lots of white, which, when expertly illuminated by lighting designer Kevin Bowman, helped to keep the show from becoming too dark and dreary. Eileen Engle also served as costume designer and did an excellent job, particularly with the Benefactor's suits and Eliza's dresses -- the one Kidd-Booker wears at the end of the show was truly a diva masterpiece! Colin Healy led the excellent house band of Luke Mankovich on reeds, Ron Foster on trumpet, Jordan Epperson on trombone,  Teddy Luecke on bass, Brendan Rodgers on drums while Healy himself tickled the ivories. Kudos all around! 
My main complaint has to do with the book in the second act. I will try to avoid major spoilers but Mercy wasn't the only woman under Eliza's roof who wasn't exactly what she seemed. As I alluded to earlier, Calista's arc takes an unexpected turn that, in my mind, turns everything on it's ear. Subplot elements that would seem to damn Mercy as a traitor are suddenly given new light but I didn't understand Calista's motivation. This confusion continued with Mercy's return in the second act. Why would things turn out as they did if Calista's acts weren't common knowledge among the women, as I understood it? Mercy wasn't the traitor the other women had believed her to be, but she wasn't entirely innocent of deceit either, so I found myself distracted at the end of the show, trying to connect the dots with both Calista and Mercy to understand where everything ends up and it just never quite became a clear picture for me. I asked several members of the audience as we headed to the lobby what they thought about the show. Everyone agreed that it was wonderfully performed and powerfully sung but three people admitted to being confused at the end. I'm not sure if it's Colin Healy's duty as the writer to be more clear, or Sydnie Grosberg Ronga's responsibility as the director to find a way to make sure those key points are easily understood, but either way it made for a somewhat disjointed ending to an otherwise very enjoyable production.
My other complaint is a bit more mild but I think it is worth mentioning: some of the songs came off as being a bit preachy. Unfortunately, for a variety of reasons, this review is tardy and time has already diluted the specific sections in my memory. There was one song in the first act that I recalled ended more or less with a direct command to immunize your kids. I'm a staunch supporter of getting kids every inoculation available. Nobody should ever get the measles in the 21st century. The is strictly my opinion, but it's your duty as a responsible parent regardless of religion, creed, politics, etc., to ensure your child lives a full and healthy life. And yet when that message is delivered at the end of a song it seemed to come out of nowhere. My girlfriend and I glanced at each other with raised eyebrows and silently resolved to Google immunization history at intermission. Mr. Healy had indeed done his homework--immunization was going on well before the Civil War, so there really is no excuse for not doing it today. But did he have to so blunt in the delivery of that message, especially since it didn't seem to really fit with the rest of the song? There were a couple of other points about other causes in other songs that likewise seemed to be made with an unnecessarily heavy hand.
Despite those two issues with the show, I found Madam to be a very enjoyable show buoyed by a terrific cast. I enjoy new theatre -- whether I love it or I'm completely befuddled with it, seeing a new show without the hype of a long Broadway run ahead of the inevitable national tour always gets me thinking about the production, the performance and the message. I would certainly watch Madam again and I look forward to Colin Healy and Fly North Theatricals' next new production. They've set a high bar for themselves with this strong debut effort.