Domo Arigato, Mr. Robot?
FTC Statement: Reviewers are frequently provided by the publisher/production company with a copy of the material being reviewed.The opinions published are solely those of the respective reviewers and may not reflect the opinions of CriticalBlast.com or its management.
As an Amazon Associate, we earn from qualifying purchases. (This is a legal requirement, as apparently some sites advertise for Amazon for free. Yes, that's sarcasm.)
Submitted by

Tricia Delloiacono

on Wed, 05/27/2015 - 22:18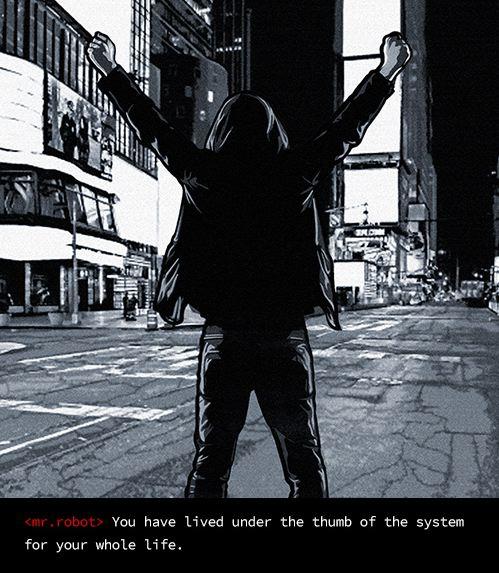 USA Network just released the pilot of one of their new shows entitled Mr. Robot. The description intrigued me, despite never having heard of it before today. The blurb reads, "A cyber-security engineer by day and a vigilante hacker by night…" and is accompanied with a cool comic-esque image to boot. I'll admit though I was initially a little weary due to the terrible title for a show. Mr. Robot. I feel like the title song should be song by Styx and it gives the impression of a slapstick comedy troupe. But, ok, USA, you have my interest since I'm always willing to give you the benefit of the doubt because of our past together. Many of my favorite shows of all time came from your network (ie Psych, Burn Notice, and White Collar) and who knows when you will realize the newest best show in the world.
The first few minutes were spent playing the game "Where have I seen that actor before?" After a few annoying minutes, it turns out the actor, Rami Malek, is Ahkmenrah in Night at the Museum. I could finally focus on the show with that out of the way! Malek plays our main protagonist, Elliot, who is a painfully awkward, dangerously angular, intensely angsty fellow who definitely missed the bus headed to Normal-ville. In short, this boy's got issues and I ain't talking comics. He seems to have social anxiety disorder, has a bit of haphephobia (fear of touch), and, as Elliot himself states, is schizophrenic. Well, isn't this coming together as quite a character! Personally, I adore a good angsty lead with major faults, so I'm already on board. And frankly, Malek does Elliot great justice. He doesn't overact the quirks and pulls off the stoic disconnect quite well. The audience ends up liking him, despite his drug addiction and disdain for, well, mostly everything.
Halfway through the show, we meet Mr. Robot. Oh no, it's Christian Slater. Now, don't misinterpret that. I cherish Slater. I am a stereotypical 31-year-old female who grew up drooling over the man. But, as of late, he hasn't had a strong run on TV, seemingly having series after series cancelled on him. I still mourn the loss of the short lived Breaking In! TV history aside, Slater does an admirable job as the titled Mr. Robot. The character definitely stands out from the rest of the unnaturally colored show. Elliot's world is pretty grim and the drab cinematography shows that with a lot of tans, grays, and darkly tinted colors. Mr. Robot shows up with the brightly lit Coney Island as his backdrop and an oddly goofy attitude considering, as a viewer, I'm still not sure if he's the "good guy". Slater's smile has enough charisma to make the audience forget that his chill persona and lackadaisical attitude may not be all it seems.
The story leads us through a twisted tale of confusion and mystery. Essentially, our characters are leading us through the underbelly of hacking, the vicious world of cyber attacks, and, seemingly, the attempted over-throwing of the corporate mentality. Understandingly the pilot of any show needs to set the stage, but I thought it was a bit long-winded and slow, with lots of trudging through murk to get to the good parts. I was fascinated enough to keep watching and the actors were captivating, but the script could have used some trimming. And mostly, just because I'm a standard '80s kid who likes explosions and fire-fights, I would have liked some obligatory action. The show was just screaming for a bit a jolt. It was all a little too even-keeled for a show about a guy with so many problems.
In totality though, I will definitely be ready to continue the story. The ending seemed important and thrilling, even though I wasn't quite sure why. The actors were stellar and the direction was point on. The show doesn't premiere until Wednesday, June 24th, but you can watch the pilot on various media outlets, including the USA Network app, On Demand, iTunes, Amazon, Hulu, and YouTube. I see the show picking up from this point and delving deeper into the cryptic world laid before them. It should be wrought with drama, suspense, and intensity. If they continue on the path they started, this very well may become another superior hit for the USA Network.
The TL;DR: Get on board with Mr. Robot before it starts. The first episode is a slow burn, but should lead to some quality TV.