Nothing Miraculous About Killing Jesus
FTC Statement: Reviewers are frequently provided by the publisher/production company with a copy of the material being reviewed.The opinions published are solely those of the respective reviewers and may not reflect the opinions of CriticalBlast.com or its management.
As an Amazon Associate, we earn from qualifying purchases. (This is a legal requirement, as apparently some sites advertise for Amazon for free. Yes, that's sarcasm.)
Submitted by

RJ Carter

on Sun, 06/07/2015 - 07:00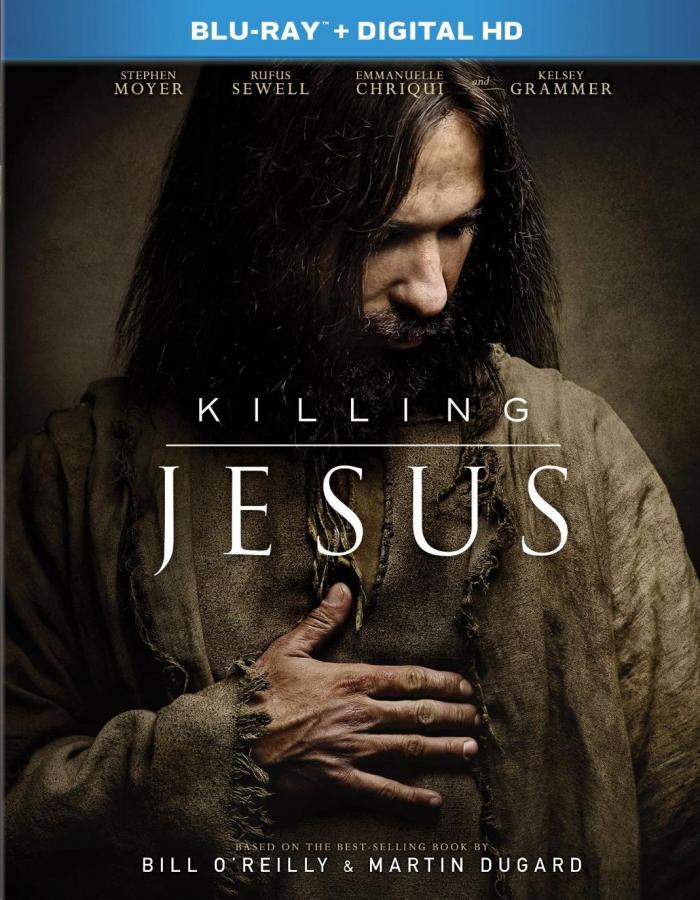 KILLING JESUS is the film based on the book by Bill O'Reilly with Martin Dugard. I have not read this book, but if Christopher Menaul's vision of the movie is anything close to it, it's a very unique vision of Jesus, and one that I couldn't see sitting comfortably with most Christians.
The story covers the range of Jesus's life, but skips over some important aspects. It begins with King Herod (Kelsey Grammer) who has a vision of Isaiah telling him the true King of the Jews has been born. This precedes a visit from the magi who are following an astronomical sign, which prompts Herod to order all the male babies to be killed. But Jesus escapes, because Joseph feels that the adulation poured out on their child will arouse Herod's jealousy.
In case you're even an amateur Bible scholar, you may have noticed that we're skipping over that whole bit about a visitation from an angel and going with a gut feeling.
That gut feeling is also what tells Joseph (along with news from friends that Herod is dead) when it's safe to return to Nazareth. Get used to that kind of thing, because it repeats.
When we meet the adult Jesus (Haaz Sleiman, ASSASSIN'S CREED: REVELATIONS), he is very unsure of himself. He has been known to argue scripture with rabbis, but that is all. We skip past any weddings and go straight to him meeting Simon (Alexis Rodney) who has been having a bad time fishing. Jesus asks to go out with him, and they watch the net. Jesus suggests they pray, and as they do you hear splashing. The net has filled, and it's a huge catch. Hang on to that miracle, because it's one of the few you get, as the writers only stick with miracles that can be explained away as coincidence rather than divine. This emboldens Jesus to ask Simon to follow him. (Later in the film, when Jesus asks the disciples who others say he is, and then who do they say he is, Simon answers that Jesus is the Son of God; Jesus replies that this is a powerful answer, and he thinks God must have given Simon the answer.)
The running plot of the film is the political intrigue of Roman-ruled Jerusalem. Herod Antipas (Eoin Macken) son of Herod, is a tetrarch, married to Herodias (Emmanuelle Chriqui, ENTOURAGE) who would see him king in his father's stead. When John the Baptist (Abhin Galeya) begins railing against Roman rule, Antipas has him imprisoned, where Herodias would have him killed as a sign of Antipas' strength. Ultimately, she tricks Antipas into killing John through the use of her daughter, Salome (Stephanie Leonidas, DEFIANCE) and a short, awkward pole dance. But when they learn of his cousin, Jesus, saying many of the same things, Herodias would have him killed as well.
When Jesus makes his triumphant entry into Jerusalem on a donkey (we see the disciples rent the donkey specifically to fulfill a prophecy -- one would think someone would have a regular donkey-rental business for those would would try to be Messiahs -- it gives the temple priests, among whose number are Caiaphas (Rufus Sewell) and Annas (John Rhys-Davies, BEYOND THE MASK), the opportunity to charge Jesus with blasphemy, which is punishable by death under Jewish law. They take him back and forth between Antipas and Pontius Pilate (Stephen Moyer, TRUE BLOOD) until they get the sentence they deserve.
Ah, but what about the resurrection? There's your miracle, Mister Carter. Well, you'll have to see how that particular scene is allowed to play out, and whose involved. But do so with a rental, because KILLING JESUS is a disk that, once purchased, will lead to buyer's remorse. To be sure, the film is probably one of the most accurate stories of the time in terms of setting and certainly diversity of cast (English language aside, as a matter of convenience), but for those familiar with the rest of the story, it's going to be found severely lacking.
The bonus feature on the DVD include making-of featurettes, with actors talking about their characters, and a piece on the costuming. There's also a documentary on the political structure of the period which was quite educational.