NCBD Pull or No Pull: October 3, 2018
FTC Statement: Reviewers are frequently provided by the publisher/production company with a copy of the material being reviewed.The opinions published are solely those of the respective reviewers and may not reflect the opinions of CriticalBlast.com or its management.
As an Amazon Associate, we earn from qualifying purchases. (This is a legal requirement, as apparently some sites advertise for Amazon for free. Yes, that's sarcasm.)
Submitted by

RJ Carter

on Sun, 09/30/2018 - 17:25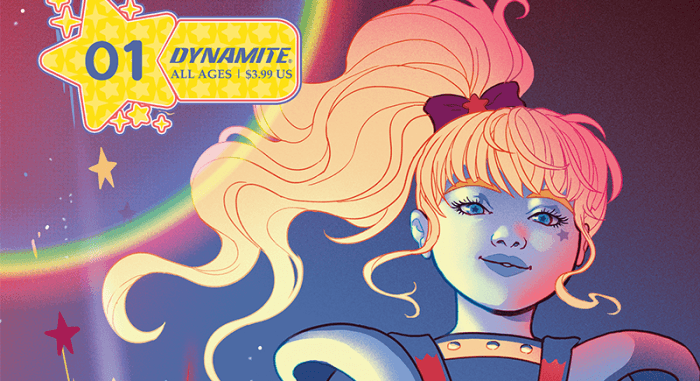 You're a comics fan. You've probably got a local comics shop, and a local comics shop guy who looks out for your interests. You've left him with a pull list, so you know when you get to the store the things you want to read will be already picked off the shelves for you.
But that doesn't mean you didn't miss something. Here are our looks at this week's upcoming comics, and our hot takes on whether they're a pick or a pan. Your mileage may vary.
Batman / Maxx (IDW)

It's the first appearance of The Maxx in over ten years, and he's going to face off against the Dark Knight. They'll have to team up to save Gotham and reality by traversing the mental landscape of all of Batman's most psychotic enemies.

Sam Keith returns to his creation, and teams up with writer John Layman to tell this tale. That said, if you're a fan of The Maxx, you'll be excited for this one. However, everything we're reading about this one suggests giving it a hard pass.

 

My Little Pony #71 (IDW)

Halloween is upon us this month, so it's a great time to look for spooky stories in the all-ages category. IDW has just the thing with this entry from the popular My Little Pony series, featuring Twilight and her new students as they have their first Nightmare Night in Ponyville.

Green Arrow #45 (DC)

So we were pretty stoked about the first issue of Heroes in Crisis. However, we weren't thinking at the time about the inevitable tie-in issues, let alone as to whether they were significant to the story or simple side-impacts. Julie Benson and Shawna Benson team up to tell this particular issue of Green Arrow, which will no doubt deal with what happened to Arsenal, featuring appearances by the Justice League and the Titans. We'll be picking one up, because the Heroes in Crisis story was intriguing enough that we want to see if it has any real impacts on the rest of the DC Universe.

Witching Hour #1 (DC)

The Witching Hour was a horror anthology comic back when DC Comics really produced books in all genres. It was hosted by three witches -- Morded, Morgana, and Cynthia -- who would tell their tales that all ended with an unexpected twist serving eternal justice to someone who deserved it.

This incarnation of the series is different. James Tynion IV and Jesus Merino bring us a Witching Hour that is actually a Justice League story, featuring Wonder Woman and the so-called Justice League Dark. It promises to rewrite the future of DC's magical heroes over the next five issues, but given how many times that future has been rewritten (remember future Tim Hunter from Books of Magic?), we're not feeling a strong vibe from this one.

Superior Octopus #1 (MARVEL)

Redeemed villains always make for intriguing characters. Sandman once reformed. Major Disaster was in the Justice League for a time. Thunderbolts explored the concept in whole new ways.

Doctor Octopus is one of the more top-tier villains of Spider-Man's rogues gallery, and for a while he was occupying the mental landscape of Peter Parker, calling himself the Superior Spider-Man. Now he's the Superior Octopus, and he's chosen San Francisco as his to protect. Christos Gage and Mike Hawthorne have a challenge ahead of them, but we're up for the ride on this one. You should be too.

Lone Ranger #1 (DYNAMITE ENTERTAINMENT)

A thunder of hoofbeats, a cloud of dust, and another first issue for one of the original masked heroes of American folklore. This story focuses on an invention that changed the course of the country's history: barbed wire. Political corruption and influential business leaders conspire to take everything they can for themselves (oh, how we've evolved since then!), creating unjust laws and deadly danger for innocents. The Lone Ranger may need help with this adventure from Mark Russell and Bob Q.

Rainbow Brite #1 (DYNAMITE ENTERTAINMENT)

There's a trend lately of redesigning the 80s. Thundercats and She-ra have both been...well, let's just be honest, they're both atrocious.

Rainbow Brite, on the other hand, looks rather brilliant -- a modernized, stylized rendition of the once-popular cartoon-and-toy character that should strike a broad appeal with today's all-ages audience. Jeremy Whitley and Brittney Williams give us a tale of two friends, Wisp and Willow, who discover a threat to their world, and find help in a new friend from another world.

I can put my testosterone in check enough to pick this one up and see where the story goes. Nostalgia fans should get a kick from this one.

Beneath the Dark Crystal #3 (BOOM! STUDIOS)

"By gelfling hand, or else by none!" This prequel to the Jim Henson cult classic film could be a fun read, but I can't help but think that their future is set and there will only be two gelflings left after the Skeksis have their way. Prequels always have that potential lack of tension, when audiences know how things have to end in order to make sense of the canon. Nonetheless, THE DARK CRYSTAL has enough fans that picking this up should be a no-brainer. Written by Adam Smith with art by Alexandria Huntington.

Archie and Me Comics Digest #11 (ARCHIE)

I love that Archie Comics retains an outlet for the more classic humor style that built their publishing house. Having a ten year old boy who is an Archie reader, we pick up almost every Archie digest Walmart has available every shopping trip, to the point he has his own set of longboxes full of them. I don't even have to ask if we'll be getting this Halloween issue of ARCHIE AND ME, which features a lead story where Archie and Jughead have to be ghostbusters in order to exorcise a haunted house: Veronica Lodge's mansion.

Barack Panther #1 (ANTARCTIC PRESS)

No.

Just...no.

Listen, I love a good political satire as much as the next guy, even if it's my own sacred cow getting gored, but let's stick with current politicians and let the past retire in dignity.