New Line Theatre's 29th Season Starts With Hilarious CRY-BABY
FTC Statement: Reviewers are frequently provided by the publisher/production company with a copy of the material being reviewed.The opinions published are solely those of the respective reviewers and may not reflect the opinions of CriticalBlast.com or its management.
As an Amazon Associate, we earn from qualifying purchases. (This is a legal requirement, as apparently some sites advertise for Amazon for free. Yes, that's sarcasm.)
Submitted by

Jeff Ritter

on Sat, 09/28/2019 - 20:40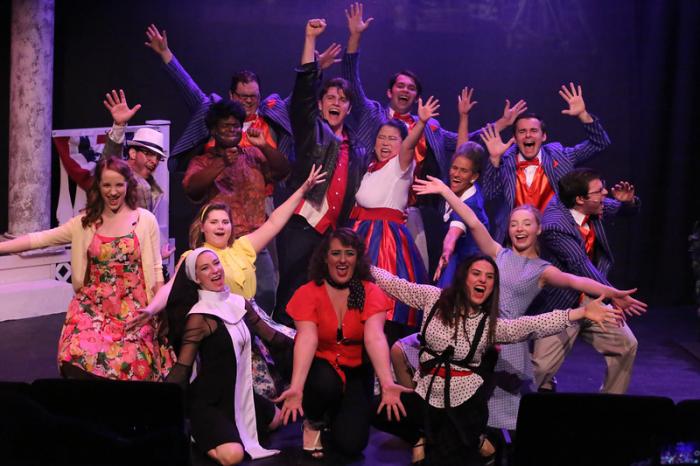 John Waters' film Cry-Baby hit theaters in 1990 to modest fanfare despite an eclectic cast featuring then-rising stars Johnny Depp and Willem Dafoe, punk rocker Iggy Pop, future talk show host Ricki Lake, and former adult film actress Traci Lords. It became a cult classic over the years, and spawned a rather unsuccessful musical adaptation in 2007, lasting less than two months on Broadway. Five years later, Scott Miller's New Line Theatre bought the rights to the show and produced a smaller scale production that ran to strong acclaim. With their well-earned reputation as a theatre troupe that is willing to take on challenging material or Broadway misfires, Miller and company are presenting the second run of Cry-Baby in St. Louis from September 28th – October 19, 2019 to opening their 29th season.
Co-directed by Scott Miller and Mike Dowdy-Windsor, with the book by Mark O'Donnell and Thomas Meehan and songs by David Javerbaum and Adam Schlesinger, Cry-Baby is set in 1950s Baltimore, the Red Scare and polio on everyone's minds. Mrs. Vernon-Williams (Margeau Steinau) is trying to raise her granddaughter, Allison (Grace Langford) to be a proper young lady and an outstanding American citizen. Allison's peer group consists of Baldwin Blandish (Jake Blonstein), his crooner companions The Whiffles (Stephen Henley, Ian McCreary and Christopher Strawhun), and two wallflower-type young ladies (Grace Minnis and Maggie Nold). They called themselves "The Squares" and revel in their bland existence. One day Wade "Cry-Baby" Walker (Caleb Miofsky), and his crew of rock and roller ruffians known as the Drapes: pregnant Pepper Walker (Reagan Deschaine), vivacious Wanda Woodward (Jaclyn Amber), self-explanatory "Hatchet-Face" Mona Malnorowski (Sarah Gene Dowling) and future Dick Clark/James Brown open mic host Dupree W. Dupree (Marshall Jennings), cross paths with the squares. Somewhere in the middle is Lenora Frigid (AJ Surrell), who's five RC Colas short of a six pack, along with a smattering of various townsfolk such as the doctor, the local disk jockey, the Honorable Judge Stone, and more (all played by the man of many costume changes Todd Micali). Words are said, deeds are done, and nothing will ever be the same.  I'd hate to spoil the details for you, particularly if you've never seen the movie or missed the first run of this show seven years ago.
Frequent attendees of New Line Theatre performances will enjoy seeing some familiar faces and a number of new ones. Caleb Miofsky is a Webster Groves High School senior making his professional debut in the title role. The young man looks to be a presence on St. Louis stages for a long time to come, as he gyrated and rock & rolled our faces off from the moment he hit the stage. Grace Langford has been on a roll with a string of strong performances in New Line's Yeast Nation and Be More Chill, and The Playhouse at Westport Plaza's Avenue Q. She turned in another powerhouse performance, giving Allison a delicate ingénue quality tinged with the fires of rebellion smoldering underneath. Her vocal performance was wonderful and further proof that she's capable of being a leading lady in any show. Margeau Steinau has been a staple of the St. Louis Theatre community since 1992, and was a joy to behold in Cry-Baby. In a show with so many cleverly funny songs, her rendition of "I Did Something Wrong Once" had me laughing even the song itself is a confession of past sins and the emotional turning point of the show. New Line newcomers Maggie Nold, Grace Minnis, Reagan Deschaine, Jaclyn Amber and Stephen Henley brought new energy to the lively production.
Jake Blonstein, who was anything but square in last season's La Cage aux Folles, nearly stole the show with his conniving and smug yet wholesome turn as Baldwin. He has proven to be reliable source of laughs at New Line and one to watch for on any stage. Likewise, AJ Surrell, making her New Line debut, just edges Blonstein out as the scene stealer, as her Lenora looks like a Norman Rockwell model but is 10 kinds of crazy underneath. For someone trained as a choreographer and dancer—serious disciplines, those—she displayed a natural affinity for comedic timing and even physical comedy. I am eager to see what she does next!  Todd Micali made it look easy, transforming from one local yokel to the next in the time it took him to sprint from one side of the backstage curtain to the other, transforming from a stern judge to a cartoonish cop and jumping right into a choreography routine without having time to catch his breath. Never underestimate the character actor or anyone in the ensemble—they're every bit as vital as the lead actors and often contribute gems wit few if any lines, but with gestures or facial expressions that speak volumes. Playing one role is hard enough, but playing five or six in the same show makes you a total boss in my book. The same goes for Christopher Strawhun, a familiar face in the St. Louis theatre scene who always puts in those little touches—in this case a variety of dance styles that will bring a smile to your face when you catch them. Somebody give this guy a lead role already! Sarah Gene Dowling can play anything but I always enjoy her in comedic rolls. If you thought her character in Yeast Nation was delightfully strange wait until you see her play "Hatchet-Face." She's an easy frontrunner for "Best Worst Makeup," should such a category ever exist at any of the local theatre award shows. It's always a treat to see Marshall Jennings perform and his return to the New Line stage did not disappoint.
At first it may sound like this story is headed down that worn out, wagon-wheel rutted path of Shakespearean star-crossed lovers.  That trope has been mined to death, and since Shakespeare likely never wrote anything but his own epitaph anyway who needs it? OK, sure, the good girl falling for the bad boy plot probably goes back even further than the Bard but this is not an Eisenhower-era Romeo and Juliet. This tale goes deeper. It's an examination of conformity versus non-conformity, the Squares desperate to live in the safety of their status quo, and the Drapes representing the thrill of pushing the envelope, of challenging the accepted norms of the day and hopefully guiding some, like Allison, who secretly longs for excitement, into their wild light. And rather than focus solely on the obviously star-crossed lovers, the conflict is best viewed in the stylistic clashes of the songs in the show. The Squares uses four-part harmonies like a barbershop quartet, perform polite and respectful classic ditties to their fellow conformists, and don't deviate much at any point form the basic style of, well, musical theatre. The Drapes, conversely, bring a healthy dollop of Jerry Lee Lewis and Elvis Presley rock and roll/rockabilly and a little soul for good measure. As Scott Miller points out in his Director's Notes in the program, musical theatre itself has been facing a similar battle as newer shows subscribe to a more rock-centric style and rely less on the rhythms and vocal styling of traditional musical theatre.
Sporting sharp costumes by Colene and Evan Fornachon, displayed on a Rob Lippert set with some really cool props (well-deserved props of another sort to Pops Master Kimi Short and the whole scenic crew), Cry-Baby is a hilarious show with only a couple of bad words, but that doesn't mean it's entirely safe for younger audiences.  There's a lot of kissing with tongue (there's even a song about it) and some other sexual references that may not be appropriate for younger theatre patrons.
Despite its slyly simplistic conflict and Happy Days vibe you may find yourself pondering the surprising depth of this show long after you've left the Marcelle Theatre in Grand Center. That squeaky clean veneer hides a relevant allegory of modern America, where the truth is obscured at all cost, where people who are a little different from the accepted norm are marginalized or shunned, and where the worst offenders are the ones who have claimed responsibility for upholding and protecting the moral fabric or our neighborhoods, our cities, our states and our nation, for protecting the truths we hold self-evident while doing everything they can to deny some slice of the great American pie chart their rights to life, liberty and the pursuit of happiness. Look at those people through the Cry-Baby lens and you'll realize just how many Baldwin Blandishes there are in positions of power, and how exceedingly rare a Wade Walker-style rebel truly is. I bet most folks think John Waters is just a dapper fellow with a pencil-thin mustache who writes funny little films, but don't let him fool you. He knows. He deftly painted the fundamental truth of his tale over with broad strokes of comedy, knowing that most people will be satisfied with a few good laughs and a happy ending. I think he also invites you to look deeper, if you dare.
Look no further than 3310 Samuel Shepard Dr, three blocks east of Grand, to see for yourself why New Line Theatre's presentation of Cry-Baby should not be missed, whether you're a contented theatre fan or a dedicate truth-seeker. For more information, please visit www.NewLineTheatre.com. Tickets are selling fast—get yours now at www.MetroTix.com.